Julia Baretto stood in Leni Robredo's Pasig rally on March 21, 2022, as one of the emcees promoting an anti-thief battlecry on the Marcoses garnering criticism due to her past "thief" issue with Gerald Anderson and Bea Alonzo breakup.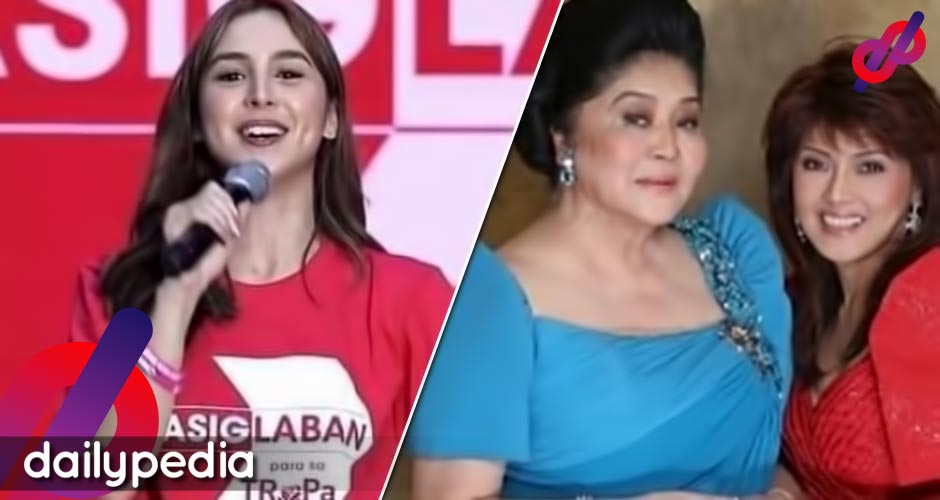 Netizens criticized the young actress, Julia on her anti-thief principle after she expressed her hatred toward a thief and yet became one after becoming allegedly a third party in the breakup of Gerald and Bea.
Tried to report pero hindi naman daw to against sa community standard according kay FB. pic.twitter.com/VsICNQn0rl

— callmejhayzebae (@calmmejhayze) March 23, 2022
Ayaw daw sa magnanakaw pero itong Julia Baretto na ito, eh ano tawag Doon sa nang agaw ng karelasyon ng iba nya ha ha ha tse! pic.twitter.com/aiDRuaaaAr

— 女红 Wong Li Official (DDS) Taho Vendor (@WongLi2515) March 24, 2022
It is important to note that Julia denied allegations of being labeled as "mang-aagaw" or partner-stealer.
Marjorie Barreto, her mother, even defended her describing her as "a well-raised daughter". Plot twist, last year, 2021, Julia and Gerald officially announced their relationship.
READ: Julia Barretto speaks up on two issues – cheating on her boyfriend (Joshua) and being the cause of another relationship's break up (Bea and Gerald). pic.twitter.com/NtrTKagbAH

— MJ Felipe (@mjfelipe) August 6, 2019
Julia's relationship issue faced before with her current boyfriend Anderson and Bea Alonzo was later disproved and deemed false. According to them, the relationship ended prior to Julia's coming.
In July 2019, Bea emphasized that they did not break up, Gerald just started not talking to her.
The following month in August 2019 Gerald said in an interview that there's no third party involved.
WATCH: Gerald Anderson clears third party rumor involving Julia Barretto while in a relationship with Bea Alonzo. "Walang ibang taong naging dahilan ng break up. Its always been our personal issues" | @ABSCBNNews Catch the interview tomorrow on TV Patrol. pic.twitter.com/jHwquHks12

— Ganiel Krishnan (@KrishnanGaniel) August 5, 2019
In the previous report, the actress said that she is not afraid of bashers after her family's decision to support presidential aspirant, Leni Robredo.
On the other hand, some netizens weighed the situation and a netizen questioned, Imee and Imelda Marcos's stand.
According to the post, an article of January 7, 1982, stated that the dictator's daughter and now Ilocos governor, Imee Marcos married a family man.
tigilan nyo si julia barretto kasi mas malala ginawa ni imee pic.twitter.com/bCcRra7wJ6

— Netizen Patroller (@scorsaguin) March 23, 2022
A netizen revealed that Imee Marcos secretly married Tommy Manotoc, formerly married to a Filipina, and got divorced in the Dominican Republic.
Technically, there is no divorce in the Philippines. So it stirred social media citing the hypocrisy of the bash of Marcos supporters toward Julia.
In Dec. 1981 Imee Marcos & Tommy Manotoc got married secretly & started the tale of Tommy's 41 day kidnapping. Tommy was formerly married to Aurora Pijuan & petitioned a Vatican annulment but got a divorce in the Dominican Rep. They returned to Manila after w/c Tommy disappeared pic.twitter.com/MQ5RY5aLgs

— Your Daily Dose (@SaltAndReality) May 7, 2021
A netizen even dug out that Imelda was the second wife of Ferdinand Marcos Sr.
Imelda Marcos was the second wife? Whaaaaat?! https://t.co/MLwAVo1AUs

— Julius The Pious (@tusongtupa) July 19, 2021
Amidst criticisms, Julia Baretto remained unbothered.
On a vlog that Marjorie, Julia's mother posted on her YouTube channel, she shared that she did not expect Julia to be in the gathering.
She stated that she's okay with all the bashings since she has been through the worst.