People called out journalist Gilbert Remulla for overselling presidential aspirant Bongbong Marcos' turnout in the Kalinga rally.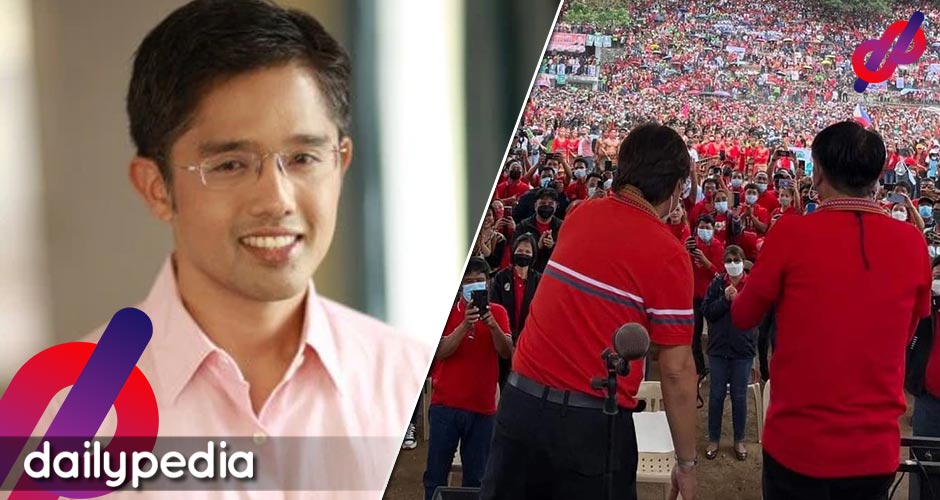 Remulla supports Marcos, and his recent tweet was understandable, but the only problem was the manipulated photograph.
It showed the dictator's son on stage waving to what appears thousands of supporters. Even those with zero experience in graphic design knew that the images were edited.
Now that's a proper crowd photo. No drones, no night time lighting effects. pic.twitter.com/bzxLSju9sb

— Gilbert C. Remulla (@GilbertCRemulla) March 10, 2022
Just a lot of Photoshopping. pic.twitter.com/Y3mmQlD4zx

— Ben Bernabe (@yogawithben) March 10, 2022
Close-up shots showed the even to be successful. However, from the point of view of a drone, the turnout was lackluster.
Explain this then. Dyan sila magaling; sa optics. Optics na wala na ngang substance, nakakadiri pa tignan kasi halatang pilit.

Anyway, you politicians answer to us, THE PEOPLE, not your fellow politicians. pic.twitter.com/DsCkiGivAK

— JᐰCK 💗 (@onlyjacknicole) March 10, 2022
Remulla's attempt to sell the photos was embarrassing.
gov delete mu to, mpapahiya tau https://t.co/SzOUDgaW90

— TONET IS FOR CHEL DIOKNO (@tonetjadaone) March 10, 2022
— mal mar (@malmar1224) March 10, 2022
Marcos still leads the presidential surveys, but Vice President Leni Robredo's rallies almost always have more attendees, prompting voters to question the authenticity and validity of the results.
Recently, UniTeam moved rallies on different dates due to a "conflict of schedules."
!!! pic.twitter.com/ehretyiwTV

— Manuel L. Quezon III (@mlq3) March 10, 2022
Ogie Diaz had to say something as well.
Ang sama ng edit. https://t.co/F3wug2QtrC

— ogie diaz (@ogiediaz) March 10, 2022
During his Kalinga visit, Marcos promised to address the issue of increasing electric bills.
His apparent decline in popularity is mainly attributed to his lack of down-to-earth qualities. However, a new survey suggests women prefer him over Robredo.
"Marcos scored 63 percent in urban areas; 62 percent in rural; 54 percent in Class ABC; 66 percent in Class D; and 57 percent in Class E," the Marcos camp said, citing surveys conducted by Laylo Research in January and February.
"Overall, Marcos is way ahead in the Laylo Research survey last February after registering 63 percent preference rating against 17 percent of Robredo," it added.