The preparation for the Pink Grand Rally scheduled today, March 11, at the Paglaum Stadium in Bacolod City, Negros Occidental, faced challenges that appeared to be intentional.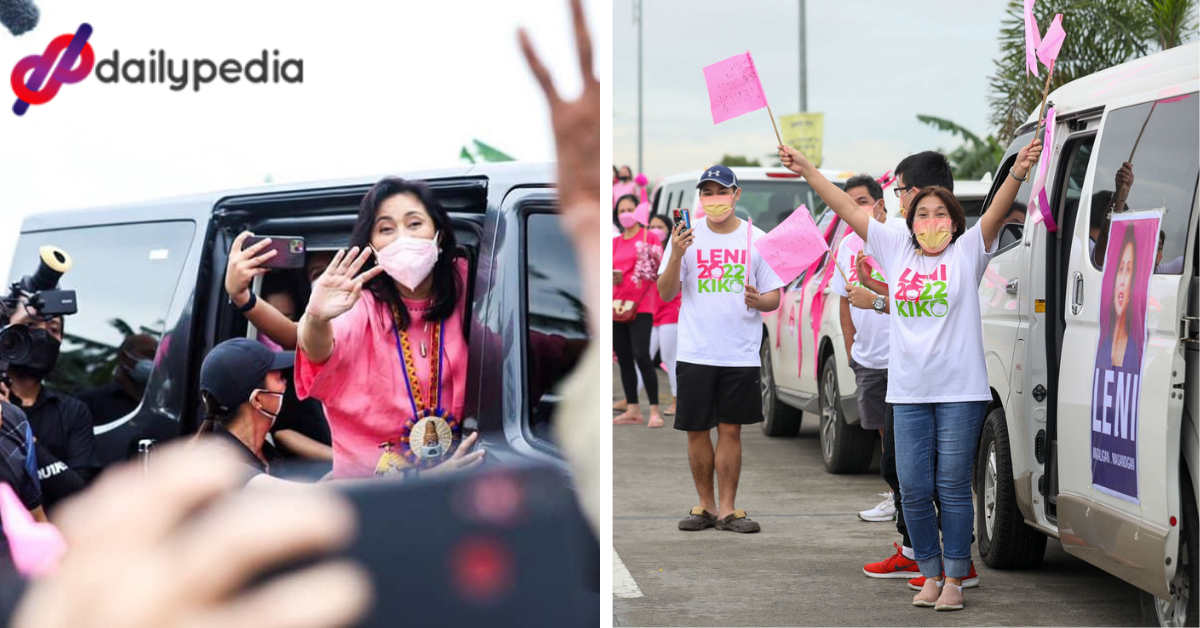 The event had a turnout of an estimated 70,000 as of 6:30 PM, surpassing the previous rally in Cavite, which drew over 47,000 Kakampinks.
According to the Laban Leni Negros Occidental (LLNO) organizers, the Police Provincial Command and the Bacolod Traffic Authority Office were tasked to maintain peace and order during the gathering.
However, before the event happened, Bacolod natives and locals said and felt attempts to prevent supporters from attending the event. Bus trips are getting canceled left and right, leaving supporters from other areas with no options of traveling to the venue.
The Cavite trip also saw similar circumstances for the Pink nation where roads and bridges were suddenly under repair.
Cavite road repairs didn't stop kakampinks. Challenge accepted! #BacolodIsPink #NegrosIsPink

— ennuiçaçion (@royVives) March 10, 2022
However, these attempts didn't stop Robredo believers from attending.
Pinapagigil nila ang mga tao ha.
Remember what happened sa Cavite.

Ang mga Pilipinong may pinaglalaban ay lalong tumatapang habang ginigipit.#MASSKARApatDapatLeniKiko#BacolodisPink #NegrosIsPink https://t.co/RGbm8Dk4i4

— bengbengbengbengbengbengbengbeng (@beng_beng_beng) March 10, 2022
Bacolod roads suddenly got repairs, and the people did not see this as a mere coincidence.
It has come to our attention that the supposed transportation of our Kakampinks in various cities and municipalities in Negros Occidental has been cancelled last minute. Our fellow Kakampinks are currently looking for a way, in order to come to the rally tomorrow, March 11, 2022. pic.twitter.com/nQWbkBEJP0

— Bacolod Youth For Leni (@BacolodY4L) March 10, 2022
Takot na takot na sila! https://t.co/gnRIZ2z9l4

— Roque Rox Santos (@roxsantos) March 10, 2022
Please help. Kala ko ba, 16% lang si @lenirobredo sa survey? https://t.co/DgV0m3x0UY

— ogie diaz (@ogiediaz) March 10, 2022
Some attendees had to let the public know that they are Kakampinks as the Marcos trolls would use photos of them crowded in huge vehicles to accuse the Robredo campaign of recruiting.
KakamPinks in Negros, if you are going to use trucks in going to Paglaum, put signages sa mga vehicles e.g. "Di kami bayad/hakot". For sure, gagamitin ng mga Kampon ni Taning yung pics para igaya tayo sa kanila. Gawan na ng paraan. 💗#NegrosforLeni #MASSKARApatDapatLeniKiko

— Terio García (@terio_garcia) March 10, 2022
The true supporters didn't want to miss the event for anything.
Habang pinapahirapan niyo ang mga tao, lalo lang kami lalakas para labanan ang inyong kasamaan. #BacolodIsPink https://t.co/AlYHxeJw2n

— Thomasians For Leni (@Thomasians4Leni) March 10, 2022
Authorities are also investigating a threat made by a Facebook user while Robredo was already in Bacolod.
Negros Occidental Vice Governor Jeffrey Ferrer, a Marcos supporter, warned his people to refrain from such behavior. The man said he wants to avenge what Bongbong Marcos went through during his caravan on February 23 when people allegedly threw paper flyers at him.
"VP Leni's security team, as well as the campaign, are taking this seriously and are implementing appropriate measures to ensure her continued safety, and that of her family, staff, and supporters," Robredo's spokesman Barry Gutierrez said in a statement.
Here is the profile of the one who made the threat.
Ito daw yung nag post ng #THREAT kay VP Leni sa #NegrosIsPink #NegrosforLeni Rally bukas @pnppio @PNPChiefGamboa @lawyersforleni https://t.co/BnCutwJjQQ

— Maldita of Manila (@DITA_manila) March 10, 2022
The program started at around 3:30 pm, with Rivermaya performing. Celebrities such as Joel Torre and Kuh Ledesma were also in attendance.