Historian Ambeth R. Ocampo rubbed a Ferdinand "Bongbong" Marcos Jr. supporter in a wrong way.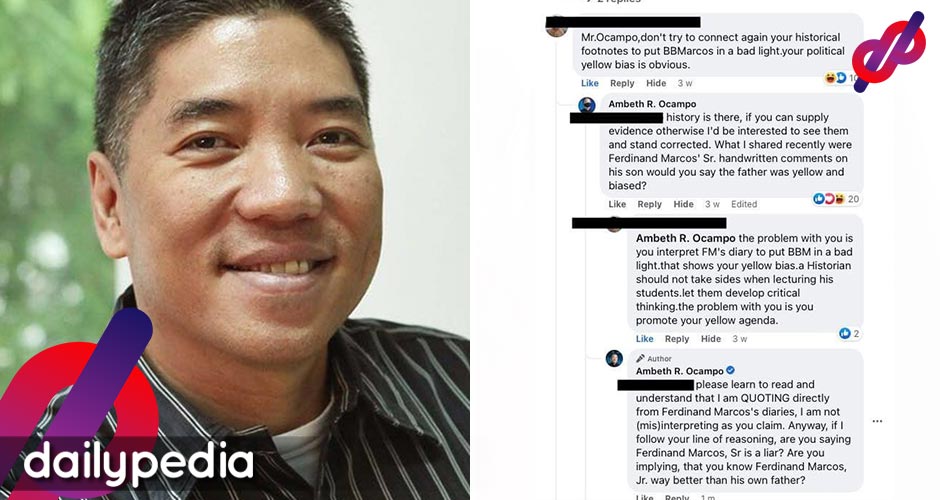 It happened when he brought up what former president Ferdinand Marcos said about his only son.
Ocampo may or may not have directly attacked the presidential aspirant, but what he said was based on real writing.
A Marcos Jr. supporter didn't hesitate to blast Ocampo. "Don't try to connect your historical footnotes to put BBMarcos in a bad light, your political yellow bias is obvious," he wrote.
The older Marcos in his diaries referred to his son as "carefree and lazy" but the supporter viewed Ocampo's intention as slanderous.
"A historian should not take sides when lecturing his students," they added.
Ocampo urged the supporter to at least understand that all he did was directly quote the late dictator.
"History is not just about "knowing" something, it obligates expression as well. That is what Professors do–they profess what they know as truth," he said in the caption.
In Ocampo's previous sit-down with Rappler's Marites Vitug, he shared what he learned about the diaries.
In them, the older Marcos was self-praising and vilifying his enemies. He also bragged about his war accomplishments.