For some reason, Marvel Studios' Ant-Man inspired Ferdinand "Bongbong" Marcos Jr. to run for president.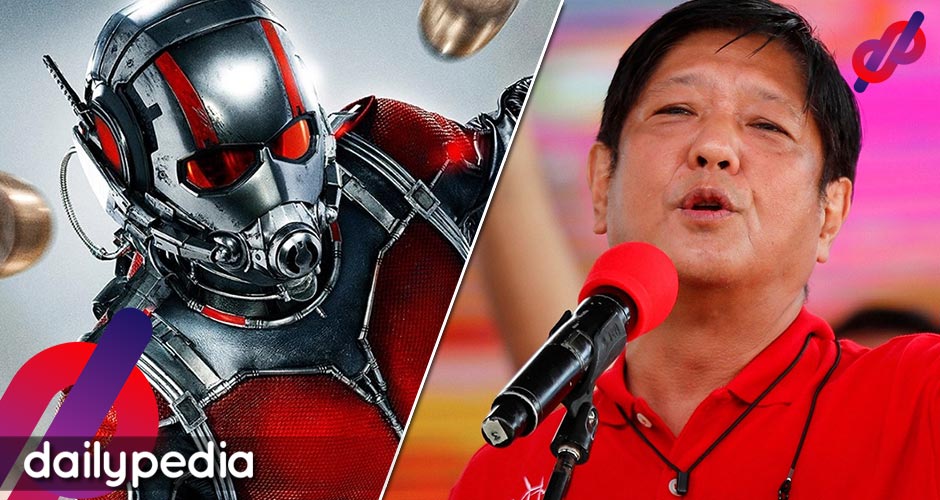 His wife, Liza Araneta Marcos, shared the story during a sit-down with host Boy Abunda.
She said Marcos Jr. was unsure of his plans in politics six months ago.
"You know six months ago, he wasn't so sure what to do, with no party, you know," Liza said.
But he made up his mind while watching Ant-Man, a movie about a master thief who later becomes a superhero thanks to a "shrinking suit" he stole.
"And then one day we're watching Ant-Man in the room… He loved Marvel movies, and then he looked at me and he goes, 'Okay, we're gonna do this,' he told me. 'Do what?' 'Run for the presidency," Liza said.
Despite her husband's continuous lead in the surveys, Liza has yet to contemplate what she'd do as First Lady.
"I don't wanna jinx it because, in 2016, we really thought we would win," she said. "Try losing and living with it for six years. That's difficult." she continued.
Marcos lost the vice-presidential race to Leni Robredo who is slowly gaining more supporters.
Voters were astounded upon hearing about the story.
And all we thought nothing can be more stupid to Ping Lacson's excuse about how "Netflix" change his mind on death penalty. Ngayon si Marcos Jr. just watched Ant-Man then suddenly he wants to run for Presidency?! The more reason why Leni needs to win.#RosasAngKulayNgBukas#Rosas pic.twitter.com/mkprmAfRD4

— JerickTurno #LetLeniLead (@JerickJaafarT) March 9, 2022
If VP Leni Robredo was forced to run because of BBM. It was Ant-Man who inspired the latter? Holly Brilliant!
Choose wisely folks.
A reformed thief, is still a thief!
We are all doomed if Marcos Jr. seats in Malacañang.#Halalan2022 pic.twitter.com/zC47MPTULo

— ~ Maria Shayla ~ (@sh3ysh3y) March 9, 2022
Everything is just too weird, netizens said.
Leni's reason to stop Marcos becoming president is not so ridiculous now huh? i've a lot of movies like Ant Man.. maybe i should run for president too😂 pic.twitter.com/tnVIw5FIfh

— Leonard Estrada (@leoleo_06) March 9, 2022
This is framed like Marcos took inspiration from Ant-Man, a 2015 Marvel Film. It's not just a super-hero movie, it's a super-hero HEIST movie.

So alam niyo na, may nanakawin nga. pic.twitter.com/plenknITWx

— Tobito #LeniKiko2022 (@Tobitochondria) March 9, 2022
😂😂

— Kevin Manalo (@kevinmanalo_) March 10, 2022
https://twitter.com/PinoyAkoBlog/status/1501787860579807233?s=20&t=dVpmMuVt0e5LDzpSJdHrUg
Ant-Man quote of the day: pic.twitter.com/hNBckKVeyV

— JC Punongbayan (@jcpunongbayan) March 10, 2022
Mukhang tanga pa rin kaya ako sa paningin nila noong ginamit ko ang MCU as an analogy for unity? pic.twitter.com/o7xpg0YmBc

— Reb Atadero (@rebranger) March 10, 2022
Ping Lacson Presidential run inspired by a Netflix Film.
Bongbong Presidential run inspired by a Marvel Film.

Ano kayang mapanood if takbo akong SK. pic.twitter.com/PuzEqgKkUz

— Rod Magaru  (@rodmagaru) March 10, 2022
Yung ang daming superhero na pwedeng pagpipiliian tapos si Scott Lang na magnanakaw pa talaga naging inspirasyon para tumakbo sa pagka pangulo. LOL.

Where's the lie though? 🤪

— 🌸 (@jemanorange) March 10, 2022
To be clear, Ant-Man is a "Heist Movie". A genre that focuses on the "planning, execution and aftermath of a large robbery."

I've serious concerns about anyone who gets inspired to run for President while watching Ant-man.

— John Molo (@iamJohnMolo) March 10, 2022