Vice President Leni Robredo may trail Ferdinand "Bongbong Marcos" Jr. in presidential surveys, but when it comes to rallies, she always has the more impressive ones.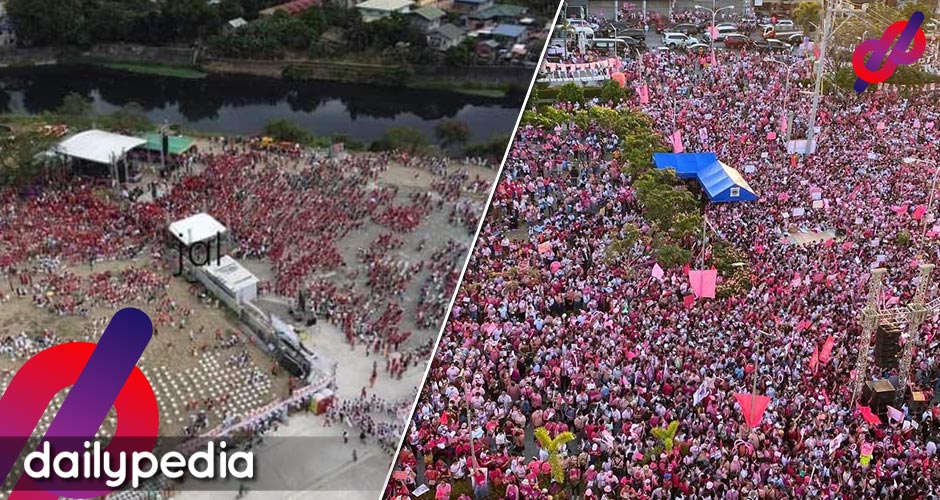 Ever before he announced his candidacy for the top position in the country, Marcos had already topped all known presidential surveys. Analysts, to this day, still have him winning in May. Robredo, meanwhile, always comes in second place.
However, the former senator's recent rallies have been lackluster, as seen in videos and photos shared on social media. After Robredo's successful trip to Cavite, which had a turnout of over 47000 supporters, Marcos' UniTeam canceled theirs, leaving hundreds of believers who waited hours at the venue disappointed and angry. His rally in Calapan City was also moved on another date.
The latest one was in Sta Maria, Bulacan, which according to drone shots, was also underwhelming. Comparing Marcos' recent caravans to Robredo's might just leave voters questioning whether the dictator's son remains the favorite.
The "Kakampinks" first observed that Marcos' rallies are rarely jam-packed despite him leading the surveys.
https://twitter.com/g3cafe/status/1501147090579496960?s=20&t=cQvkgosIgg2nkiZb4T2AtQ
Astig nung BBM rally, daming parking space pic.twitter.com/CTJsUuGa3Y

— Jays (杰森) (@jaesoon) March 8, 2022
Robredo's event looked like there was barely enough room for people to turn their bodies while Marcos' had enough for at least around a thousand more people to attend.
The tale of two drone shots. The tale of two teams during their last stop for the Bulacan Grand Rally.#BulacanIsPink #LeniKarajaw pic.twitter.com/ZjJdxl9khp

— jho (@maryjhoanaaa) March 8, 2022
There have also been rumors that the UniTeam compensates outsiders to join their rallies.
May difference.

Sino ang totoong para sa masa.

MALAPIT MALAYO pic.twitter.com/Dnk2Z24AZ8

— t.ocin.o (@nicoquejano) March 3, 2022
Some photos may deceive voters into believing that the typical Marcos rally has more supporters than expected.
Sta. Maria, Bulacan hosts BBM-Sara GRAND Rally. Complete with transportation, meals and loot bags.

Lagot! May nag drone shot.

This is how BBM is leading the survey. #unithieves pic.twitter.com/FxRswMxzuf

— Markus Villa (@markusforleni) March 8, 2022
Ay, na drone shot at BBM Sara rally sa Bulacan pic.twitter.com/Op6mDtndFh

— Audie Gemora (@GemoraAudie) March 8, 2022
Bulacan Governor Dan Fernando has endorsed Robredo while Gubernatorial aspirant Vice Governor Willy-Sy Alvarado hopes that the province will turn red.
Marcos beat Robredo in Bulacan by over 190,000 votes in 2016. But Robredo had over 45,000 greetings during the Pink movement's visit to Malolos.