Some attendees of Bongbong Marcos' rally in Sta Maria, Bulacan, have reportedly been robbed during the event.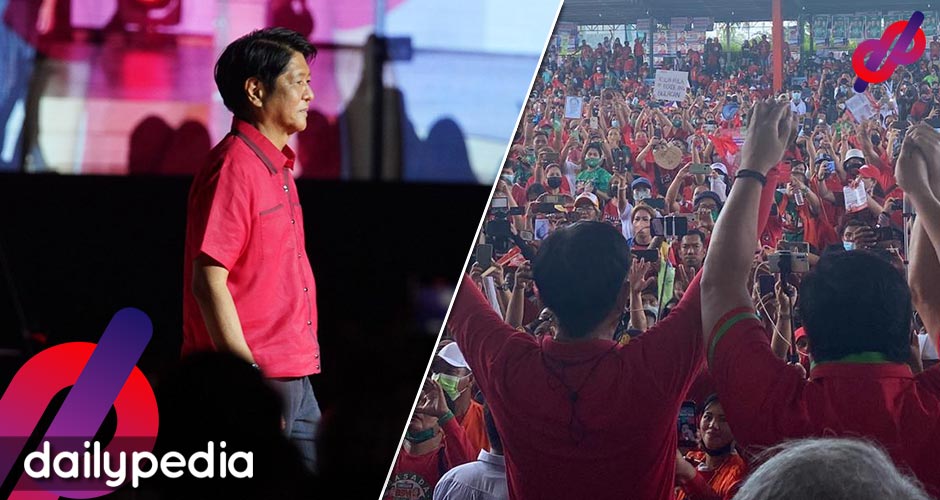 According to reporter Camille Elemia, two media members and a loyalist of Bongbong Marcos (LBM) lost their phones while another couldn't locate her wallet.
Two members of the media and one supporter lost their phones, while one supporter lost her wallet during Marcos' rally in Sta Maria, Bulacan.

— Camille Elemia (@CamilleElemia) March 8, 2022
An OFW also pleaded for whoever stole their wallet to at least return their Singapore ID.
Many more Marcos-Duterte supporters have come up on stage to say that their wallets and phones were stolen from their bags during the Sta Maria rally

— Camille Elemia (@CamilleElemia) March 8, 2022
Other victims also came on the stage and said their belongings were snatched from their bags.
"Parang awa niyo na, pakisauli na lang, babayaran ko," one victim said.
WATCH: Several individuals who attended the Bongbong Marcos-Sara Duterte rally in Sta. Maria, Bulacan go on stage as they plead for their lost cellphones & wallets to be returned. | @mbseppedrajas pic.twitter.com/SdYmo3iBfM

— Manila Bulletin News (@manilabulletin) March 8, 2022
Some lost more belongings than the others. One woman claims she lost her wallet and jewelry. She also begged that her ID be returned and whoever the snatcher is could keep everything else.
https://twitter.com/AkoSiTitoMarco/status/1501150474598502402?s=20&t=gFRKWAAA6Y6FIw7wlGgydw
Marcos critics joked with the victims, saying they should respect the suspects since they contributed by attending their idol's rally.
Dun po sa mga BBM supporter na nanakawan, move on na lang po, tsaka po forgive na lang, tsaka po marami naman nagawa yung magnanakaw sa ninakaw nya, tsaka konting respeto naman po dun sa mga mandurukot. #SamaSamaTayoPilipino https://t.co/LM2k0YPx5M

— Marc Miranda (@MarcMiranda) March 8, 2022
Madami daw nanakawan sa mga rally ni BBM, patawarin niyo na ung magnanakaw na yon, at least may nagawa naman diba (umattend sa rally)

— Y W W (@danjok_) March 8, 2022
The LBM always ignore the notorious history of the Marcos family during arguments by bringing up the many accomplishments of the late dictator.
The turnout wasn't even impressive, as seen in photos.
Konti na nag nag attend, andami pa nanakawan ng cellphone. #NoToMarcosDuterte2022 #namoka BBM pic.twitter.com/ppOl61Fqv2

— atleta4Leni (@WeekendAtleta) March 8, 2022
Sa mga nanakawan sa BBM rally. Ang kasalanan ni BBM ay hindi kasalanan ng kanyang mga supporters. Baka po puno na tayo ng hatred and bitterness. Forgive and forget! Move on na lang po tayo. ✌️

— Ley Lines De Lima (@fischldiokno) March 8, 2022
https://twitter.com/ggnnrr_/status/1501147979440619522?s=19
At the UniTeam proclamation rally, a supporter had her wallet stolen as well. It contained an amount she was saving up for her children's birthday celebration.
In a separate rally, Marcos' son, Sandro, almost had his expensive watch stolen as he waived to the crowd.
Meanwhile, Gubernatorial aspirant Vice Governor Willy Sy-Alvarado remains optimistic that Marcos will win Bulacan. His basis is that the dictator's son beat Vice President Leni Robredo in the province in 2016. Plus, he thinks voters will always go for the most battered candidate.
"Sa paglilibot ko po lalo na sa malayong lugar, Bongbong Marcos po. Unang una, inaapi nila. Ayaw ng mga tao inaapi," he said.
Robredo's recent campaign rally in Bulacan also had more attendees than Marcos'.