A proposed amendment to a bill authorizing firefighters to carry short firearms during fire emergencies got rejected by the Senate.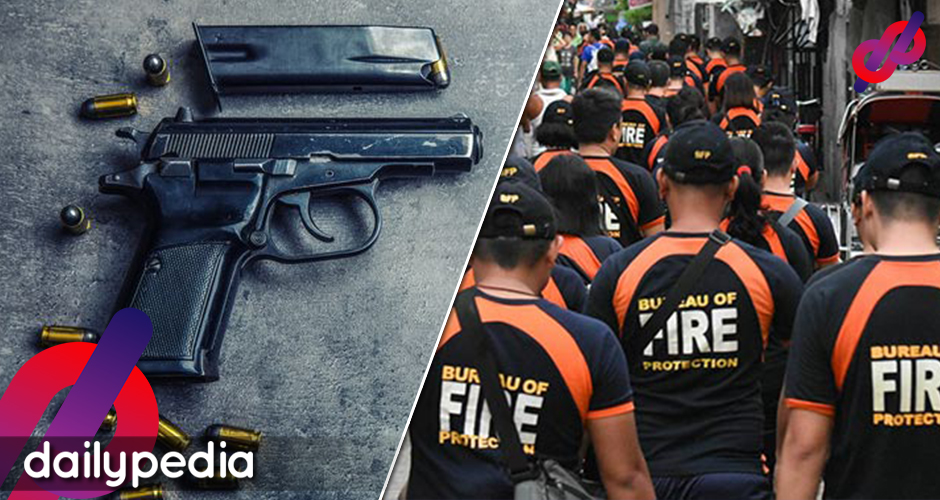 On June 2, 13 senators agreed to drop the amendment, four were in favor, and two abstained. The amendment to Senate Bill No. 1832 or the proposed Bureau of Fire Protection (BFP) Modernization Act listed the authorization of its members to bear short firearms during disasters. Firefighters are permitted to carry such weapons provided that they will complete training with the Department of the Interior and Local Government (DILG) and Philippine National Police (PNP).
Senator Bong Go proposed the amendment, and Senator Francis Tolentino introduced it since the former was not present.
"This is not my original amendment. I was asked by my seatmate to propound this. The proposed amendment would be very controversial perhaps. It's an amendment coming from Sen. Bong Go, who is not here on the floor right now," Tolentino said during the plenary session.
Senator Bato Dela Rosa accepted the amendment as he is the chair of the Senate public order committee.
"This is a very substantial amendment. We do not recall this being discussed in the debates. I do not know whether this was taken up during the committee hearings," Senate Minority Leader Franklin Drilon stated.
Netizens questioned the need for a gun during a firefight, asking if the gun can help control flames.
potaena bat kailangan ng bfp ng baril?? NAKAKAPATAY BA NG SUNOG YAN 😭😭😭😭 https://t.co/GbhlyeQJgo

— on a starry night ✨🎀 (@issaandonly) June 3, 2021
Someone also asked if the person who suggested is desperate to shoot someone.
Huh sino nagsimula nito?????? Kating kati bumaril???? https://t.co/ocFOCttjSv

— Wartortoise (@paoloumpa) June 3, 2021
Another sarcastically said that the Government would then make the police carry the hose and water if that was the case.
https://twitter.com/abgwannabe/status/1400491417898680324
"Just because Sen. dela Rosa cited instances, it doesn't mean kailangan," a Netizen said while suggesting that they should just improve coordination and procedures during fire emergencies.
Tama ito. Just because Sen DelaRosa cited instances, it doesn't mean kailangan. Since he's a former PGen, why not strengthen the role of the police, BPATs and DRRMOs // improve the coordination procedures during fire emergencies. https://t.co/qOksOXb2e2

— KB (@keithcarian) June 3, 2021
A twitter user also pointed out that what the firefighters need are instruments that will help them save lives.
They need equipment that would help them save lives, like hydraulic rescue tools, e.g. "Jaws of Life", and modern fire prevention vehicles. https://t.co/2hOv8PLihm

— Peter Cayton, the Stats Guy (@PJACaytonPhD) June 3, 2021
Someone described Dela Rosa as a "sneaky ass."
https://twitter.com/heydinacarla/status/1400512729929056258
Another asked the reason behind wanting firefighters to carry firearms as there are also policemen during fire operations.
Hindi ba may pulis kapag may fire operations? They are there to control the crowd and to help etc. So what's the sense of our firefighters carrying firearms? May manlalaban ba sa sunog? Susmaryosep. https://t.co/kwU4K6GkBC

— JJ (@jjjoemel) June 3, 2021
"Even a friend of mine in the BFP does not see the purpose for them having firearms."
Even a friend of mine in the BFP does not see the purpose for them having firearms https://t.co/AMOLX9oZqw

— Karl Gamolo (@jig202902) June 3, 2021
Dela Rosa defended the amendment by pointing out that it was the request of President Rodrigo Duterte to arm BFP personnel with firearms. It is to enable them to support operations of the PNP and Armed Forces of the Philippines (AFP).
He cited the Zamboanga siege and Marawi siege as examples. Other than that, he also mentioned instances wherein homeowners would forcefully take the fireman's hose.
Those who voted in favor of the amendment are Senate President Vicente Sotto III, Dela Rosa, Go, and Tolentino.