A concerned netizen shares how cruel her neighbor treats their dog
The dog is said to be kept outside the whole day, under the heat of the sun, while being pulled back by a chain too short for its comfort.
A Facebook user named Nemie Zaballero Carurucan shared her distress upon seeing how her neighbor left a dog under the scorching heat of the sun.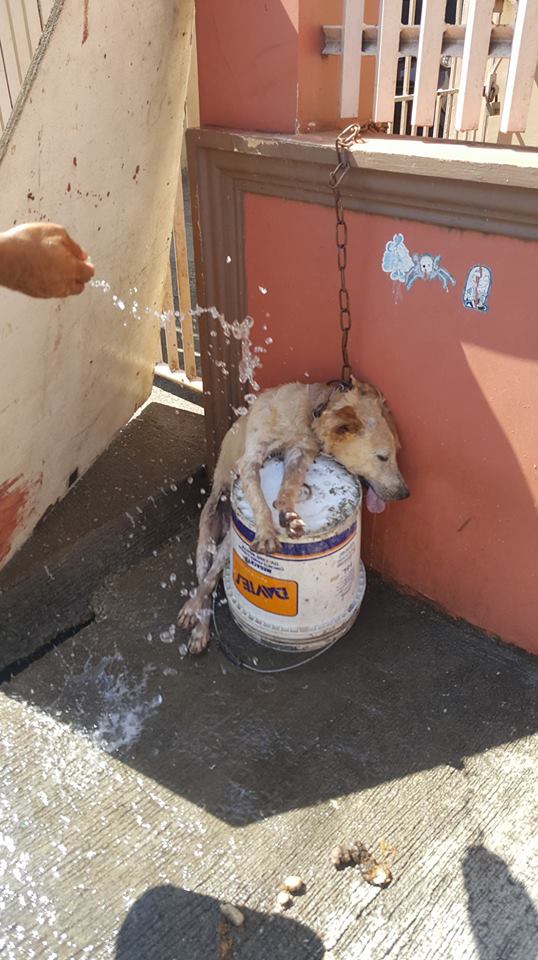 In a video taken by Carurucan, the dog is shown tied up outside the house under the intense heat of the sun. Not only that, the netizen also reports that this is what happens every day.
The dog's chain is also too short and as a result, the dog had to sit with its head uncomfortably pulled back.
Carurucan tried to remove the chain but it was locked so the only way that they could help the dog was by giving it a stool to be more comfortable but unfortunately, the dog dies at the end.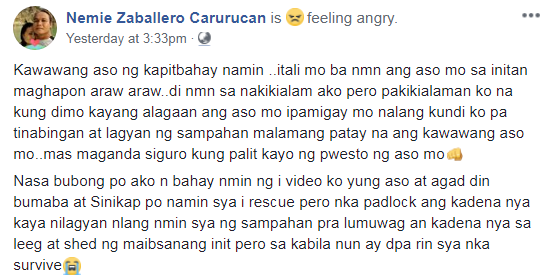 "Kawawang aso ng kapitbahay namin ..itali mo ba nmn ang aso mo sa initan maghapon araw araw..di nmn sa nakikialam ako pero pakikialaman ko na kung dimo kayang alagaan ang aso mo ipamigay mo nalang kundi ko pa tinabingan at lagyan ng sampahan malamang patay na ang kawawang aso mo..mas maganda siguro kung palit kayo ng pwesto ng aso mo

Nasa bubong po ako n bahay nmin ng i video ko yung aso at agad din bumaba at Sinikap po namin sya i rescue pero nka padlock ang kadena nya kaya nilagyan nlang nmin sya ng sampahan pra lumuwag an kadena nya sa leeg at shed ng maibsanang init pero sa kabila nun ay dpa rin sya nka survive"
The Animal Welfare Act of the Philippines states that "It shall be unlawful for any person to torture any animal, to neglect to provide adequate care, sustenance or shelter, or maltreat any animals" and any person that will be found guilty of the violation may be punished by imprisonment, no less than six months.