Agriculture Secretary Manny Piñol expresses disappointment over the recent happenings in TienDA in Manila.
He said that he is saddened that some consumers would still steal even if the goods' prices are cheaper than the regular rates.
Inflation has taken a major toll on our basic needs, especially on the food we need to survive.
Consumers all over the Philippines have to deal with high prices of commodities like farm products which were affected by the recent Typhoon Ompong.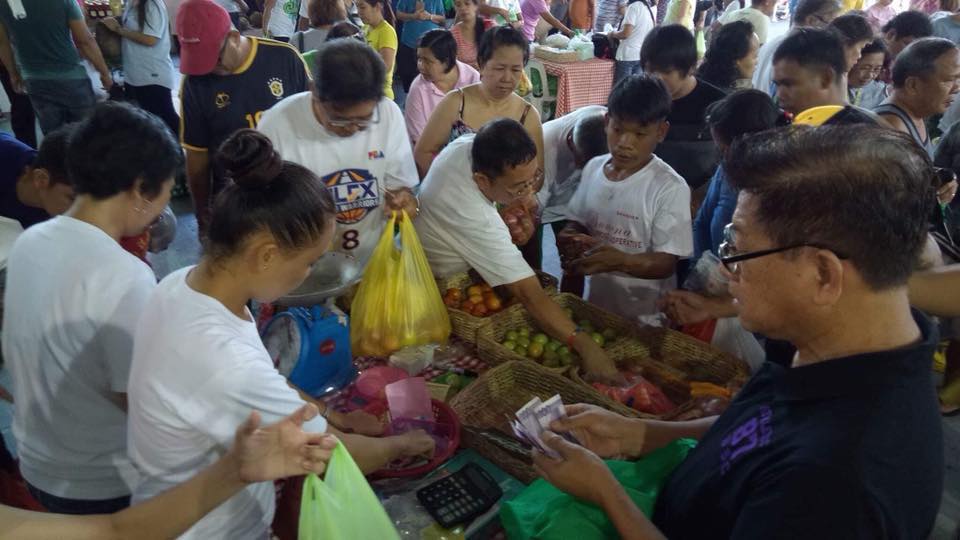 Department of Agriculture (DA) Sec. Manny Piñol opened a way for farmers to sell their products through his TienDA in Manila project that was launched last year to make affordable food available to Filipinos while ensuring local farmers' income.
The goal behind this is for farmers to sell their goods without the need of a middle man, resulting to cheaper prices for the buyers.
But despite the lower prices, some consumers are said to have walked off without paying the farmers.
Piñol himself posted about his disappointment on his Facebook page on September 21 saying that people took advantage of the sellers' business to steal some of the goods.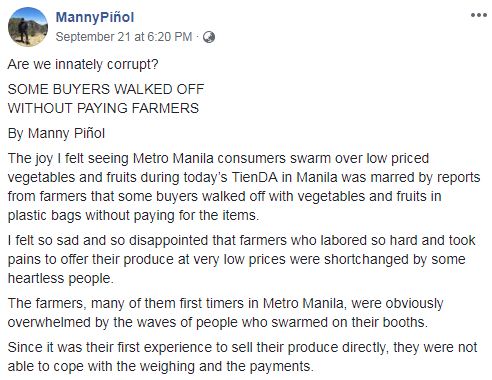 Are we innately corrupt?

SOME BUYERS WALKED OFF
WITHOUT PAYING FARMERS

By Manny Piñol

The joy I felt seeing Metro Manila consumers swarm over low priced vegetables and fruits during today's TienDA in Manila was marred by reports from farmers that some buyers walked off with vegetables and fruits in plastic bags without paying for the items.

I felt so sad and so disappointed that farmers who labored so hard and took pains to offer their produce at very low prices were shortchanged by some heartless people.

The farmers, many of them first timers in Metro Manila, were obviously overwhelmed by the waves of people who swarmed on their booths.

Since it was their first experience to sell their produce directly, they were not able to cope with the weighing and the payments.
He did not blame the consumers entirely but admitted that the DA also had their shortcomings in the chaos. But in spite of what happened, the farmers remain thankful for the agency's project.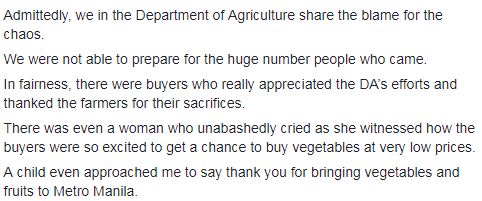 Admittedly, we in the Department of Agriculture share the blame for the chaos.

We were not able to prepare for the huge number people who came.

In fairness, there were buyers who really appreciated the DA's efforts and thanked the farmers for their sacrifices.

There was even a woman who unabashedly cried as she witnessed how the buyers were so excited to get a chance to buy vegetables at very low prices.

A child even approached me to say thank you for bringing vegetables and fruits to Metro Manila.
Piñol wrote that even though the farmers would most likely just shrug it off, he is still saddened by the incident.
As for the farmers who lost their produce to the "veggie-lifters," they will most likely just shrug it off and say "Charge to experience."

They have been exploited and shortchanged many times in the past.

I am saddened, however, that this time I failed to protect them.

What makes me sadder is the thought that what happened today could be symptomatic of the erosion of Filipino values.

#MaawaNamanKayo!
#DapatHonestyGame!