Dong Abay reposted his 2012 protest photo.
In 2012, he tied himself to a tree in protest of SM's cutting of 182 trees for a parking lot.
Six years ago, singer-composer Dong Abay tied himself to a tree on Session Road in Baguio.
Not everyone understood the message and also not everyone saw it as something important, however, the former Yano vocalist re-posted a photo taken by Andy Zapanta. It was because of SM's project to cut 182 trees to make way for a parking lot.
He connected it to the recent devastation wreaked by Typhoon Ompong.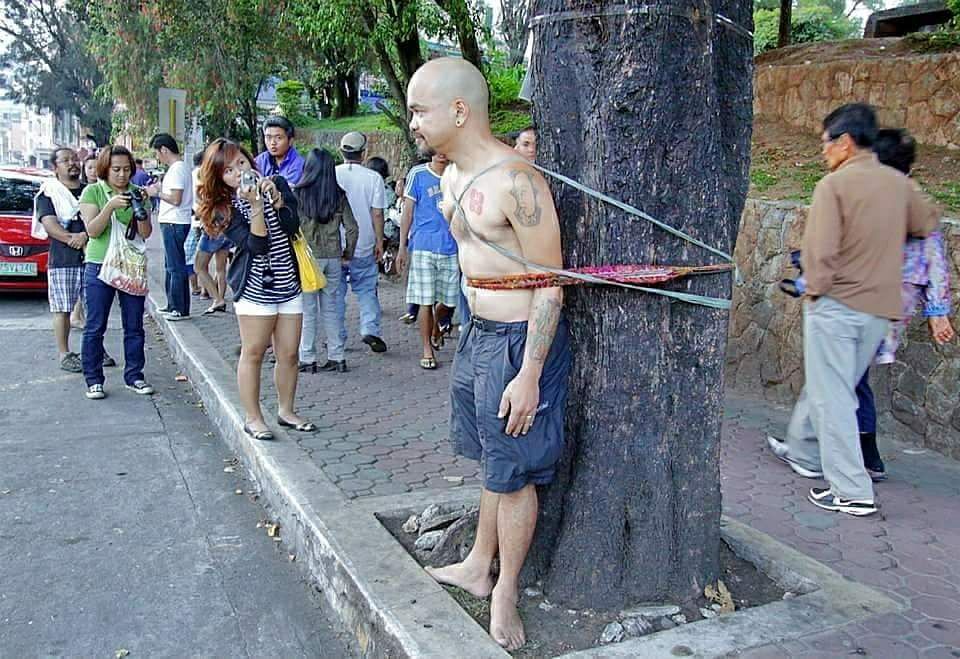 Abay said that he acknowledged that he drew flak because of his protest years ago, but he thinks that people now are more aware.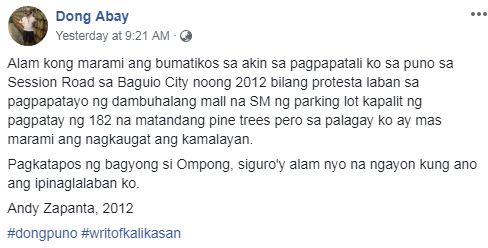 Alam kong marami ang bumatikos sa akin sa pagpapatali ko sa puno sa Session Road sa Baguio City noong 2012 bilang protesta laban sa pagpapatayo ng dambuhalang mall na SM ng parking lot kapalit ng pagpatay ng 182 na matandang pine trees pero sa palagay ko ay mas marami ang nagkaugat ang kamalayan.

Pagkatapos ng bagyong si Ompong, siguro'y alam nyo na ngayon kung ano ang ipinaglalaban ko.

Andy Zapanta, 2012

#dongpuno #writofkalikasan
As his post reached more than 129,000 reactions and 39,000 shares, netizens praised Abay's peaceful protest.

This is the kind of protest that is civilized and really have meaning. I hope after Boracay, Baguio will be next to be revived.
Jason Antonio defended SM, saying they are not the cause of natural calamities.

Sm is not the cause of natural calamities, at hindi nagka landslide sa sm. 1 pine tree cut is equivalent to 10 pine trees planted.
Other netizens then said that "gone are the days of baguios beauty".

I usually go on the park w lots of pine trees where SM is now located…i totally disagree on converting it to a Mall….now every time I go up to baguio I seldom visit that congested SM area….baguio used to have lots of trees not only pine..now more of building structure wc become an eye sore to me..I no longer smell the scent of pine….gone are the days of baguios beauty

I love the old baguio 30 years ago, for sure it will never comeback with all this technology, new generations, new buildings constructions politics & also people in the environment itself do not care at all feel so sad… hope we can do something its not too late yet….

The problem is Baguio is overly populated i miss the old Baguio city when there are lots of trees rather than lots of houses …when I went there the second time it was a lot different from when I came there the first time …I like the old Baguio City more…..
Girlie Ibarra then questioned why nature should be the one to adjust to establishments like SM.

Bakit ba Nature ang need mag adjust para makapagpatayo ng establishments. I hope engineers and architects will find a way na di magputol ng mga puno to put up a building. I know it is difficult but we need to take care of the trees. 182 pine trees? Grabe 😭😭😭