It's Showtime host Vice Ganda had the audience and netizens laughing after taking a shot at the word 'unity.'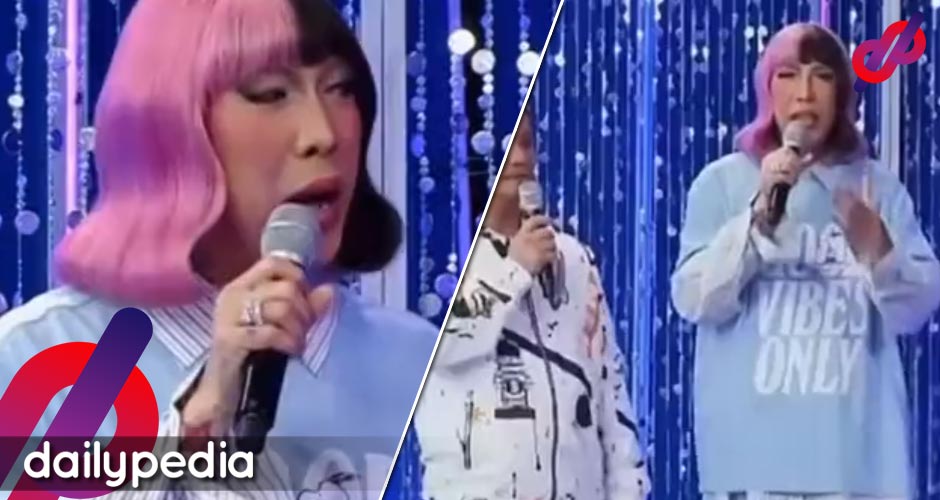 The slogan 'unity' got identified with the UniTeam. The Alliance got formed in the last election campaign as the official name for the collaboration between then-presidential and then-vice-presidential candidate Pres. Bongbong Marcos and Vice President Sara Duterte.
Vice decided to make a joke out of it in a recent episode of the noontime show.
During the "Palarong Pang-madla" segment on September 26, the hosts played a game called "vest in spelling."
As usual, the hosts found themselves disorganized which earned a response from Vice Ganda.
"Guys, guys, puwede ba 'wag na tayo magsisihan?" while he spoke in a pabebe talk.
"Sa panahon… sa panahon ngayon i-set aside na lang natin… puwede bang magtulungan na lang tayo?
"Guys, guys… unity 'di ba?" he joked.
https://twitter.com/thelenrisa/status/1574264781753569280?s=20&t=JOcVUQUsvfibqfdi9LJwdA
In addition, the players accidentally spelt the word "LIE" out which made the segment even funnier.
Netizens immediately knew that Vice threw shade at the UniTeam.
https://twitter.com/VolimyaNervosa/status/1574276094068285442?s=20&t=B8bsmiuhgYQMjWnoVDza2g
Galing din eh.

Noong sinabi ni Meme Vice na "Unity, 'di ba?" Sakto "LIE" ang nakasulat.

Hahahahaha https://t.co/5q9MBbnOZU pic.twitter.com/qo6pJnXcAn

— Cholo (@CholoI_) September 26, 2022
UNITY IS A pic.twitter.com/F5XPPvBhC0

— ricci (@ricci_richy) September 26, 2022
"guys guys unity diba"

HAHSHAKAWHBXHWHZAHHAZHHA#ViceGanda | Vice Ganda#ShowtimeStayFunny pic.twitter.com/YAYfbHJKKj

— VICEION ENDGAME. (@MIRAbellabells) September 26, 2022
"guys guys unity di ba" VICE NAMAN 😭#ViceGanda | #ShowtimeStayFunnypic.twitter.com/GAuydcxWId

— bujoy (@cinemilfs_) September 26, 2022
During the election season, detractors of Marcos attempted to enlighten the misinformed and uninformed about his family's notorious past. The Marcos family plundered the country billions of dollars before being ousted by the People Power Revolution. However, Marcos himself was calm and refused to attack other presidential candidates.
Whenever Marcos's past and policies got questioned, his supporters would convince his critics to forget the past and promote "unity."
In addition, several media outlets have also proven that Marcos repeatedly lied about lots of stuff. Despite all the negativity, he dominated the presidential race.