Sen. Jinggoy Estrada was criticized after advising the public to "move on" from the martial law that crippled the country for decades.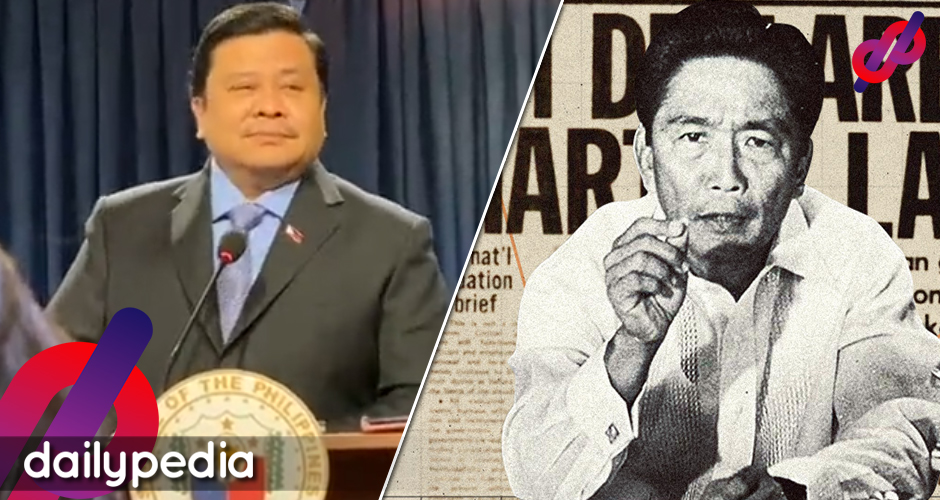 In a Sep 20 press conference, Estrada said Pres. Ferdinand Marcos Jr. shouldn't apologize for the era that made Filipinos suffer.
"What is there to apologize [for]? President Marcos has already given his statement with regard to martial law. Let's move on already. Imagine, President Marcos got the highest number of votes in history — 31 million. Isn't that enough? Let's just move on," Estrada said on the eve of the declaration of martial law by the late dictator Marcos.
Estrada said that more people don't believe the human rights violations during the martial law era because of the incumbent president's number of votes in the recent presidential race.
"I think that maybe the people don't believe [that]. Perhaps the minority believe, but the majority don't — because of the overwhelming support from the electorate," Estrada said, noting that he is all for listening to human rights victims.
Netizens quickly bombarded Estrada with facts on social media.
" Mag move on na tayo "

ayon pa ni Jinggoy Estrada para sa ika 50th anibersaryo ng Martial Law declaration .

Jinggoy gago !!!

— 𝐃𝐨𝐧-𝐃𝐨𝐧 𝐁𝐢𝐬𝐚𝐲𝐚  (@Don8don3) September 20, 2022
70,000 detained. 34,000 tortured 3,240 killed. 398 missing.

MOVE ON?????? https://t.co/LjN0vhZH4I

— vico blanco (@vicentejian) September 20, 2022
Jinggoy Estrada: What is there to apologize for…mag move on na tayo

Sa jowang nangaliwa applicable ang move on, dito hindi:
70,000 imprisoned
34,000 tortured
3,240 killed during Martial Law

Stop disinformation & historical distortion, Senator!#NeverAgain #NeverForget #ML50 https://t.co/rFZdNkbqSm

— phoenix00🔥 (@wehustlegirl) September 20, 2022
"Time to move on from the horrors of Martial Law"
~ Jinggoy Estrada

GO TO HELL!#NeverForget

— Bob Blues Magoo (@MagooBlues) September 20, 2022
Day 82
Son of convicted plunderer Joseph Erap Estrada and himself a plunderer Jinggoy Estrada asks Martial Law victims to "move on." He does not bring up the fact that justice has not been served and the Marcoses still hold much ill-gotten wealth.#NeverAgain#NeverForget https://t.co/iswcqMV7Zw

— Welcome to Kangkungan (@AngKangkong) September 20, 2022
Sen. Robin Padilla also shared the same sentiment, saying that "we would not grow" if the public wouldn't let go of the issues associated with the martial law era.
"The Marcoses should apologize? Ferdinand Marcos jr. is already the president. For me, let's move on," Padilla said. "If our former president Marcos Sr. is guilty. It's not the fault of the child."
He compared the situation of Marcos Jr. with his father to that of Adam in the bible.
"Even in the Islamic, Catholic faith, Adam's sin is not our sin," Padilla said. "Personally, if we don't get rid of that Marcos issue and that martial law issue, when will we grow?"
On the other hand, Senate Minority Leader Aquilino "Koko' Pimentel III urged the public to learn from history and fight disinformation.
"From a son who had seen his father suffer from the abuses of martial law and had witnessed his father imprisoned four times, I tell you this: The atrocities and abuses that transpired during this period were real. No amount of disinformation can change that," Pimentel said.
"Each of us has the responsibility of keeping the lessons learned from martial law intact. They should never be forgotten," he added.
Meanwhile, Sen. Risa Hontiveros called on Filipinos to commit to "keeping the truth alive, not just remember it."
"It is not enough that we remember. Let us continue meditating, sharing, and learning from each other," Hontiveros said in a statement. "The coping mechanism of cherry-picking and selective amnesia should not be tolerated. We expect efforts and online trolling to undermine the significance of this day. It is then the duty of each and every Filipino citizen to deny them their goals."
The martial law era saw the abuse of 11,103 individuals who suffered tremendous punishment. Records say the country's debt went from $36 million in 1961 to $28.26 billion in 1986.
Amnesty International states that 107,200 victims were killed, tortured, and imprisoned.