The It's Showtime host took the chance to shed light upon the proliferation of misinformation on social media when a question about 'fake news' was given to a Showtime Sexy Babe contestant.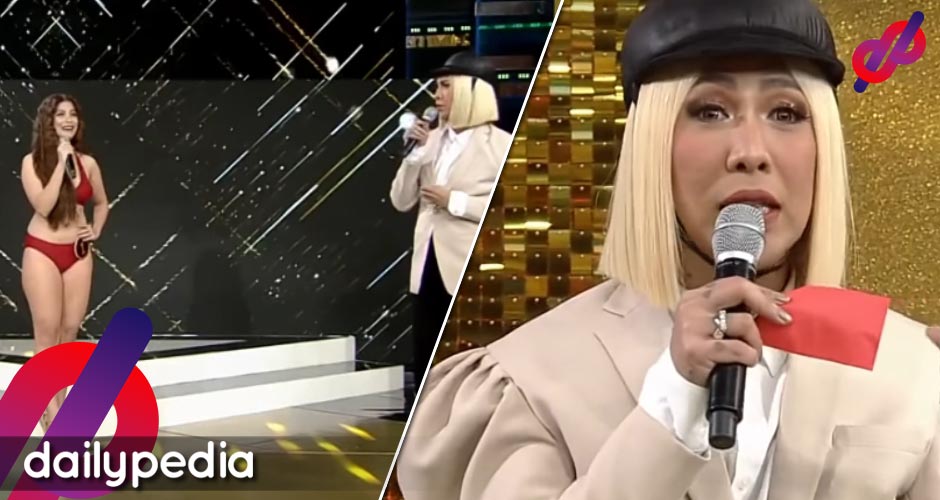 Vice Ganda seemingly schooled a Showtime Sexy Babe weekly finalist, when the contestant was asked about people who are employed to do fake news peddling in social media. 
"Ano ang gagawin mo kapag nalaman mo na ang boyfriend mo ay mahilig mag-share ng fake news sa social media (What will you do if you found out that your boyfriend is fond of sharing fake news on social media)?" he asked, as he read the question on a note handed to him. 
He further expounded the question by clarifying what kind of fake news the question was asking about.
"Di ba sa sa social media maraming fake news, andaming maling impormasyon na 'yung iba sinasadya nila… trabaho nila 'yong nagpapalaganap ng fake news (Social media is full of fake news peddlers, don't you agree (There is a lot of disinformation going on, and some are actually doing it on purpose, because they are paid to do it)? "
At first, Lexy Mae, the contestant who received the question, shared what she would feel after finding out his boyfriend is a paid troll or fake news peddler. 
"Malulungkot ako…madidisappoint (I'll be sad and disappointed)," she said. 
However, as she further expounded her answer, she appeared to have not grasped the full context of the question. 
"Sasabihan ko siya…pero irerespect ko po siya," she added
Vhong Navarro, then asked "Eh paano kung sinabi nya sayo na 'eh trabaho ko 'yun eh', kumikita ako dun eh' (What if he reasoned that it is his job, that he gets paid a lot for proliferating fake news)?". Navarro and Vice Ganda, at this point, appeared to be slightly boggled and bothered by the contestant's answer.
Lexy Mae, however, just reiterated her answer "Kung work nya po 'yun, irerespect ko po siya..I-gaguide ko na lang po siya kung anong tamang words na gagamitin (If that's his work then I will respect him. I'll just guide him on what better words to use)," she explained.
"Eh pag tinama mo..hindi na s'ya fake. Eh 'yun nga yung trabaho nila na maglagay ng fake news (If you correct him, it's no longer going to be fake. Again, it's their job to post fake news)," the host argued. 
"You wil still respect him even though he spreads fake news on purpose?)" asked Vice who now appeared more bothered. 
Still, Lexy Mae stood by her answer and sounded even more resolved about it. "…kahit fake news pa yan, basta respeto po sa mga tao (…even though it's fake news, never lose respect for people)."
Vice Ganda proceeded to differentiate employed fake news peddlers from those who share them simply because they are also victims of fake news. 
"Kasi may mga tao na di nila sinasadya na nakakapagpalaganap sila ng fake news, kasi sila mismo biktima (There are people who unknowingly spread fake news, simply because they are victims of fake news, themselves)." 
He noted that many are just too lazy to do research, which effectively turns them to be conduits of misinformation.
In the end, Vice asked Lexy Mae "…paano kung 'yung fake news na ipinalaganap niya ay 'yung post niya na mahal ka niya (What if one of the fake news he was spreading is that post where he said he loved you)?"
Again, Lexy Mae seemed to be perfectly resolved to stick with her answer. 
"Respect ko pa rin po sya…I-accept ko kung di na niya ako love. Desisyon niya po 'yun, again irerespect ko po siya kung di na niya ako love….basta masya siya sa desisyon niya, masaya ako para sa kanya (I will still respect him…I will accept that he does not love me anymore. That's his decision, again…I respect him even if he no longer loves me. I would be happy for his choices as long as its makes him happy)," she reiterated. 
By this time, 'respect" almost sounded "unity"—if you get what I mean.
"Masaya ka na mali na ginagawa niya?" asked Vice, who then ultimately gave up in pursuing the question further. 
"Eh 'yun ang opinyon nya eh…kahit anong gawin mo, eh putulin natin ang leeg ng tao, eh 'yan ang opinyon nya wala na tayo magagawa (Well that's her opinion…we can't do anything about it. I don't think cutting her neck will change her…"
That said, the host-comedian reminded the viewers that "…kailanman ay hindi magiging tama ang pagpapalaganap ng fake news, dahil ginugulo nito ang mundo,…nagpapalaganap kayo ng muhi. Mas maganda kung mga tama ang nalalaman natin (Spreading fake news will never be right, because it makes the world chaotic and it promotes hate. It's better if the only information we read are real and correct).
He then directed the audience towards what he called legitimate sources of information "…doon tayo sa mga totoong sources, legitimate sources… katulad ng ABS-CBN News, GMA News (Let's make it a habit to always look only on verified and legitimate sources, like ABS-CBN News and GMA News).
According to a recent report by Tsek.ph, an academe-based fact-checking initiative, several politicians are either beneficiaries or victims of disinformation campaigns. 
The said report showed presidential aspirant Bongbong Marcos are among those who benefit the most from fake news, while his closest rival, Leni Robredo, is one of the biggest victims.