The two most trusted and influential endorsers, Angel Locsin and Kris Aquino showed their support to presidential candidate, Vice President Leni Robredo in Tarlac grand rally.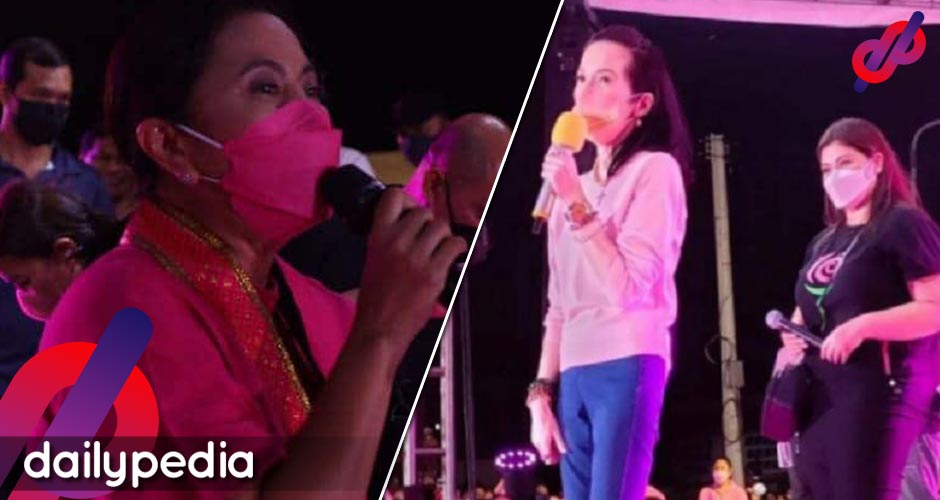 Locsin and Aquino graced the stage at the grand rally of the Leni-Kiko tandem on Wednesday (March 23, 2022) in Tarlac together with the bustling 50,000 crowds.
In the recent survey of the Pulse Asia of December 1-6, 2021, Angel Locsin and Kris Aquino were named two of the most trusted endorsers.
Kris Aquino and Angel Locsin have been identified as top endorsers to convince voters in a December 2021 Pulse Asia survey. #PHVote https://t.co/Qvg6tqW6BD

— Mara Cepeda (@maracepeda) March 23, 2022
Angel Locsin and Kris Aquino for Leni-Kiko in Tarlac. The two most influential celebrity endorsements based sa survey. Two queens supporting our future President. 🌸🌸🌸#TarlacIsPink #TarLENIqueño pic.twitter.com/pL67J8Ufyb

— Jacintha Magsaysay (@darnaisangel) March 23, 2022
On October 1, 2020, the famous Darna was also in the top spot of being the "Most Admired Personality" of the Philippines.
The weight of credibility that the two influential celebrities bear–they hope to influence the masses that if they can trust them, then trust whom they choose as president.
It is not surprising how celebrities left and right endorse a certain candidate, implicit or explicit. The endorsement being given is tantamount to either added positive fame or negative feedback and allegations.
Surely, both actresses were ready. Political belief for an expected light for the mass over celebrity limelight.
Aquino emphasized to the crowd "Ang puso niya may malasakit sa inyong lahat, may respeto sa batas at ipaglalaban ang demokrasya".
She added, "Bago po ako mag paalam, sana iregalo niyo po kay Noy and boto niyo sa Mayo, sana po".
"I boto niyo po si Leni Robredo".
Kris Aquino with sons Josh & Bimby together, Darna @143redangel at the Tarlac rally for VP @lenirobredo

Despite having health issues & undergoing several medical procedures recently, Kris Aquino makes her first appearance in a sortie at the Leni-Kiko's Puso Grand People's Rally pic.twitter.com/dSZ6ZoepOS

— Kris Aquino (@KrisAquinoWORLD) March 23, 2022
Angel Locsin, on the other hand, has been fangirling over Robredo and joined the crowd at the Pasig grand rally dubbed as Pasig Laban carrying a statement placard, "Ma'am Leni sayo na ang Bato" pertaining to Darna's (Female Superhero) "bato" or magical stone.
Angel Locsin fangurling is a mood. She's all of us! Ang kyut kyut nung dalawang Darna! 🥺🤣🤣🤣 pic.twitter.com/1HdAUQtyO9

— Phi Palmos (@phipalmos) March 20, 2022
Came here to be with the crowd! Saya nyong kasama! Sa uulitin 🙌🏻 #PasigLaban #LetLeniLead @ Emerald Ave, Ortigas https://t.co/owdlqXYLhy

— Angel Locsin (@143redangel) March 20, 2022
Netizens were quicked to react to these moments.
The power this photo hold! 🙌🏻🌸

Angel Locsin, Ms. Kris Aquino, and VP Leni Robredo 💕@143redangel #TarlacIsPink pic.twitter.com/lu1OAQyRPx

— chae (@chxxgel) March 23, 2022
Not only Kris! There's also Angel Locsin-Arce at the Tarlac grand rally! Whoo! Strong women indeed support each other! Thank you, Kris and Angel, for campaigning for VP Leni!#LeniKiko2022#TarlacIsPink

— Miss Maggie (@MiaMagdalena) March 23, 2022
I'm currently seeing posts stating that their parents, friends and relatives are considering Leni bcoz of Angel. Now, her powerful video with other powerful women has 7M views, 500k reactions, and 167k shares. 19 hours palang yan ha. That ad really has a strong message. https://t.co/2SrS8yfL9P

— Jacintha Magsaysay (@darnaisangel) March 24, 2022
Ms. Kris Aquino and Ms. Angel Locsin Are in the house! Three influential and strong women sharing one stage. Indeed, the last man standing will still be a woman.! 🌺🌺🌺💗💗💗 pic.twitter.com/IEY9OB16pi

— yengie 💃🎗️💚💗 (@leeleefram) March 23, 2022
The appearance and endorsement of the two TV personalities in the recent rally of the Kakampink in Tarlac, clearly showed their support to Robredo. This in turn influences supporters to choose their path. However, the question remains whether this influence will turn into votes in this upcoming election.