On Wednesday, Atty. Larry Gadon trended on Twitter after being steamrolled by labor lawyer Luke Espiritu at the SMNI senatorial debate.
Gadon, along with former presidential spokesman Harry Roque, appeared to use their time to paint the Marcos family in a good light.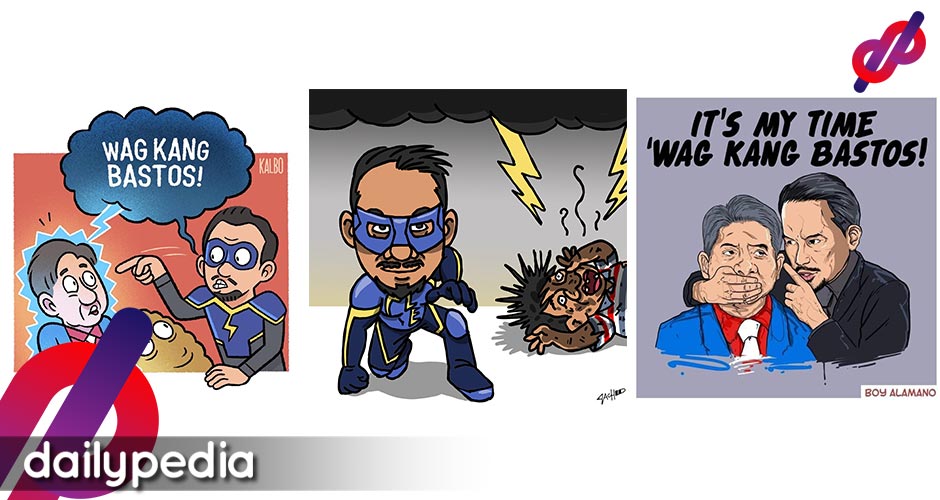 When asked how they'd handle the issue of children being used as scapegoats in various crimes, Gadon decided to slam the Catholic church by noting that its religious figures allegedly preach anti-Marcos and anti-martial law lectures.
 "Tama naman na responsibilidad ng mga magulang ang pagbigay ng payo sa mga bata, pero ganoon din ang Catholic church.
"Marami sa mga pari na sa halip na magturo ng leksyon sa mga bata, ang inaatupag nila yung mga anti-Marcos, anti-martial law, at mga communism ang kanilang itinuturo. So, dapat suwetuhin din itong Catholic church." he said.
He added that the church should refrain from entering the realm of politics.
"Wala na kayong ginawa kundi manira kay Marcos, kay Bongbong. Kung anu-anong mga kalokohan martial law kayo, mga pari kayo. Dapat ang ituro niyo yung kagandahang-asal, hindi yung pamumulitika!"
Espiritu agreed that adolescents should take more accountability in wrongdoings and noted that children must be taught that former president Marcos was "bad" along with extrajudicial killings and red-tagging.
"I agree na hindi dapat binababaan ang age of criminal responsibility. I disagree na dapat parusahan ang mga magulang. Tandaan natin ang krimen sa baba ng ating lipunan, sa mga mahihirap ay dahil sa social problems na crineate [nilikha] ng ating lipunan.
"I also agree na dapat bigyan natin ng tamang values ang mga kabataan. Dapat itinuturo sa school na masama ang extrajudicial killing, masama ang red-tagging, masama si Marcos, marami siyang human rights violations…" he said.
As he was speaking, Gadon interrupted. Espiritu paused for a second and scolded Gadon.
"It's still my time. It's still my time. Don't be rude!"
Gadon continued talking until the moderator asked him to allow Espiritu to finish. The latter then noted facts about the martial while calling Gadon "bastos."
"It's my time. 'Wag kang bastos"

Senate hopeful Atty. Luke Espiritu roasted the Marcos bootlicker and suspended lawyer Larry Gadon in the #SMNIsenatorialdebate pic.twitter.com/PobVQXcyZZ

— 1,3,7-trimethylxanthine☕ (@rrjjjyyyy) March 2, 2022
#GadonBastos then trended on Twitter.
#Gadonbastos! pic.twitter.com/8uTv9i1v5I

— @proud💒🙏❤ Maria Cristales 2020✍ (@ProudNancy) March 3, 2022
bastos kasi kaya na-espirted away tuloy #satire pic.twitter.com/ITh9DVvSz6

— Cartoonist ZACH (@cartoonistzach) March 3, 2022
that satisfaction of someone shouting @ Gadon and telling him: WAG KANG BASTOS ! https://t.co/2dIu8HuMG7

— Leni-Kiko2022 | NEVER AGAIN (NO TO MARCOS) (@etoilelepetit) March 3, 2022
G a d o n ' t ⚡️ pic.twitter.com/dg40ahFGwb

— Tarantadong Kalbo (@KevinKalbo) March 2, 2022
We need Atty Luke Espiritu in the Senate. Someone who could literally destroy the likes of Roque and Gadon na mga bastos at walang modo! pic.twitter.com/ZrmRdUSsbf

— Blink1022 (@akosibonbonbon) March 3, 2022
People have been longing for someone to stand up to Gadon.
The way Luke Espiritu said "Wag kang bastos!" and every molecule of Larry Gadon got called out. It's like the whole world stopped turning, and every living being turned their head to look at SMNI, at the podiums, then at Gadon, and in disgust, nodded.

— Kristoffer Pasion (@indiohistorian) March 2, 2022
https://twitter.com/ricci_richy/status/1499045350438764549?s=20&t=rTFn7et6u2EAdcLRsiSvJg
Suspended lawyer Gadon represents the worst in the profession. Mayabang. Bastos. Grandstander. Atty. Luke Espiritu gave us the the best way to confront them — call them what they are and drag them to the trash bin where they belong.

— #LetLeniLead2022 (@tontonneri) March 3, 2022
Let us normalize saying "wag kang bastos" to history revisionists, gagong abugados, fake news purveyors, and racists. Like Gadon. https://t.co/FZcRI7j6A9

— bakekang_of_bakakeng (@your_bakekang) March 3, 2022