President Rodrigo Duterte told Filipinos that they cannot choose which COVID-19 vaccine brand to take from the government.
In a taped state address aired on May 18, he explained that the vaccines are all the same and those approved by drug regulators are all "potent" and "effective."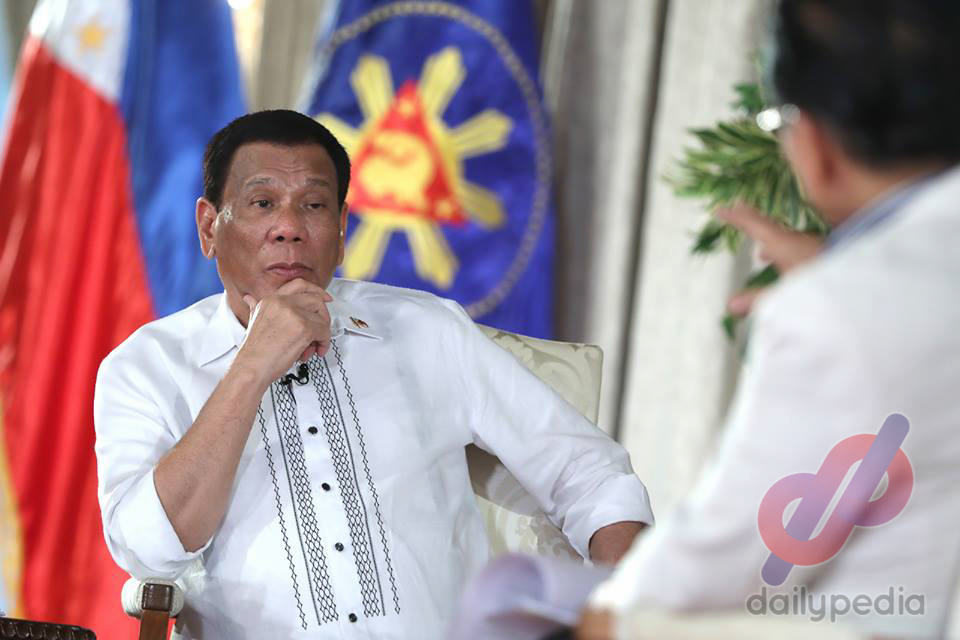 Duterte added that the vaccines are given in bulk so Filipinos should accept whatever is in front of them.
"There will be no discrimination at saka hindi kayo makapili kung ano ang bakuna. Pareho lahat yan. Di kayo makasabi AstraZeneca sa akin, Moderna–no. Kung ano ang nasa harap ninyo, yun na. Do not ask for a special kind of–kasi bulto por bulto yan ibigay… It leaves a bad taste in the mouth."
He said that it won't be guaranteed that those waiting for US-made vaccines like Pfizer and Moderna will be jabbed by the brands they prefer.
"Sabi ko hindi mangyari 'yan. You cannot have–kung anong nasa harap n'yo, que milyonaryo ka o ano, iyon na 'yong iyo. Hindi ka mamili."
The president declared that vaccine czar Carlito Galvez Jr. distributes the vaccines with a blind eye regarding vaccine brands.
"Ayaw kong magkaroon ng storya na may pinapapaboran kami na ito, ito. Wala. Maski saang subdivision ka na mayaman o anong lugar dito sa North Harbor, pareho kayo lahat. Hindi ako papayag na magpili-pili."
Netizens weren't convinced with Duterte's answer as they pointed out that he had a specific preference for the Sinopharm vaccine.
Supreme Leader : Bawal mamili ng brand ng bakuna.
Also Supreme Leader : I prefer Sinopharm.

— Tony Velasquez (@KakanTuring) May 18, 2021
"[Duterte] chose to be vaccinated with Sinopharm despite not being approved by the FDA at that time."
Duterte: reprimands the public to not be choosy with the brand of vaccine.

Also Duterte: Chose to be vaccinated with Sinopharm despite not being approved by the FDA at the time.

🤡🤡🤡

— Katrina Mickey (@mickeykatrina) May 18, 2021
Someone mentioned that Filipinos airing out their vaccine preference is an "insult" to Duterte as it just shows how they have little faith in China-made vaccines.
An insult to Duterte, some Filipinos prefered Pfizer than Sinovac. This shows that the trust of people over the Chinese Vaccine is not that big. well mas okay din naman maging choosy minsan pagdating sa kalusugan. wala namang masama kasi lahat naman "daw" ng bakuna ay ligtas.

— leonardo (@magadialeon) May 18, 2021
A Twitter user described Duterte as "thick-faced" for having the privilege to choose this vaccine.
tigas ng mukha ni duterte magsabi ng wag mamili ng vaccine, pero sinopharm pinili niya

— ✨ (@pinkmermaid88) May 18, 2021
"Kung kayo nakinig sa tao edi sana hindi niyo kaylangan ipilit ang brand niyo," a Twitter user wrote.
Ano sabi mo? Wag magpilipili ng bakuna? Kung kayo nakinig sa tao eh di sana hindi nyo kelangan ipilit ang brand nyo.. Bakunahan mo kaya mga antatabang mukha ng nga tao mo..

— MarYa (@MaryaLusya) May 18, 2021
Another accused Duterte of purposely delaying the acquisition of Western vaccines so that the country will be indebted to China.
Sinadya kasi talaga ni Duterte na wag maunang dumating yung mga Western vaccine kasi gusto nya yung galing China ang gamitin para magka-utang na loob tayo sa China. Sinabotahe nya talaga yung Pfizer deal dati. Ayaw nya magbigay ng advance payment.

— Sonny (@sonny_da_man) May 18, 2021
Filipinos' right to choose is what a netizen is fighting for, saying that the administration was to blame for blocking the vaccines.
duterte:wag maging choosy sa vaccines

we have the right to choose kaso kayo yng nagtatanggal sa karapatan ng tao hahaha harang harang nyo pa sa customs yng vaccines panalo talaga Pilipinas haahahaha

— Jayvee Claver(deactivate) (@bgyo_jayvee) May 18, 2021
Someone mentioned that the country has borrowed billions of money, yet its citizens still have no right to choose.
https://twitter.com/haydenmartxn/status/1394603482733182976
On the other hand, a netizen said that people skipping their chance to be vaccinated with Sinovac to be vaccinated with Pfizer or Modera is a bad development for public health.
People foregoing getting vaccinated with Sinovac in favor of Pfizer (or Moderna) is not good. It's a bad development for public health.

Politics aside, Duterte sentiment aside, this is not a good thing and not something to crow about. Vaccine hunting will cost lives.

— Old Man River (@iwriteasiwrite) May 18, 2021
Duterte received his first dose of the Sinopharm vaccine on May 3, which the Palace earlier said was his preferred brand.
"He has said his preference is for Sinopharm," said Presidential Spokesperson Harry Roque during his regular press briefing on February 22.
As of writing, the Philippines has received 7.779 million doses of the COVID-19 vaccine from Sinovac Biotech and has administered almost 3 million to Filipinos.