The rift between President Rodrigo Duterte and Vice President Leni Robredo seems to only grow in size as Duterte fires another challenge at Robredo.
In a televised press conference on Sunday, February 28, Duterte dared Robredo to get inoculated with Sinovac, a vaccine for COVID-19 to build public trust.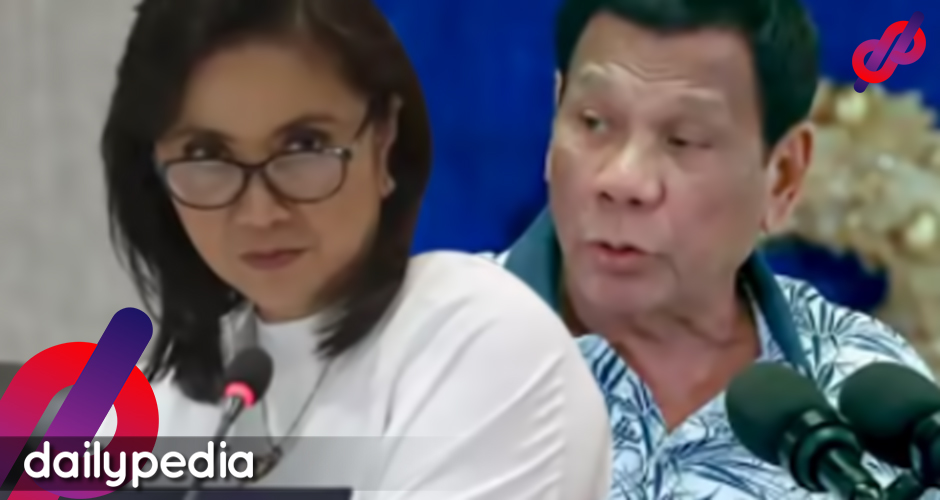 Challenge came after a shipment of 600,000 doses of CoronaVac arrived from China.
"Siya man yung apurado, siya mauna," said Duterte after GMA News reporter Joseph Morong asked him about his reaction to Robredo's call. "I cannot just decide. She's young, I am not. I have to defer to my doctor."
"Talagang magpabakuna naman ako. I go around a lot. I meet so many people on any given trip outside. Bakit dadramahin pa kung sino unang magpapabakuna", Duterte added, saying his doctor is supposedly waiting for a vaccine that would suit Duterte, who turns 76 this month.
Robredo, on the other hand, is 55 years old, 'passing' at least one that the Food and Drug Administration's categories for a CoronaVac dose. The FDA previously stated that only those between the ages of 18 and 59 are fit to receive CoronaVac.
Two more officials from Duterte's cabinet would refuse to take Sinovac shots: health secretary Francisco Duque III, 64 and Defense Secretary Delfin Lorenzana, 72.
Robredo's spokesperson Barry Gutierrez earlier said the Vice-President is willing to be vaccinated in public to encourage Filipinos to get immunized against COVID-19.
Duterte-Robredo issues in 2021.
This is not the first time Duterte and Robredo would clash on an issue in 2021.
In mid-February, Robredo called out Duterte's bluff toward the country's long-time ally [the United States of America] of "extortion" after Duterte asked the US for vaccine shots in exchange for retaining the Visiting Forces Agreement.
Duterte responded to Robredo by saying she needs to "study more" and calling her "not fit to run for President."
"Robredo should look at the constitution. The constitution provides that foreign policy is vested on the president alone," Duterte said in a televised public address last February 16.
"Every time she opens her mouth, she forgets that she's a lawyer… Kung ano gusto kong sabihin para sa aking bayan, may purpose yan."
Duterte stressed that he is not after the money from the US. It is about the weapons and defense systems the US might help the Philippines, in case–it goes into an all-out war against China.
Duterte and Lorenzana have maintained their stance that they are not going to war against China for fear of losing any funding his Administration has received for infrastructure projects.
Robredo also called out Duterte for his decision to scrap three holidays in 2021: Tuesday, November 2 (All Souls Day); Friday, December 24; (Christmas Eve); and Friday, December 31 (Last Day of the Year).
She hit the government's economic reason for doing such, saying longer holidays for workers also contribute to the economy because they would be spending more on local tourism.
Robredo and Duterte surprisingly agreed on one issue to put the entire country under a more relaxed modified general community quarantine or MGCQ. 
Robredo previously questioned acting National Economic Development Authority (NEDA) Secretary Karl Kendric Chua's proposal to go to the more relaxed MGCQ to promote economic activity.
Duterte would seemingly agree with Robredo, keeping Metro Manila and nine other areas under a general community quarantine until March 31, 2021.
He said he valued the health and safety of Filipinos more than an economic stimulus. Any proposal to relax quarantine measures would have to wait until a full-scale rollout of COVID-19 vaccines is underway.