Getting cut off while talking to your peers is one thing; but when a spokesperson cuts you off while you are doing your job, that sends a different message.
This was the recent "problem" that has plagued Presidential Spokesperson Harry Roque, who insists he never cuts off reporters while they ask questions.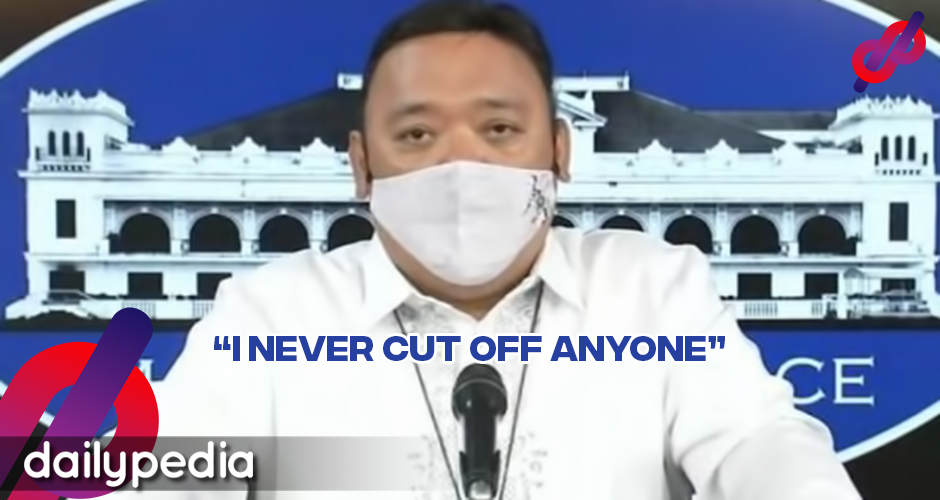 In a recent media briefing, GMA News reporter Joseph Morong asked Roque to not cut off journalists as they ask their questions.
The request came after CNN Philippine's Trisha Terada was in the middle of asking Roque a question.
Roque appeared to divert Terada's inquiry, moving instead to answer a question from another reporter.
As Morong was asking his question, Roque would ironically cut him off by saying  , "I never cut off anyone."
He would also say he never does it intentionally, opting to blame telecommunications companies instead.
This explanation, however, did not sit well with netizens, who questioned Roque's treatment of reporters and their respective media organizations.
Blame the telecoms? WTH.🤣

If you're the host, you can easily mute the audio or cut off the video online @attyharryroque . So kpag di nyo type ang reporter eh pinapatayan nyo na lang ng audio.

Kabastusan.

— Leisbeth Recto (@leisbeth_recto) February 26, 2021
Hindi habambuhay nasa puwesto kayo mga impakto! This is just evil. pic.twitter.com/zxTMBXlmy7

— The Professional Heckler (@hecklerforever8) February 25, 2021
Your unprofessionalism is overflowing, Roque. Kudos to the reporters for calling him out. https://t.co/3Y9MxuZrdS

— kate (@kateclln_) February 26, 2021
Ganyan nga! 🙌👏💪 https://t.co/a57LZ5Er5t

— John Lapus (@KorekKaJohn) February 25, 2021
Others saw the irony in Roque's attempts to clear his name from another media gaffe.
i love how he's defending himself in the way that he's being called out on.

"i never cut off anyone" while cutting off the person who's talking. LOL. NICE. A+ https://t.co/B5b4TK3jQk

— luigi (@luigipacho) February 26, 2021
One netizen even made fun of the usual graphic placed on Roque's rostrum during media briefings.
Harry Roque's 3 tasks:
MASK incompetence
HUGAS kamay sa kapalpakan
IWAS sa mga tanong pic.twitter.com/zbsuYp9vUv

— Anj (@anjpessumal) February 26, 2021
Some netizens even called out Roque for only cutting off female journalists like Rappler's Pia Rañada and Terada.
Finally, someone called it out. Couldn't help but notice that the female journalists are disproportionately interrupted and ignored in these pressers. https://t.co/pYnQGcTKjC

— Regine Cabato (@RegineCabato) February 26, 2021
Barnaby Lo, meanwhile, congratulated the members of the Malacañang Press Corps for "pushing back against unprofessionalism" and "blatant bullying".
https://twitter.com/barnabychuck/status/1365168670364737536
On the other hand, Rañada had a clapback that netizens absolutely loved.
What a clapback, @piaranada! Drag him. https://t.co/iPiL1pZkzB

— Mara Cepeda (@maracepeda) February 25, 2021
Perhaps it reminded netizens of another time when Harry Roque nearly went ballistic during an interview with CNN Philippines' Pinky Webb.
This isn't the first time Roque was caught out for what can only be described as "selective professionalism."
Two months into the country's year-long COVID-19 lockdown, Roque would scold Terada from CNN Philippines about an article published on their website.
The catch: Terada never wrote the CNN article Roque was referring to. Roque would continue scolding Terada during the broadcast, saying she did not need to explain her side.
Malacañang would also show unprofessionalism after the Presidential Security Group barred Rañada from entering Malacañang Palace grounds on orders from "someone up high."