The formerly considered a bold statement has become the perfect case of irony as President Rodrigo Duterte backs out of receiving shots from favored Chinese pharmaceutical company Sinovac.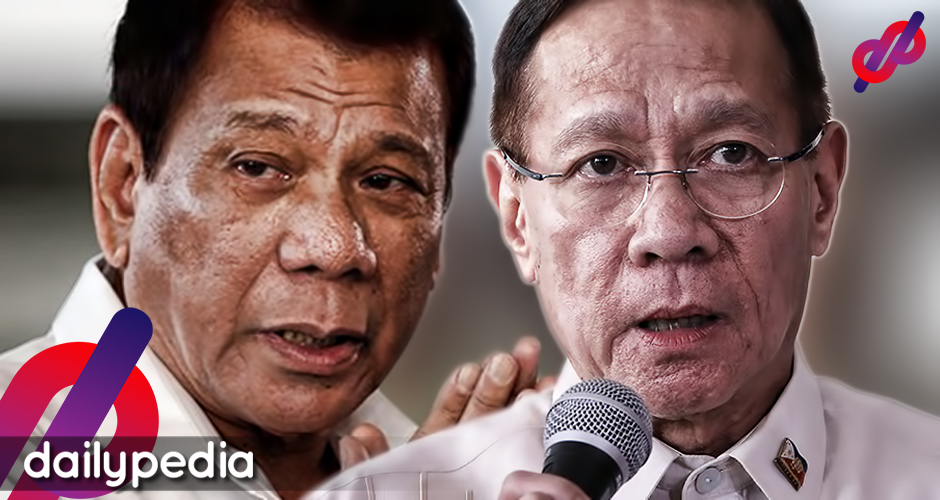 Duterte would proclaim this as he was moving to receive a 600,000-dose shipment of CoronaVac from the Chinese government on Sunday, February 28.
He cited his age as the main factor in refusing to take Sinovac's famed yet controversial COVID-19 vaccine. He opted to defer. His statement led to a deluge of comments from Netizens. They thought that Duterte would be first in line once Sinovac vials made it to Philippine shores.
🤡🤡🤡 pic.twitter.com/0TvQ4zQgbJ

— Malacañang Events and Catering Services (@MalacananEvents) February 28, 2021
Mayor muna dapat mauna. Walang bawian. Charot! https://t.co/Ek5KK35gEZ

— Charot! (@IamCharotism) February 28, 2021
From "Ako ang mauuna pagdating ng bakuna!" to "Hindi ako pwedeng mauna!" real quick.

Nauuna kasi ang yabang. Bilib na bilib naman ang mga gunggong niyang tagasunod.

— The Professional Heckler (@hecklerforever8) March 1, 2021
A doctor even pointed out how the FDA's recommendation suddenly became an excuse for Duterte instead of merely insisting he preferred one vaccine over another.
Suddenly, their age becomes a convenient alibi in not taking the vacccine. Nobody's calling them out for being sinophobes or eroding vaccine trust, that's for sure.

— Carlo Trinidad, MD (@hellokidneyMD) February 28, 2021
Remember, FDA specified in its EUA that the vaccine we have right now is not recommended for HCWs and on people 60 years old and above. HCWs get gaslit while they can get to excuse themselves 🤡

— Carlo Trinidad (@hellokidneyMD) February 28, 2021
The same doctor would call out Duterte for not stepping up to the plate even as other global leaders took the shot—including two from neighboring countries–Indonesia and Hong Kong: Indonesian President Joko Widodo (59) and Hong Kong's chief executive Carrie Lam (63).
Meanwhile, Indonesian leader Joko Widodo (59) and HK chief executive Carrie Lam (63) both get vaccinated with the same vaccine our officials are now avoiding.https://t.co/F6k30Rrr0Q

— Carlo Trinidad, MD (@hellokidneyMD) February 28, 2021
As if to add insult to injury, two of Duterte's most trusted secretaries have also backed out of CoronaVac shots: Defense Secretary Delfin Lorenzana and Health Secretary Francisco Duque III.
wenk wonk pic.twitter.com/dUpiVlP4Iz

— Jules Guiang (@julesguiang) March 1, 2021
Both of them also used their age as their reason for not taking the vaccine.
Messed-up internal comms anew?
Government officials who were supposed to receive the vaccine included: vaccine czar Carlito Galvez, Jr., Metro Manila Development Authority chief Benhur Abalos, National Task Force Deputy chief implementer Vince Dizon, and Food and Drug Administration (FDA) director-general Eric Domingo.
Galvez, Abalos, and Domingo would get their shots during the ceremonial inoculations held at the Philippine General Hospital in Manila. Dizon would get it from the Dr. Jose N. Rodriguez Memorial or TALA Hospital in Caloocan City. Inter-Agency Task Force consultant Edsel Salvana would also be among those who would receive the vaccine, as well as the directors of both PGH and TALA.
Duque backing off due to age would have been okay for government communications—until Presidential Spokesperson Harry Roque insisted Duque received a dose of CoronaVac during the vaccine's rollout earlier today.
Roque repeatedly said Health Secretary Francisco Duque was vaccinated during the rollout of Sinovac vaccines today.

The DOH denies this: No, SOH was not and will not be vaccinated.

— CNN Philippines (@cnnphilippines) March 1, 2021
The Department of Health would deny Roque's claim, citing the FDA's earlier recommendation.
Roque would commit a second media gaffe in the same briefing, boldly claiming that Sinopharm has just applied for an emergency use authorization (EUA) from the FDA.
Presidential spokesperon Harry Roque said Sinopharm has applied for an emergency use authorization (EUA) of its COVID-19 vaccine before the Food and Drug Administration (FDA). But FDA chief Eric Domingo said he has yet to receive such information.https://t.co/G1JbPSHuYY

— GMA News (@gmanews) March 1, 2021
Domingo replied in kind to Roque's claim, saying the FDA is not aware of any EUAs, filed by the Chinese state-owned pharmaceutical.
In an interview with state-run PTV, Domingo said the FDA has yet to receive an application from Sinopharm on Friday, February 26.
He also said that while they could have filed over the weekend, he insisted they have not evaluated any applications from Sinopharm.
Domingo added that FDA's head office in Muntinlupa City is closed on March 1 due to the city's founding anniversary, which is a public holiday.
Sinopharm is Duterte's preferred COVID-19 vaccine maker and the same pharmaceutical company where his security detail got their illegal vaccine shots from October 2020.