Vlogger Donnalyn Bartolome is getting praised on social media after donating rescue boats to the areas of Rizal and Marikina.
She said her team is trying their best to send the boats to those who need them the most.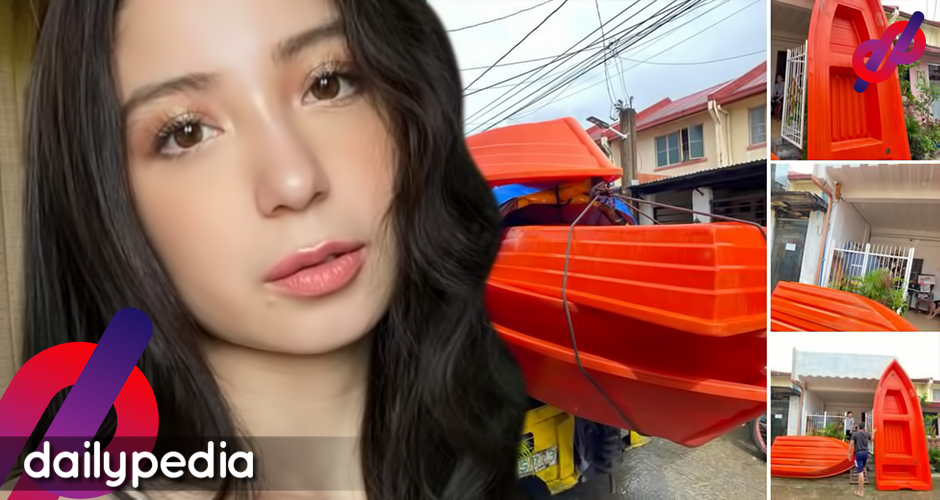 "Boats delivered to Montalban, Rizal. Get to safety everyone (read the post). Otw to Marikina right now to deliver more boats but natirikan ako guys dahil sa baha. So sorry we are trying our best please wait lang po. MARIKINA WAIT PO you're next na, rescuers pls standby," Donnalyn said in social media post.
The 26-year old also asked for people to volunteer in rescue efforts, and she'd have no problem paying them to do such.
"MARIKINA and RIZAL residents sino ang gusto mag-volunteer for rescue? Marunong magsagwan at lumangoy, kahit magbayad ako. I'm buying boats na so let me know asap! Need na ng help ng barangays dahil lagi na busy ang lines nila. God help those who need you please please," she added.
She urged more help for Rizal since it was the most affected.
"Inform lang po ako na Rizal needs you more now according to an official I've spoken to in Marikina. Unfortunately RIZAL IS STILL IN DANGER. The boats we brought are saving others but we could save more," she said.
Donnalyn is not the richest social media influencer out there, but it seems she's only one of the few to provide assistance in rescuing stranded typhoon victims, said netizens.
Kung si Donnalyn Bartolome kaya bumili ng rubber boats at ipadala sa Marikina at Rizal, bakit hindi gawin ng ibang celebrities/influencers to help? Kahit mag-ambag ambag na. Wala e, walang kwenta yung National Government.

— Jong (@JongMontalbo) November 13, 2020
Why can't the government do what Donnalyn did?
if an influencer like donnalyn bartolome can buy rubber boats to rescue the stranded, why can't our government do better? let that sink in.

— thea ¹ᴰ◟̽◞̽ (@ilysmlouist91) November 13, 2020
Just the fact na si Donnalyn Bartolome kayang bumili ng rubber boats para sa nasalanta tas yung gobyerno ano na? JSAJFKAJFA

— ThanThan 🙂 (@1016Ethxn) November 13, 2020
si donnalyn bartolome naka-abot ng tulong by sending rescue boats anong magagawa ng pagiging manipulative sad boi mo jan juskomariyaka pag bulugtaw na kamo fanatics ka turtle

— Babygirl ni Angelov (@eyliberi) November 13, 2020
Buti pa si Donnalyn Bartolome nakabili ng rubber boats using her own money para makatulong, 'yung isang D diyan ang daming emergency funds pero 'di naman ginagamit. Hays sino ang tunay na simple walang arte charet #OustDuterteNOW

— jellyan (@raejillianbueno) November 12, 2020
MAS NAUNA PA ATA BUMILI NG RESCUE BOATS SI DONNALYN BARTOLOME KESA SA GOBYERNO EH

— Ysa (@YsaDomingo) November 12, 2020
https://twitter.com/jxuan21/status/1326784085923074056?s=20
i'm stanning donnalyn bartolome kasi kahit iyak iyak siya last week sa ex niya, she's buying boats naman ngayon para irescue yung mga stranded residents sa marikina and rizal ❤

— CEEJ (@Ceej_Centeno) November 12, 2020
Donnalyn Bartolome just posted na she's buying boats for rescue. She's also asking for volunteers na marunong magsagwan at lumangoy. She'll also pay. Hayyy. Tayo tayo na lang talaga to. Keep up naman ung mga public servant natin dyan. Nasan kayo!!!!!

— Joanne Constantino (@joannagitera) November 12, 2020
Other celebs like Jericho Rosales and Kim Jones gave away their surfboards so they can be used as flotation devices in assisting flood victims.
The couple then started a fundraiser with their friend Marinez Elizalde which allows local and international donors to donate in the purchasing of food, clothing, and water for typhoon victims.
On her part, Miss Universe Philippines fourth runner-up Billie Hakenson raised funds for relief efforts by hosting a live auction on Kumu.
Comedian Macoy Dubs donated basic necessities to Mandaluyong City.
Hindi man ganoon kadami pero sana ay makatulong pa rin sa mga kapatid nating nasalanta. Papunta na sa Mandaluyong drop off center bukas. Kapit lang mga sis, matatapos rin ito. pic.twitter.com/K0OqaLvpbK

— Macoy Dubs (@macoydubs1) November 12, 2020
Bianca Gonzalez shared fundraising campaigns for typhoon relief.
— Bianca Gonzalez (@iamsuperbianca) November 12, 2020
Angel Locsin also did the same.
Donate to https://t.co/ik40Q7BtV2

❤️@philredcross https://t.co/O6GTOzUbV9

— Angel Locsin (@143redangel) November 12, 2020