Foreign Affairs Secretary Teodoro "Teddyboy" Locsin Jr. was visibly emotional Monday during the welcoming of 386 returning Filipino workers who just arrive from Lebanon at the Ninoy Aquino International Airport.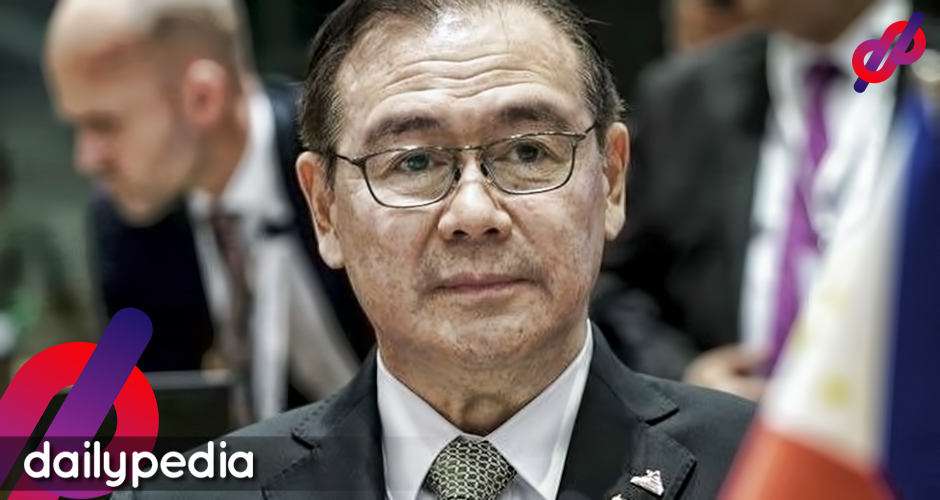 "I want to thank people around me. Everyday nandito sila to welcome back our people." he said, addressing the OFWs.
"We do it because we love you. And we do it because we respect our President, the first and only President who has dared for the least of the Filipino people," he said as his voice wavered.
His speech followed presidential spokesman Harry Roque's 'perpetual isolation' remark that stirred confusion within the public.
The corpses of 8 OFWs also arrived in the country, who were victims of the Beirut blast.
One Twitter user explained that Locsin was emotional because the OFWs, for a long time had to endure the living conditions in Lebanon and saw the sadness in their faces.
from @mlq3 … a source close to Teddyboy said this is the reason he waxed emotional in that speech pic.twitter.com/kimfBmz7Ag

— SarcasmOrgasm (@DeeJayBee42) August 17, 2020
People have noted that the wavering of the voice and the audible sniff came after he mentioned Duterte, so it's possible that he wasn't really sincere towards the OFW.
If that were the case, I empathize with him. But the pause and tears came after he mentioned the president. So, not totally sold on the said reason.

— Miss Maggie (@MiaMagdalena) August 17, 2020
Many saw it merely as an act.
And the best actor award goes to…Teddy Boy Locsin!

😭😭😭

— ¥●£● (@YOLOinthePH) August 17, 2020
Duterte on "perpetual isolation". Reminds me of Kingdom and the premise of the hidden death of the head of state.

Also, if that video of Teddy Boy Locsin getting all dramatic after getting a text doesn't clue you in, idk man.

— ءتَاءتَاءأَلِف (@betxta) August 18, 2020
Umiyak si Teddy Locsin at sinabing welcome back home. Bakit totoo bang galing sya ng Singapore hospital?

— RaGuildford (@RaguilDe) August 17, 2020
Tangina ni Teddy boy Locsin. May paiyak-iyak pa. Kelan ka ba mamamatay?

— Percival Grindelwald pickawme (@PGrindelwald) August 17, 2020
Marunong palang umiyak tong si Teddy Bear Locsin, totoo kaya yong luha nya.

— Betty O'hara (@heartofemmaus) August 17, 2020
Locsin acknowledged that he is just the face, but full credit should be given to the OWWA and the PCG for always being there.
See the people around me, OWWA, my people, the Coast Guard, they are there everyday night and day to welcome back our people. Don't thank me. I'm just the face; they are the hands and heart. https://t.co/PG1oJ2U9wD

— Teddy Locsin Jr. (@teddyboylocsin) August 17, 2020
One OFW carried a little girl without a soft skeleton; she was draped like a rag doll on her mother's arms; I took the child; she weighed like an angel must; and led the mother to the best seat available and gave her back. We got them home.

— Teddy Locsin Jr. (@teddyboylocsin) August 17, 2020
Senator Tito Sotto said Locsin's display of emotions was a sign of compassion and sincerity.
Men who turn emotional and shed tears are usually sincere, compassionate, loving and usually handsome! @ichuvillanueva @teddyboylocsin

— Tito Sotto (@sotto_tito) August 17, 2020