Duterte supporter, Marcos loyalist, and Hitler apologist Atty. Larry Gadon responded angrily to Vice President Leni Robredo after she dismissed him as a bad role model for wearing a face shield with a taped face mask behind it that went viral on social media.
In a short video, Gadon accused Robredo of cheating in the 2016 elections by stealing votes from then-vice presidential candidate and former senator Bongbong Marcos, which has never been proven.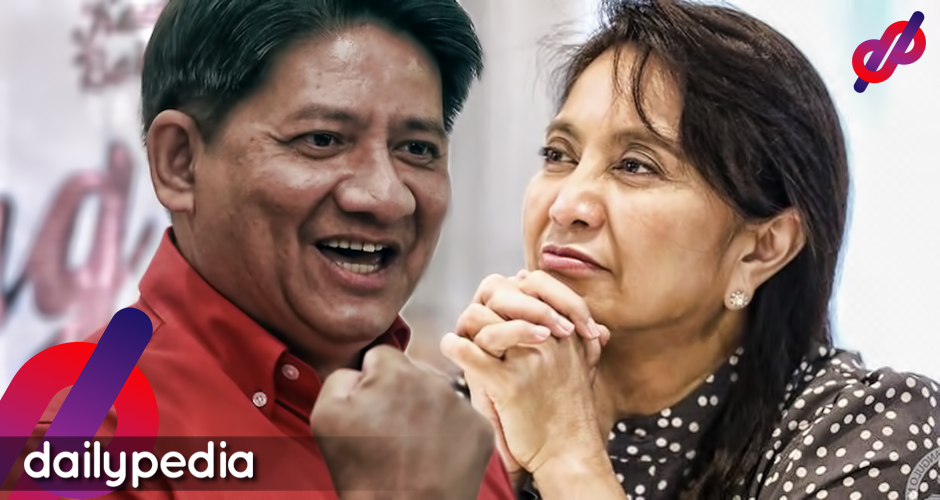 Gadon said that he never wanted people to look at him as a role model, and proceeded to attack Robredo.
"Ang hindi magandang modelo ay yung mangdaya ka sa eleksyon. Ang hindi magandang modelo ay yung nakawin mo ang boto ni Bongbong Marcos. Ang hindi magandang modelo ay ipamukha mo sa mga tao na okey lang mandaya at okey lang na ikaw ay robot lang ng partido mo," he said.
He also accused Robredo of ruining the Duterte administration's image.
"Bago ka magsalita, silipin mo muna yung sarili mo dahil ikaw ang pinakamasamang ehemplo sa pilipino kasi mandaraya ka," he added.
Gadon ran for senator in the 2019 senatorial election but failed miserably.
WATCH: Atty. Larry Gadon, sinagot ang pasaring ni VP @lenirobredo tungkol sa maling pagsusuot ng facemask | via @dzrh5 Val Gonzales #DZRHNationwide pic.twitter.com/CcsTfG9V4q

— DZRH NEWS (@dzrhnews) August 17, 2020
Robredo earlier said that the way Gadon taped a face mask behind his face shield was just wrong.
"May nakita tayong model, mali po iyon," she told her co-host Ely Saludar during her Sunday radio show. "Huwag natin susundin iyong nakita nating modelo."
Gadon recently said it is ineffective to wear a face mask outdoors because he thinks it doesn't provide sufficient protection from the coronavirus.
"What is more important is your healthy body, your strong immune system. Not the mask," he told CNN's Rex Remitio.
"If mask (sic) is really effective, how come there are more than 100,000 people afflicted with COVID? And more than 2,000 dead victims?" he said.
Health Undersecretary Maria Rosario Vergeire said that Gadon's dismissal of face masks is "not a joking matter," adding that public personalities should avoid promoting misinformation.
"Alam ng mga tao, lahat, may namamatay, may nagkakasakit. Nagsu-suffer ang economy. And the only way to go for us to fight this situation or to overcome the situation is lahat tayo magtulung-tulungan. So yung mga ganitong statements is not helping us at all," she said.
Vergeire also said that health workers will suffer the most from misinformation such as the one Gadon displayed as cases are still surging.
"Dito po tayo nagkakaroon ng problema. Dahil currently hirap na po tayo mag-enforce ng minimum health standards (This is where the problem lies. Because we're already having difficulty enforcing minimum health standards). So we seek the help of everybody in giving the accurate information to our general public," Vergeire said.
Studies have already concluded that wearing face masks does provide protection from contracting the coronavirus and lessens the risk by 99% if worn with a face shield, said Vergeire.
"Sana lahat ng tao maintindihan nila kung ano ang implikasyon pag nagsalita sila in public because people are following them," Vergeire said.
Authorities still advocate social distancing and washing of hands frequently.
Presidential spokesman Harry Roque himself said that Gadon is not a physician so "let that be his personal opinion."
The country has now over 164,000 confirmed cases, and experts are saying it could go up to 230,000 by the end of August if Metro Manila and neighboring provinces continue with eased restrictions.