Television newscaster and journalist Arnold Clavio, also known as Igan, is getting praised by the Filipino people for allegedly telling the truth of what is really happening with the COVID-19 related deaths in the country,
According to the statistics, the Philippines currently has 4,428 confirmed COVID-19 cases, with 247 deaths, and 157 recoveries.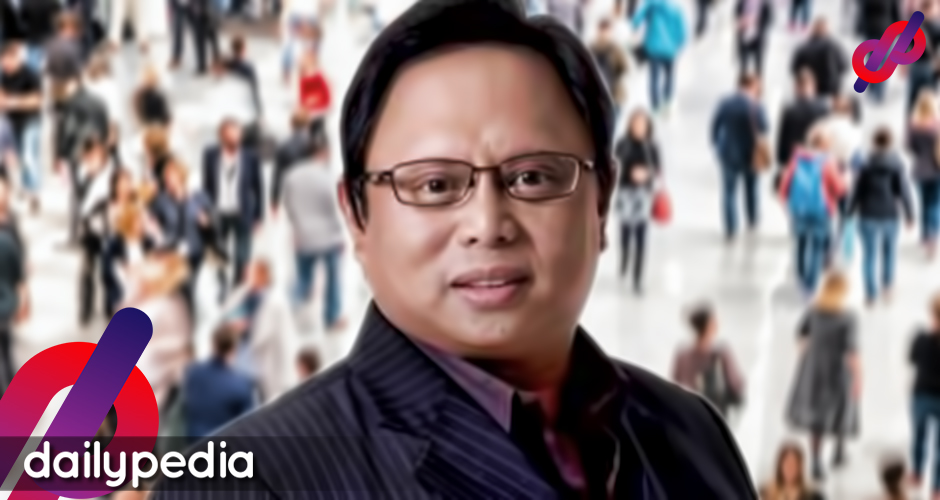 However, these numbers are now seen as inaccurate and fishy after Clavio went on Instagram and said that the number of deaths and cases are actually higher.
Reports say that Clavio got this information from an insider that said bodies are scattered all over the hallway of a particular hospital in Metro Manila.
Clavio doesn't want people to panic, but he can't help but tell the truth, which he believes everybody deserves to know.
"May karapatan tayo na malaman ang katotohanan mula sa gobyerno – Department of Health at mga lokal na pamahalaan. At may karapatan din ako na iparating ito sa kinauukulan."
This certain hospital is saying that they received orders to not record any more COVID-19 related deaths. One health worker is saying that the reality is much more alarming relative to what the government is claiming constantly as corpses are everywhere in the hallways.
"Sa isang ospital sa Metro Manila, may utos na huwag nang magbilang ng namamatay dahil sa COVID19. Ayon sa isang frontliner, nakakatakot ang situwasyon dahil nagkalat sa hallway ng ospital ang mga bangkay. Sa isang ward, may 15-20 ang Covid19 positive. Sa tatlong ward, puno ng PUI (Person Under Investigation)"
The average number of deaths per day amounts to at least 10, which overwhelms the number of body bags the hospital has.
"Sa loob ng isang araw, 10 ang namamatay. Kaya nanawagan na ang ospital sa supplier ng mga body bags para paglagyan ng mga namatay. Maging ang ilang frontliner ay nahahawa na rin."
Clavio wants the government to respond to this ASAP.
"Seryoso at nakakabahala ang impormasyong ito at kailangan ang mabilis na pagtugon ng pamahalaan."
This is similar to what happened with China, when the government refused to disclose the severity of the deadly virus, and other essential information.
"Sa China, kaya lumala ang krisis dahil hindi nagsabi ng totoo sa nangyari ang kanilang gobyerno."
On December 31, 2019, China said that there was an outbreak of a mysterious pneumonia, saying that most of the patients have recently been to a food market in Wuhan. The Chinese then said that there is  "no clear evidence" of human-to-human transmission, but instead from an animal to humans. They also said that the first recorded case of a patient showing symptoms was on December 12.
But scientific reports suggest that China lied, and the onset could have possibly started much earlier compared to what has been said. In early January, the transmission was already from human to human, and beyond the food market in Wuhan.
Whistleblowers were then silenced by authorities. By January 2, reports say that more than a third of patients had no connection with the Wuhan food market.
Daniel Lucey, an infectious disease physician and adjunct professor of infectious diseases at Georgetown University Medical Center, says that the virus was moving through Wuhan as early as October.
Most of the nations are suffering because of China, with 1,715,065 confirmed cases worldwide and over a hundred thousand deaths.
Clavio ended his post by asking Secretary of Health Francisco Duque to tell the truth.
"Maging tapat para di na kumalat. Naghihintay kami @secduque. Ano ang totoong situwasyon sa Pilipinas? Bakit kailangan na hindi na i-census o bilangin ang mga namatay sa Covid 19? Maraming salamat po."
https://www.instagram.com/p/B-0k5FRpIIH/
Clavio has won various awards throughout his career as a journalist. He won the Broadcast Journalist of the Year in  2006, and the Best Male Newscaster for Saksi – PMPC Star Awards For TV in 2017. In December 2012, Clavio was inducted to the Eastwood City Walk of Fame for his work as a newscaster.
The public was surprised when Clavio posted the expose on Instagram.
People think Clavio is risking his career by doing this.
This is actually kind of alarming in this kind of situation were in rn. Clavio is risking his career calling for "transparency" from the PH govt. If most of you were not aware or able to see the first post on his ig acct. Here it is: pic.twitter.com/OU9t6ILL9E

— Inna (@dgabornes) April 11, 2020
https://twitter.com/dgabornes/status/1248865028918276096?s=20
Clavio's courage to post the expose earned the respect of the public, knowing that his career may never be the same after this.
I bet he really don't want to mess-up with his career by posting this alarming information. Arnold Clavio's passion is indeed a "Serbisiyong Totoo" If this is true, it will make my guts to even hate the system of governance in this country. pic.twitter.com/NsQrg8ipXb

— Raymond Nerida (@mondnerida) April 11, 2020
Journalist Arnold Clavio challenged the Department of Health to reveal the "true" number of COVID-19 cases and deaths in the country.

He mentioned that in a certain Metro Manila hospital, CoVID-19 deaths are no longer counted and that dead bodies are just left in the hallways. pic.twitter.com/bB6yTBX2vp

— Mark Madrona (@FilipinoScribe) April 11, 2020
Saving and reposting these in case Arnold Clavio 's accounts all get shut down. I don't think he'd risk his career just to post fake news!

Allegedly a hospital in Metro Manila was ordered not to report COVID-19 casualties. Is the Philippines now following China's cover-up? pic.twitter.com/Y55vwDb4or

— xviielie (@xviielie) April 11, 2020
From Arnold Clavio's IG. Is the PH following even China's Covid playbook of cover-ups? Very alarming if true! pic.twitter.com/YrU8BgT1Yx

— TheEmperor (@Eric_Cabahug) April 11, 2020
Clavio's Facebook page has also been disabled due to being reported many times.
Arnold Clavio presents the bases of his earlier post about the terrifying conditions in one hospital and apparent efforts to cover up the real Covid situation in the country. Says his FB page has been disabled because it was reported. pic.twitter.com/hOmRrbdW1V

— TheEmperor (@Eric_Cabahug) April 11, 2020
https://twitter.com/jeschuwartortle/status/1248879434754478086?s=20
https://twitter.com/krizzy_kalerqui/status/1248834172614934528?s=20
I believe Arnold Clavio wouldn't risk his career by spreading false information especially with the strict Bayanihan to Heal as One Act.

To the frontliners of this hospital, speak up. Hold the government accountable. This cannot be tolerated. https://t.co/TvY6C20nw7

— gregorio (@thiyuhgreys) April 11, 2020
On March 31, Atom Araullo went on Instagram and said, "A worker at the Baesa Crematorium in Quezon City wears full protective gear as they process the dead. They say they cremate 4-5 people a day, mostly COVID-suspected cases," with a picture of a frontliner wearing full protective gear. Most of these cases, however, have not been fully confirmed to be related with COVID-19.
This report only comes from one crematorium, others might also be receiving the same or more corpses to be cremated. On March 26, Chiara Zambrano from TV Patrol reported that there was an instance where an ambulance couldn't drop off a deceased COVID-19 patient right away because the crematorium was full.
The DOH has denied that they have ordered health facilities to conceal COVID-19 related fatalities.
"DOH clarifies that it has never issued any order to stop the census or reporting of deaths, or any case related to COVID-19 to any health facility."
Secretary Francisco T. Duque III went on Twitter and said that an investigation is going to take place.
The DOH did NOT and will NEVER issue a directive for hospitals to conceal the number of COVID-19 deaths. Mr. Clavio disclosed to me the hospital allegedly involved in this issue and we will investigate IMMEDIATELY. @DOHgovph @TWACofficial

— Secretary Francisco T. Duque III (@SecDuque) April 11, 2020
Shortly after Duque's post, the DOH denied giving orders to health facilities to conceal COVID-19 fatalities.
The health agency and Clavio already had a conversation on the matter, and updates will be given soon.
The DOH is currently working with the Department of the Interior and Local Government and local government units in an effort to properly manage the deceased.
Similarly, the East Avenue Medical Center (EAMC) also denied that instructions were given to avoid reporting COVID-19 related deaths.
Health Undersecretary Maria Rosario Vergeire confirmed that an investigation will commence soon enough.
"We have not issued any policy or instruction for non-reporting of deaths,"
Dr. Alfonso G Nuñez III, OIC Medical Center Chief II said the East Avenue Medical Center received no instructions to conceal fatalities.
"That rumor I really don't know how it started and how it escalated. But as far as East Avenue was concerned, we received no order or directive from the DOH or the local government unit of Quezon City to stop recording and reporting death-related to COVID,"
The hospital also claims that the rumor of having insufficient body bags is untrue.
"We have cadaver bags available. At least 30 cadaver bags available. And another 100 coming in next week,", said Nuñez.
Dr. Dennis Ordoña, EAMC spokesperson confirmed in a phone interview that an increase in body bags is happening.
"Past few days starting this week, nag-pile up ang ating cadavers, umaabot po ng 15 to 20 ang ating cadavers."
"Yung capacity ng morgue is hanggang 5 lang," he added.
The hospital needs mortuary freezers due to the morgue getting overwhelmed constantly, which is a new ordeal.
The rumor of the concealment of the deceased might have come from a social media post asking for body bag donations to EAMC.
Nuñez said that the one who posted it was just a trainee.
"Maybe she just wanted to ask for anybody who can give or refer possible companies to whom we can buy more," he said. "But we have cadaver bags. This is supplied by Department of Health and other bags were procured by us."
Since the DOH has now centralized the reporting of cases from hospitals, Nuñez cannot disclose the number of COVID-19 cases EAMC currently has.
In one of his recent posts, Clavio said that he never said that the DOH instructed health facilities to avoid reporting COVID-19 deaths.
https://www.instagram.com/p/B-1pii7pQCT/
He feels that the frontliners who are speaking out are now being labeled as liars when the facts are already out there open to the public. Clavio doesn't care for his reputation at this point, he just wants the public to know the truth and for the frontliners to remain safe.
ABS-CBN reporter Kristine Sabillo did a thread on Twitter laying out possible evidence that supports Clavio's claim of the concealment of COVID-19 related deaths.
Dr. Dennis Ordoña, East Avenue Medical Center spokesperson, said that while there is no shortage of body bags, they do need freezers: "Past few days starting this week, nagpipile up ang ating cadavers, umaabot po ng 15 to 20 ang ating cadavers…" @ABSCBNNews

— Kristine Sabillo (@kristinesabillo) April 11, 2020