Some senior high school graduates wanted to apply for jobs but still failed to get any.
35 percent confirmed that they are not ready to hiring K-to-12 graduates.
The DepED asked the coordination of DOLE and private sector to have proper identification of jobs for K-to-12 graduates.
In 2012, the Department of Education (DepEd) implemented the K-to -12 programs with its visions to improve the educational standards of Filipinos in order to be competent for any job. A graduate of Senior High School is already qualified to find a job; for those who want to work and help with the financial needs of the family.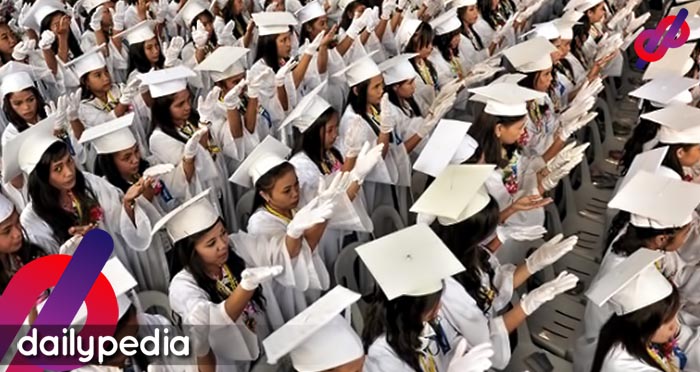 Currently, there are more than 1.2 million senior high school graduates and some of them wanted to apply for jobs but still could not get any.
On GMA News 24 Oras special report by Chino Gaston, a Senior High School graduate Catrinjoy Bolo is hoping to find a job and get employed. She was a top student in their class with working experience as a part-time data encoder and underwent call center agent training but still had a hard time finding a job.
"Marami na po, mga 20 na po akong nag-apply. Sadly, 'di pa rin po ako nakukuha," she said.
Bolo was expecting to be hired after she graduation for she thought that it would grant her a job.
"Pangako nila noon is 'pag naka-graduate ka, makaka-apply ka agad. Bakit parang ang hirap pa rin sa akin na kapag… i-accept ako sa trabaho na ina-applyan ko," said added.
Prof. Rene Tadle is against the program and sent a petition to the Supreme Court that said: "How sure are you na after k-12, they'll be employed?
"That is a fundamental objection that we raised. It seems that even now, wala pa ring masyadong solusyon ang gobyerno."
Based on the Jobstreet.com Philippines report in 2018, 41 percent of the companies were still indefinite to hire and 35 percent had confirmed that they are not ready on hiring of K-to-12 graduates.
"Medyo nag-aalangan pa kasi. Unang-una, makikita natin na hindi sila handa tumanggap ng K-12 kasi 'yung mga requirements nila ay only offered to college graduates," shared Philip Gioca, country manager, Jobstreet.com Phl.
The Philippine Business for Education, a private sector coalition said that companies have their misconception over senior high school graduates and that should be changed.
"Hindi nila alam na karamihan sa mga guma-graduate ng K-12, ay 18 years old na. Kasi nandun pa rin sila sa mindset na, 'ah high school graduate' so 16, underage. Marami sa mga companies nagre-require talaga ng college level or college graduate sa mga H.R. manuals nila. It takes time to change those policies," saud Love Basillote, executive director, PBED.
The PBED had checked the K to 12 curriculum and 93 percent match the skills of a senior high school graduate to meet the requirements of the companies.
"On the part of government, or from the school part, siguro dapat na abisuhan 'yung mga companies na medyo mas maaga, na, 'o, 2018, ga-graduate na 'yung first batch. dapat 'yung sistema niyo siguro dapat handa na to," Basillote said
Undersecretary Nepomuceno Malaluan of Department of Education also said waiting for the readiness of the companies seems impossible.
"If we will wait for a certain conclusive readiness, we'll never get there because it will always be a work in progress."
The DepED asked the coordination of DOLE and the private sector to have proper identification of jobs for K-to-12 graduates.
"The curriculum has changed, the training programs have changed to include those competencies and it will take time for the industry to realize that, at kailangan ng.. to recognize that what we need is greater interaction with them and partnerships," he added