The viral 10-year-old farmer from Sultan Kudarat earned praises for his intellectual and mature answers during an interview with veteran journalist Jessica Soho.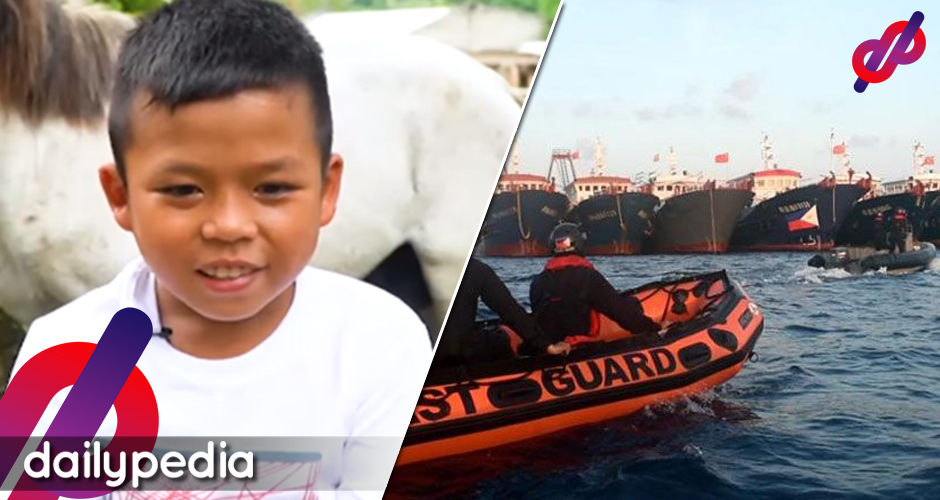 On the May 30th episode of Kapuso Mo, Jessica Soho (KMJS), Reymark expressed his gratitude for those who donated and helped him by giving his family groceries and even those who got him a new horse.
When asked about what he'll do with his older horse, he said that he will just take care of it as it's getting older.
"Kakain lang po siya araw-araw. Kasi pag magtatrabaho pa po siya, mabagal po dahil matanda na po siya," Reymark said.
But what struck people the most was his answer when asked what he wanted to be when he grows up. He wanted to be a member of the military.
Reymark shocked netizens as he said that he wanted to be a soldier to protect the West Philippine Sea from China.
"[Para] ang ating pong [West] Philippine Sea di maagaw ng China po. Dahil nawawalan na po ng supply ng isda," the boy answered.
Mas marunong pa yung bata! pic.twitter.com/D7kLRTd5WC

— Quo Warrantine (@quantumeruit) May 31, 2021
Netizens took the chance to call out President Rodrigo Duterte and other lawmakers, implying that they should have the same mindset as the 10-year-old kid when it comes to protecting the country's land.
keep up naman doo 30 https://t.co/YQp3eVImFM

— chey (@boopjoomns) May 31, 2021
tags dee u thirty & other senators https://t.co/XPDqbmBI76

— ke (@keziauzhiel) May 31, 2021
Another even labeled Reymark as the country's "future president."
The future president of the Philippines https://t.co/HDcMkyrdpf

— Jsh (@Yvannnnn_) May 31, 2021
One was so impressed by the answer that she wanted to adopt him if only she had the financial capacity to do so.
Oh my god this kid, honestly. If only I can afford another human being to support other than myself I'd adopt this wonderful baby https://t.co/DMFpMmHCFQ

— i-throatpunch-people (@anjelickers) May 31, 2021
Hope is what one netizen felt after watching the clip of Reymark's answer.
Gives me so so so much hope for the nation, honestly. https://t.co/BCvZYYvIIC

— kheen #FreeLumad26 (@thrisiaswift) May 31, 2021
"When a child can think better than those in the government."
huy grabe goosebumps!!!!!!! hays when a child can think better than those in the govt jusko https://t.co/FjMXOBH25r

— Jer (@jer_espinas) May 31, 2021
A Twitter user also expressed his confusion about why the DDS doesn't think the same way as the child does.
https://twitter.com/deseo_batman/status/1399416460426973193
A few weeks ago, Duterte was on the hot seat as he described his former jetski promise as a "joke" and those who will believe him are "stupid". He also stated before that he's considering asking former presidents for advice regarding the WPS incursions.
However, some remain unsure of the way the kid was being used for political and national issues.
"As much as I love his answer, please do not use this kid in any way," a Twitter user wrote.
WTF! HUHU, as much as I love his answer. Please do not use this kid on any way. Let him live the life! NKKLK! https://t.co/yQRZO4Mbyk

— Josh 🌹 (@joshvasantiago) May 31, 2021
Someone also dared the DDS to red-tag the kid.
Subukan nio lng i red tag tong batang to mga DDS kau, pag kokrompalin ko kaung animal kau! Salute to you young boy! #OustDuterteNOW https://t.co/UvuuwqCnBN

— Mark Kenneth || not robin padila (@FafahKenn) May 31, 2021
During the interview, Reymark was also asked what he would like to say to Duterte if ever given the chance and he answered that he would like to also focus on those in poverty.
"Gusto ko po sa mga mahihirap na tao na matulungan po dahil nararamdaman ko rin po ang nararmdaman ng iba na ang hirap po magtrabaho sa bukid."
According to the Philippine Statistics Authority, around 2.1 million Filipino children are already working for their families.