President Rodrigo Duterte is thinking about talking to ex-Presidents of the country regarding the ongoing issues with China over the West Philippine Sea instead of consulting the National Security Council.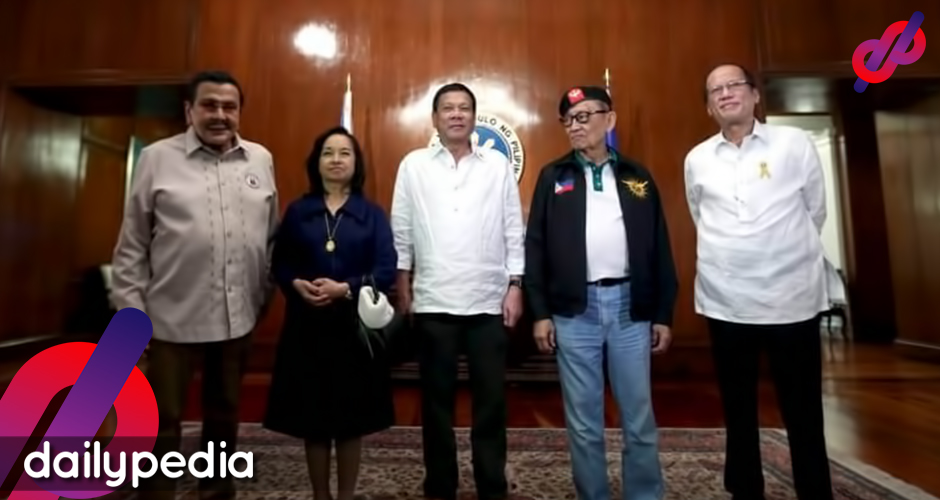 Presidential Spokesperson Harry Roque clarified that Duterte's stand regarding the West Philippine Sea is not confusing like what former senator and military chief Rodolfo Biazon earlier said.
Biazon mentioned that the president should convene the NSC to clarify his stand on the subject.
As an "alternative" to cooperating with the NTC, Roque said that Duterte is considering setting a meeting with the former Presidents and other personalities to discuss the issue.
"The President is considering the idea of an alternative to convening the National Security Council. Pero iyon po, still in the process of consideration," said Roque during a press briefing on May 20.
Due to the said plan, netizens poked fun at Duterte and compared him to bosses who are keen on scheduling a meeting even if they've done nothing.
Si Duterte yung boss mong patawag ng patawag ng meeting, wala namang nagagawang trabaho.

— Boy Jetski (@JetskiPaMore) May 20, 2021
Another accused him of pulling other people with him so that he won't take all the blame in case something goes wrong.
https://twitter.com/kimcha_92/status/1395310222663585796
A Twitter user also said that Duterte just wants to put a certain person on the hot seat.
https://twitter.com/oxymorontoo/status/1395307679409598464
Someone dared Duterte to try and talk to Emilio Aguinaldo for consultation.
ge nga kausapin mo nga si Aguinaldo https://t.co/NVePX7FdfB pic.twitter.com/sGe3mH4YV2

— Stiiben (@AkosiTetevs) May 20, 2021
"The Philippine Remake of Meteor Garden," a netizen called the so-called meeting.
https://twitter.com/guru_guerrero/status/1395318692053880842
It was mentioned that the reason why Dutere isn't too fond of the NSC is that Vice President Leni Robredo is a part of the agency.
https://twitter.com/mta_PH/status/1395300940387786756
On the other hand, Roque also addressed Biazon's sentiment saying that nothing's confusing about Duterte's stance regarding the West Philippine Sea.
"Unang-una, wala pong confusing sa stand ni Presidente sa West Philippine Sea."
He said that Duterte's policy towards China just temporarily set aside issues that cause disagreement but the administration will never give away a piece of the country's land.
"Pero hinding-hindi tayo mamimigay ng teritoryo at paninindigan at pangangalagaan natin ang pangnasyunal na soberenya at ang ating mga sovereign rights."
According to Roque, the president also mentioned that he has complaints about the NSC not being able to resolve anything whenever he attends a meeting with them.
"Pangalawa, actually nabanggit po sa akin iyan ni Presidente, ang problema doon sa National Security Council, wala naman pong nari-resolve doon sa mga pagkakataon na naka-attend siya," he said.
"Iyong mga karanasan nga niya sa National Security Council eh walang resolusyon na nangyayari, so parang bakit pa eh puwede naman po iyan through informal consultations."