A woman failed seven times before becoming a professional teacher
She urges people to believe in God and His ways
People who want to become teachers need to pass the Licensure Exam for Teachers or LET. The test is held twice a year and although many make it, there is also a great number of people who don't.
The test is not easy, as it is common to see some individuals take the test multiple times. Some get discouraged and end up pursuing a different career.
But one persistent individual did not give up on her dreams of becoming a professional teacher.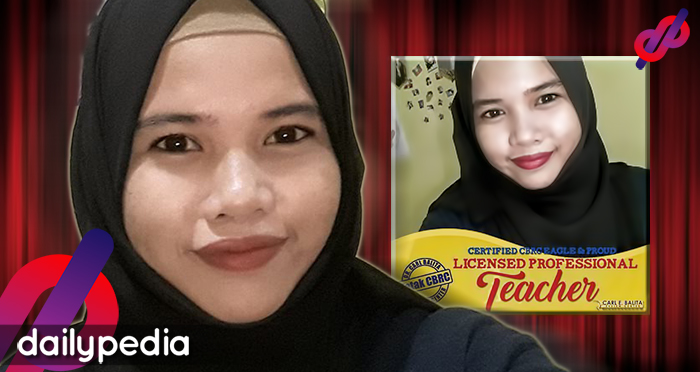 Nelma M. Dahimulla graduated from Bachelor of Secondary Education, major in Agri-Fishery arts. It took her eight attempts to finally pass the LET. She tried over the span of four years and did not quit. The first time she failed, she took it lightly and was still optimistic.
"My first take naka 68 lang ata ako dayyy. masakit sobra pero madali lang man makamove on agad kasi inisip ko 'ah wala 'to first time ko kasi kaya nanibago lang siguro tapos wala pang review.'"
She got to the point where she was short of less than one percent to pass the exam, having scored 74.20%, 75% being the passing score. This was when she really felt down, she was so close but yet so far. She blamed herself for studying on her own instead of going to a review center. She said that teaching is her passion and that her family has always wanted this profession for her.
"gusto ko to maachieve at mas maging proud pa ang parents ko sakin at magawa ko ang gusto kong gawin that is to inspire other people through my profession. I love teaching others and giving inspirational advice. So yun nga bagsak pa rin ako kasi puro ako self review at sa mga post na reviewer sa Facebook lang ako."
After getting tired of failing, she decided to enroll at CBRC (Carl Balita Review Center). She said that the review center helped a lot, as they do not just teach academics, but also how to have faith in God. The instructors make their students feel like they should not quit and are worth it, even if they have failed many times.
"Believe sila samin at saludo sila sa tapang naming mga Repeaters na kahit paulit-ulit na bumagsak kami still bumabangon parin kami para lumaban. Sobra talaga ako naiyak that day as in."
The instructors always remind their students the reasons they should pass their exam. She enjoyed her experience there as she made new friends, too.
Before the day of the exam, she did a lot of praying and employed all the techniques she learned at the review center. Nelma had renewed confidence as she took the exam for the eighth time.
May 25 came, the day when the results would be released and Nelma was nervous the entire day. When her mother notified her that the list was out, she immediately went online to look for her name on the list. The internet was slow and she kept on refreshing the page until she saw her name,
She described it as almost having a heart attack due to being too happy. This was life changing for her and her family.
"Alhamdulillah pasado na ako!! muntik ng sumabog puso ko that day. haha sorrry naman na … overwhelming ang feeling eh 🤣 at sobra pa nung masabi ko sa parents ko na pumasa ako beshhh.. Priceless ang Mukha nila. yun ang mas nagpasaya sakin kesa sa result hahaha grabe sila.".
She urges people, that are struggling to make it in life, to just believe in God and that He will give you what you need at the right time. She scored a 78.40 and is now a licensed professional teacher.