DOT paid Bitag Media 60 million for their advertisements to be aired on the show
Wanda Teo, Tulfo's sister was the secretary of DOT at that time
COA flagged the deal and investigation is ongoing
Bitag is a public service program hosted by Ben Tulfo and produced by Bitag Media Unlimited Inc. It has won awards such as Best Public Service Program and Best Public Service Program Host.
Back in 2017, the Department of Tourism through PTV-4, which is a government station, paid Bitag Media 60 million pesos for an advertisement deal that included airing of Department of Tourism (DOT) ads on Tulfo's program Kilos Pronto.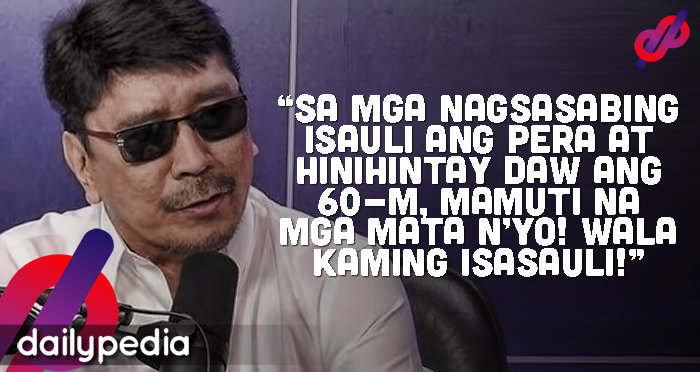 The thing that is suspicious here is that Wanda Teo, Tulfo's sister, was the DOT secretary at the time. This breach of ethics and the controversy that followed forced Teo to resign her position.
"Sa mga nagsasabing isauli ang pera at hinihintay daw ang 60-M, mamuti na mga mata n'yo! Wala kaming isasauli!" said Tulfo a few years back.
But he also added that the reason they got paid is because they returned the money in service, and that is by airing ads.
"Malinis ho ang konsensya namin. Hindi ho kami nangungulimbat, hindi ho kami nagnanakaw ng pera sa gobyerno. Kung kami po ay binayaran, dahil po may serbisyong idinulot."
Justice Secretary Menardo Guevarra said that the DOJ is willing to help the OMB in investigating the deal, but that the DOJ doesn't actually have the capability to recover the said amount.
"In any event, if the DOJ will be asked to help in the investigation, we are ready to act on our own and/or coordinate with the OMB."
The Commission of Audit (COA) saw †the deal as suspicious last year and flagged it, which lead the OMB to start an investigation on it.
The audit body said that is is possible that Teo be held liable for graft.
"Should a graft case prosper and reach the Sandiganbayan, the recovery of the P60 million paid to Ben Tulfo's company will be automatically part of that action," Guevarra said.