A netizen shared photos of a dog leashed to a car and left alone in a parking lot under the scorching heat of the sun

Social media users were furious at the uncaring owners of the dog
It is said that dogs cannot sweat and are prone to heatstrokes
Last weekend, Filipinos experienced soaring temperatures due to the summer season. To that end, a concerned netizen shared on Facebook an alarming sight of a dog leashed to a car but was left outside the parking under the heat of the sun. The photos of the poor dog made netizens angry with its owner.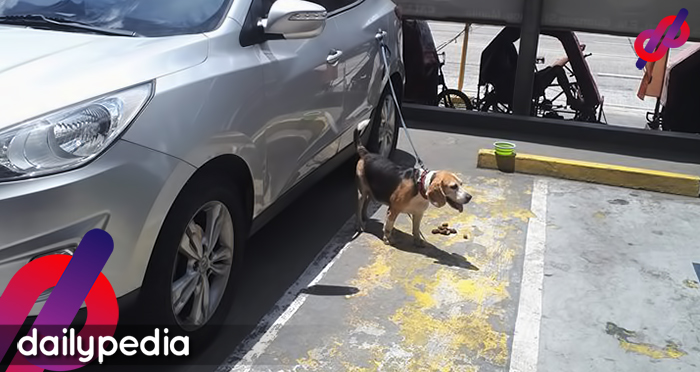 "Mag aalaga nalang kayo ng aso di (niyo) pa ayusin. Sobrang init dito sa Robinsons Otis tapos pag labas namin eto nakita namin. Nag try (kami) na tanggalin yung tali (niya) pero mangangagat (siya) and galit na galit," wrote Mico Montefalcon Gonzales on his social media account.
His post has now gone viral with two thousand reactions and over a thousand of shares online. Many netizens expressed their antagonism towards the owner of the dog.
"Itali (niyo) din owner tas iwan sa labas habang mainit para matuto. Aso aso di naman maalagaan. Nakaka kulo ng dugo," said JM Nable.
Marcor Tan commented, "Mas masahol pa sa hayop boss ng aso! (Siya) kaya itali at painitan!"
"Ginawang taga bantay ng kotse. 😑" replied Kharissa Reyes Malbas-Bañaga.
According to an article by Quartz, dogs cannot sweat in contrast to humans. "As the heat increases, bodily functions start to break down. The dog enters a vicious spiral where the heart starts to fail and pushes out less blood—which means the heat cannot be carried away—its blood pressure drops, blood pools in the organs and the body goes into shock… So it's not just a case of getting a bit too hot and not being able to cope. It's total body breakdown," wrote Jan Hoole, a lecturer of Biology in Keele University.
Mag aalaga nalang kayo ng aso di nyo pa ayusin. Sobrang init dito sa Robinsons Otis tapos pag labas namen eto nakita namen. Nag try kme na tanggalin yung tali nya pero mangangagat sya and galit na galit.

Posted by Mico Montefalcon Gonzales on Monday, April 8, 2019
Dogs can only cool themselves by panting. People for the Ethical Treatment of Animals (PETA) on their website warned the public to watch for heatstroke symptoms on dogs such as restlessness, excessive thirst, thick saliva, heavy panting, lethargy, lack of appetite, dark tongue, rapid heartbeat, fever, vomiting, bloody diarrhea, and lack of coordination.
"If a dog shows any of these symptoms, get him or her out of the heat, preferably into an air-conditioned vehicle, and then to a veterinarian immediately. If you are unable to transport the dog yourself, take him or her into an air-conditioned building if possible and call animal control: Tell them it is an emergency," PETA instructed.
"Provide water to drink, and if possible, spray the dog with a garden hose or immerse him or her in a tub of cool (but not iced) water for up to two minutes in order to lower the body temperature gradually. You can also place the dog in front of an electric fan. Applying cool, wet towels to the groin area, stomach, chest, and paws can also help. Be careful not to use ice or cold water, and don't over-cool the animal," they also added.