Alleged scammer Xian Gaza shared, on a now viral FB post, his supposed evasion from the police and fleeing the country by using 'decoy' flights
Bureau of Immigration slams Gaza's actions and calls his story 'preposterous' and a 'security risk' in order to stay relevant
Gaza posted an apology video where he stated that it was not his intention to mar BI's reputation and credibility
Xian Gaza, an alleged scammer who first came to the public's attention by inviting actress Erich Gonzales on a date through a billboard signage, posted last April 7 on his Facebook account a tale of sneaking out of the country last year, despite having three warrants of arrest and being found guilty for using a bouncing check.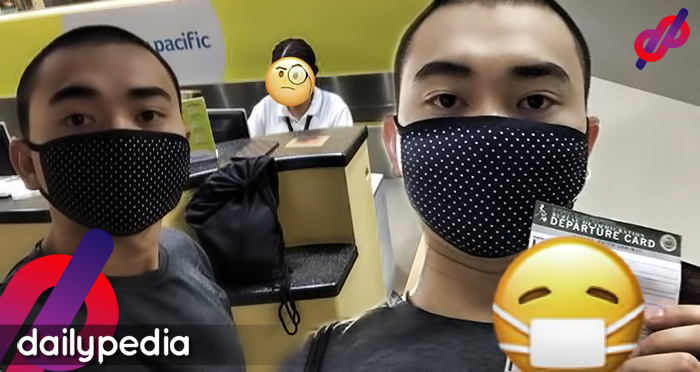 Through a series of photos, Gaza narrated how he prepared "decoy" flights booked for Singapore and Taipei, in order to bypass immigration, and successfully made it from the check-in counter of the terminal up to his plane seat bound for his set destination, Hong Kong.
In his now viral-post, which received over 17 thousand reactions and 29 thousand shares online, the incident happened on September 30, 2018 where Gaza waited for check-in counters to close before boarding his flight, risking being left behind by the aircraft.
He claimed passing through immigration officials after a confrontation, where he removed his face mask and showed his passport and boarding pass; the immigration officer told him that his name had "red flags" which referred to his warrants of arrest and execution of sentence.
https://www.facebook.com/xiangaza/posts/642254819556400
Upon his insistence that there was no hold departure order issued against him, he boarded his flight but not before the immigration officer said she would immediately contact the Philippine National Police and airport police due to protocol.
Gaza claimed that he hid in the plane's restroom to evade the airport police who searched for him.
"Last month, I made a very big decision sa buhay ko. Kailangan kong mamili kung tatanggapin ko ba ang conditional pardon deal kapalit ng serbisyo ko sa NBI Anti-Fraud Division for 5 years with watch list and hold departure order or simulan ko na ang citizenship application ko, with the help of my Singaporean boss, sa isang bansa sa Latin Americas at tuluyan ng iwan sa aking nakaraan ang bansang Pilipinas. I chose the latter. New identity, new citizenship, new passport, new life. Thank you for the 25 years of memories my dear beloved Philippines," he said in the last photo of his post.
Gaza also made a follow-up story about what the Bureau of Immigration (BI) and the Department of Justice (DOJ) could do over his alleged escape and in the comments sections he revealed a "plot twist" that he was only in Tondo, Manila.
https://www.facebook.com/xiangaza/posts/642617086186840
In a report by ABS-CBN News, the BI is studying a possible legal action against Gaza for supposedly peddling "fake news" about evading arrest and fleeing the country.
BI Spokesperson Dana Sandoval said in a statement, "His story sounds like it was taken straight out of an action movie. He said it so himself, his story is based on what happened, but sadly it's not what actually happened."
Sandoval explained that a person who has a hit in BI's database, due to an existing Hold Departure Order or warrant of arrest will immediately be barred from flying out of the Philippines, but Gaza had none of it under his name.
https://www.facebook.com/photo.php?fbid=643766576071891&set=a.114069845708236&type=3
"Since he had no derogatory record when he left, he was cleared for departure. It was quite uneventful and ordinary, really. No Hollywood-level storyline, just regular immigration clearance."
The alleged conversation between Gaza and an immigration officer did not also happen, according to Sandoval.
"The story is preposterous, similar to other claims he made in the past. If you know regular airport procedures, his story sounds silly. Ang daming loopholes… Booking numerous flights will not help evade police. Everything is recorded in our systems, with one click you'll know which flight a person really took," she added.
Sandoval also claimed that Gaza's viral post is a "cause for concern" saying "stunts like this using the Bureau to gain fame and stay relevant are a security risk. He is making a mockery of our airport procedures for attention."
Gaza recently posted an apology video where he stated that it was not his intention to mar BI's reputation and credibility. He hoped that he would not be given any sanction and punishment for his actions.
In June 2018, Gaza was found guilty of violating the Anti-Bouncing Check Law and was sentenced with five and a half years of imprisonment by the Malabon Metropolitan Trial Court. He was released on bail a day later.