BF proposes to GF using Dratinis from Pokemon Go
Social media users and players alike swooned at the adorable idea
Message of congratulations populated the comments section of Brittnee Barks's viral post
There are many ways to tell someone they want to spend the rest of their lives with them, and one man chose to say it with Pokemons.
Or a specific Pokemon, to be exact! One Pokemon Go player has captured the heart of his girlfriend by proposing to her with five Dratinis, a Dragon-type Pokémon introduced in Generation I, where their names form the sentence "Will you marry me? My Love."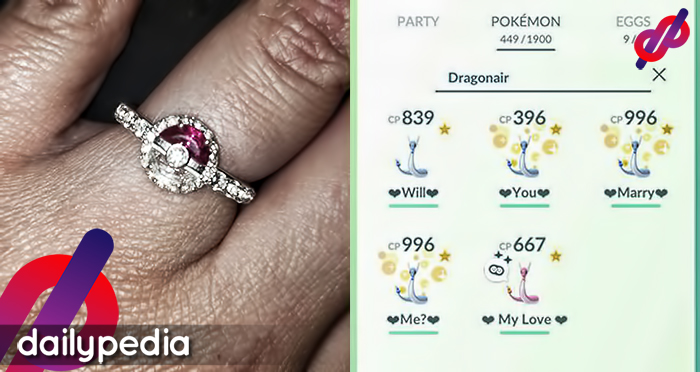 Brittnee Barks shared last Sunday on PokemonGo Worldwide FriendCodes (Official)'s group page her wonderful news of being engaged to Eddie Suniga.
She wrote, "The love of my life proposed to me last night in the most amazing way possible! Had to share with people that would understand my excitement!!! Dragonair is my favorite Pokemon. 😍😍😍😍😍😍"
In a chat interview with Barks, she narrated to Dailypedia how she and Suniga met. "We grew up in a small town and have been close friends since 6th grade. I always had the biggest crush on him. He was at my 12th birthday party, that's how long we've known each other."
They knew each other for 14 years but only got together three years ago when the two got in touch on Facebook after not talking to each other for a couple of years.
"We got to catching up and sparks flew instantly. We both had sons with previous relationships and they're a month apart in age. I also have a daughter. He's an amazing person with a huge heart, an absolutely amazing and hands on dad, and he's such a loving, kind, sweet man to me! Our relationship is full of love, laughter, shenanigans, and support," said Barks.
They spend their days parenting their three kids, working and playing Pokemon Go any chance they get. "To say we're fans is an understatement! On any given day, we are out playing the game together," added Barks.
Netizens congratulated the betrothed couple. Barks, who was from Montrose, Colorado, updated her post to respond to well-wishers.
"Thank you everyone! We are so overwhelmed by everyone's comments! I was not expecting to get this kind of response! We are so blessed to get to share this exciting time in our life with each and every one of you!!! It truly melts my heart to see all the love and support we've received!! ❤❤❤❤," she said.
To date, her viral post has received five thousand reactions on Facebook.
The gushing bride-to-be also shared to Dailypedia how her fiancee proposed on a Friday night.
They were kid-free that time so they took the chance to play Pokemon Go outside. They had dinner at a nice restaurant and then went to the park when Suniga told the unsuspecting Barks of a new shiny Pokemon (extremely rare Pokémon that differ in coloration from their regular appearance) that he had caught.
Barks naturally got excited at the prospect of a rare Pokemon and when she asked what Suniga had caught, he handed his phone to her as a reply and from there his innovative proposal was bared to her.
"It took me a couple of seconds to understand what was happening," recounted Barks. "My favorite Pokemon is Dragonair. As soon as it hit me, I looked up and saw him holding the ring. I told him 'of course I will' and hugged him as tight as I could. We have this saying we use. Instead of saying we have butterflies, it's (that) we have the whole zoo! That's the best way to describe it! I cried the happiest tears. The excitement I felt was truly incredible!"
It turned out that Suniga had spent the last week telling everyone they knew that he had planned on proposing to her, and onto a new adventure.
"Both of our families and all our friends have been beyond excited for us! I truly believe we're perfect together and I couldn't be more excited to spend my life with this man. The love and support we've received is overwhelming in the best way!" Barks remarked.