IFA (Internationale Funkausstellung – Berlin) is one of the biggest industrial exhibitions and consumer electronics shows in Europe.
This year, Acer unveils an array of new computer hardware and technologies – gaming hardware, refreshed PCs, virtual reality headsets, projectors, and new monitors.
Acer is one of the world's top ICT companies and has presence in over 160 countries.
If there is one thing we all love about Acer, it surely is its quality of being user-friendly. Remarkably, despite its very much known quality of being easy to use, the brand never allows itself to get stuck in the rut or stop making improvements with its techs. Centred on "enabling a world where hardware, software and services will fuse with one another to open up new possibilities for consumers and businesses alike," Acer's vision to provide user-friendliness and innovations is once again proved as it unfolds series of new technologies in the IFA 2018. Here are just some of Acer's must-have new techs that we definitely should check out for:
For gaming: Ultra High-Res Monitors, Gaming Chair, and Gaming Gadgets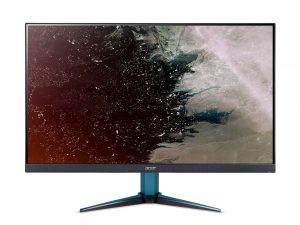 "[Our] gaming monitors have proven their quality and reliability as a top choice of pro-gamers and tournaments around the world." – Victor Chien, President, Digital Display Business, Acer Inc.
Online gaming has been made better as Acer unveiled its new products under its Predator and Nitro gaming portfolio. With four new gaming monitors to offer, Acer also brings games to life with a next-level gaming chair and a complete set of gaming gadgets – basically, all gaming necessities a hardcore gamer could wish for.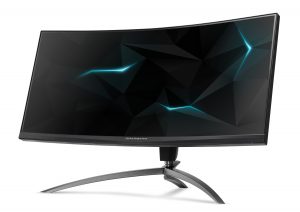 Predator XB273K gaming monitor – Flaunting a tearing-free screen, the new Predator XB273K gaming monitor is best if you want a really smooth play – geared with an ultra-high definition (3840×2160) immersion and features a rapid 144Hz refresh rate. Notably, this model is actually designed to keep our eyes well, taking into consideration prolonged usage by heavy users like gamers, featuring Acer VisionCare to reduce eye strain and provide a comfier gaming or viewing experience.
Acer Nitro XV273K gaming monitor – is just ideal for those who want their casual games looking extra pro. This monitor delivers extremely high refresh rates and ultra-high resolution, backed by AMD Radeon FreeSync to satisfy every gamer's need for high resolution play through a blazing fast response time of up to 1ms — plus, of course, a tear-free game play with true-to-life visuals as well.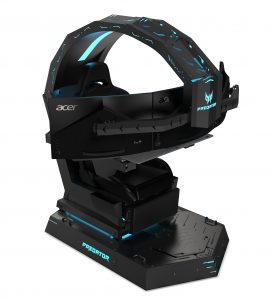 Predator Thronos: The Gaming Chair for Royals – With its steel structure and elegant color of menacing dual-tone black, this gaming chair looks as though it is not from this era, a rip-off from a Black Mirror episode. Remarkably, it puts the player in the game through deep impact vibration, where the chair vibrates upon in-game impact. It is adjustable and includes an ergonomic seat design, foot rest, and a cabin that reclines up to 140 degrees. In addition, the overhead brace supports three 27-inch gaming monitors and a space for a Predator gaming PC. Indeed, the Thronos becomes more than a gaming chair — it's a gamer's personal cocoon.
A Line of Gaming Gadgets – Acer's new range of compatible Nitro gaming gadgets is a breakthrough for everyone, gamers or non-gamers. These include (1) Acer Nitro optical sensor mouse with seven buttons, with a burst fire button and 20g acceleration with up to 4,000 dots per inch (DPI); (2) Acer Nitro membrane keyboard with rainbow backlit color lighting, 19 key anti-ghosting and multimedia keys; (3) Acer Nitro headset with adjustable band with steel slider, acoustic-sealing ear pads, 50mm driver and powerful bass with omni-directional boom microphone; (4) Acer Nitro lightweight, durable polyester backpack with compartments for both a notebook and tablet, and a water repellent exterior; and (5) Acer Nitro mousepad with non-slip rubber backing to create a stable gaming surface.
Refreshed PC's: For Families, Travellers, Freelancers, Students, and Workers
Acer gives its Aspire notebooks (Aspire 7, Aspire 5, and Aspire 3 series) and all-in-one PC (Aspire Z24) a revamp.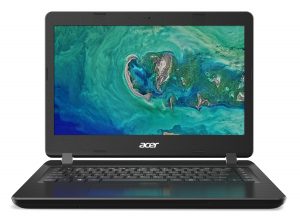 Aspire Z24 all-in-one – This one is ideal for families with its all-around functions for communicating, web browsing, social media surfing, movie watching and even casual gaming. In addition, it is fitted out with a far-field microphone array, coming with four digital microphones. With this, we can make use of our voices of choice – Amazon Alexa or Cortana – to carry out certain tasks without actually approaching the device. From up to four meters away (13.12 ft), we can get weather reports, play music, and a lot more.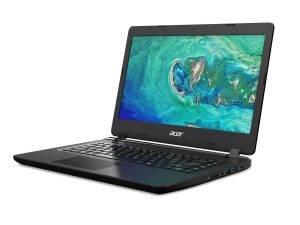 Acer Aspire 7 – is ideal for visual artists, designers, content creators, or those who want a PC 'with more bite' – as it speeds through rich content creation, video and photo editing, or viewing 4K content. Notably, it also offers an incredible, high-powered multimedia experience.
Acer Aspire 5 – is very much ideal for travellers, writers / bloggers, photographers and content creators alike. The Acer Aspire 5 offers both looks and mobility – its hairline brushed pattern provides an exquisite, tactile finish accenting the premium aluminum cover so users can travel with ease. This beauty has an exceptional CPU and graphics performance with up to the latest 8th Gen Intel Core i7 processor with integrated Gigabit Wi-Fi for blazing fast connectivity.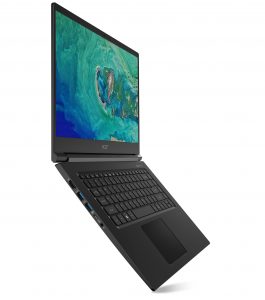 Acer Aspire 3 – This is a great value laptop made for everyday tasks at home, work or school. The stylish 14-inch Full HD display Acer Aspire 3 comes in a variety of vivid colors and is perfect for delivering powerful multimedia experiences and entertainment. The Aspire 3 also packs in up to 8GB of DDR4 2666 MHz memory, a Precision Touchpad, Acer BluelightShield, an HDMI port, 3 USB ports and an optional built-in DVD drive.
The Acer Ojo 500 Windows Mixed Reality headset
A year after releasing its very first Windows Mixed Reality headset (the revolutionary headset which delivers immersive virtual experiences), Acer updated its design and specs, bringing in the new Acer Ojo 500 – detachable, easier to use and to clean, and of course, packed with a better integrated audio system.  This new design enables the lens and head strap to be individually detached, making the headset easy to store (in small bags) and of course, to clean, just like how a lens of a camera can be removed or cleaned. Coming either with a hard or soft head strap, the headset offers a snug yet comfortable fit – something unlike with its last year's Windows Mixed Reality headset model. The soft head strap is washable, and the extra-large padding on the hard head strap enables the headset to fit securely and stay in place. Moreover, the mask can be flipped up, eliminating the need to remove the entire headset to do other things.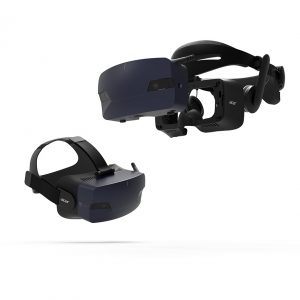 Acer Projectors for Better Prezos
Acer announced its new PL and SL series projectors — the Acer PL6610 (WUXGA), PL6510 (1080p), SL6610 (WUXGA)and the SL6510 (1080p) — powered by laser light sources, with the SL series providing short throw projection in tight spaces such as classrooms, and the PL series for customers who are less space conscious. Designed for those looking for a reliable, low maintenance projector solution, these projectors are optimized for large venues and demanding commercial and educational applications.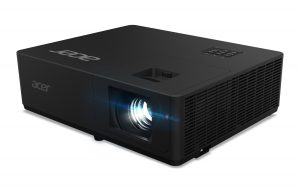 Acer's Lightest Notebook – The Swift 5 Notebook
The Swift 5 (SF515-51T) notebook, the world's lightest notebook PC with a 15-inch display, is ideal for discerning customers who want an envy-inducing PC. The Swift 5 delivers exceptional performance in an elegant chassis that weighs less than one kilogram. Notably, it can deliver responsive performance and up to 10 hours of battery life for day-to-night productivity. Running Windows 10, the new Swift 5 is a large-screen productivity powerhouse.
Truly, Acer's quality of being user-friendly is one of a kind. But being user-friendly is merely the tip of the iceberg, as Acer has a lot more to offer – promising to open up more possibilities and opportunities for the people of our generation and the people of the future.
Exact specifications, prices, and availability will vary by region. To find out about availability, product specifications and prices in specific markets, please contact your nearest Acer office or retailer via www.acer.com