Former vice president Leni Robredo was more than grateful after the Harvard Kennedy School Center for Public Leadership named her a fellow for the Fall 2022 semester.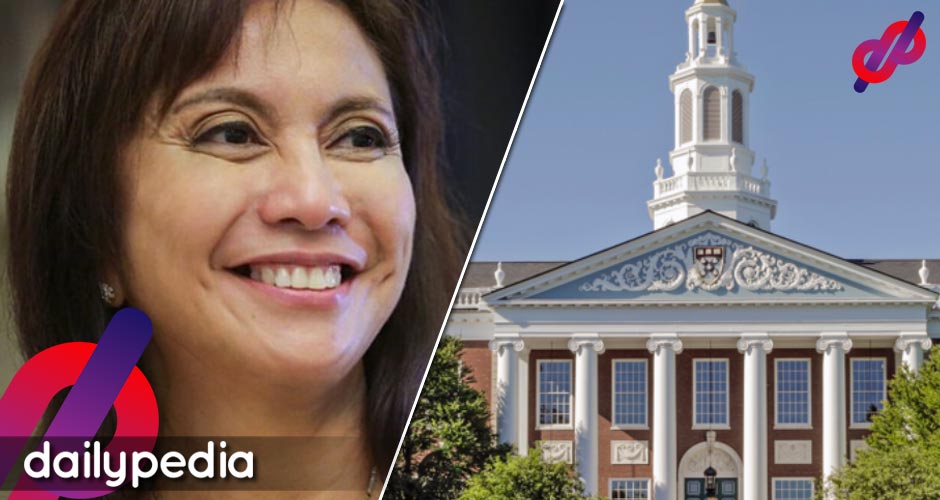 In the September 1 announcement, the academic institution said Robredo got selected as one of five Hauser Leaders for turning the Office of the Vice President into an advocacy-centered one from just a ceremonial office.
During her term, Robredo established Angat Buhay—a flagship poverty alleviation program.
"At a time when many challenges stem from leadership shortcomings, these Hauser Leaders bring to campus living examples of principled and effective public leadership," said Deval Patrick, codirector for the Center for Public Leadership.
Robredo is "thrilled & humbled to be given this space to share my advocacies & experiences, alongside a roster of distinguished leaders from various fields."
A huge honor to be invited at the Harvard Kennedy School's Center for Public Leadership, as one of its Hauser Leaders for the Fall 2022 semester. What a blessing to be returning to Cambridge for this opportunity.https://t.co/YS4iVUrsm4

— Leni Robredo (@lenirobredo) September 1, 2022
She and other Hauser Leaders will "engage with students, faculty, alumni, & the wider Harvard community during our stint on campus."
Robredo's followers and admirers congratulated her for being recognized internationally despite not being in office anymore.
https://twitter.com/sophiarblnc/status/1565273245150244864?s=20&t=KI_OyyHbpCG9yVj23I2AGw
Failed senatorial candidate Chel Diokno praised Robredo for making Filipinos proud.
Congratulations Atty. @lenirobredo on this latest achievement. I know that you will make our country proud, like you have done countless times, by educating the youth on good governance and public service. Good luck! https://t.co/qFPBrog8QQ

— Chel Diokno (@ChelDiokno) September 1, 2022
Harvard University has just officially confirmed Ex VP Leni Robredo is a WORLD CLASS public leader.

Congrats, Madam Leni! 💖👏

— Clive Reyes JR (@datumx11) September 1, 2022
Former senator Leila de Lima joined in on congratulating Robredo.
Congratulations Ma'am @lenirobredo! 👏

Atty. Leni Robredo got invited at Harvard Kennedy School's Center for Public Leadership, as one of its Hauser Leaders for the Fall 2022 semester. (From: Atty. Leni Robredo FB page).

Magagalit na naman ang sangka-trollan nito.

— DocMeggy🌸🌸🌸 (@Meggymegmd) September 1, 2022
Madam Atty. Leni Robredo is going to harvard im so proud of you atty. Hindi pa tapos ang laban nag sisimula palang AngatBuhay Lahat sa Gobyernong hindi magnanakaw at may legit na degree! #leniparin

— Xinns21 | Leni in Harvard! (@Xinns21) September 1, 2022
Robredo's recent achievement did nothing, however, to stave off trolls from attacking her character. One said that people should "temporarily refrain" from calling her "Madumb" as it may alert the Harvard higher-ups and remove her from one of the chosen Hauser Leaders.
Attention please.

Let's temporarily refrain from calling Leni Robredo "Madumb". @Harvard might discover that people in the Philippines call her dumb and they might un-invite her as a loser, I mean hauser. And please, don't ever tag @Harvard or call her Madumb during the event.

— LUCIO JOE (@kahector4) September 2, 2022
Some said she shouldn't have been invited in the first place due to her history of "lying" and other questionable behaviors as a public servant.
I thought only the smart and talented were invited to Harvard University? But why was someone like Aling Leni Robredo invited to speak on "leadership"? They invited a liar, incompetent, idiot in math, history etc. Harvard has become a low standard.🤭 pic.twitter.com/t5rTBnvi9H

— Mr.Winwin_Situation (@WinwinEklabu) September 1, 2022