Ex-House Speaker Rep. Alan Peter Cayetano is "seriously" contemplating running for the presidency in next year's national elections.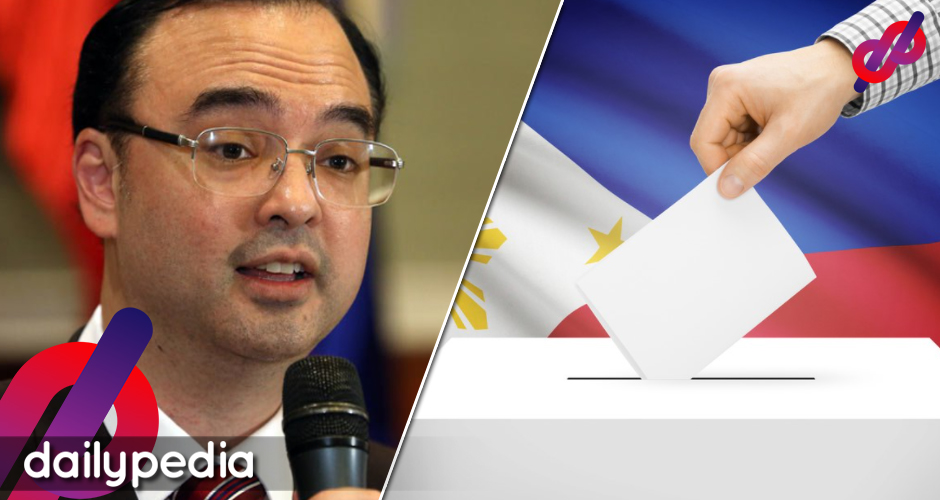 In a press briefing, Cayetano did not exclude going for other positions in government but was "really praying and discerning about it".
But before the 2022 elections, his goal is to have his proposed measure approved which seeks to provide P10,000 to the most impacted households and to create a "five-year plan" for the Philippines amid the health crisis.
"Anyone and everyone who is qualified and could be a good president should now contribute in putting together a five-year plan para kahit sinong manalo, at least, may plano na 'Yung ating bansa," he stressed.
He also said that "anything is possible" when asked how he would respond if Sen. Manny Pacquiao wanted him to be his running mate.
PANOORIN: Dating House Speaker Alan Peter Cayetano, kinukunsidera ang pagtakbo sa pagka-presidente o iba pang posisyon sa #Eleksyon2022. @dzbb pic.twitter.com/rO6zk6vuH3

— Isa Avendaño-Umali (@Isa_Umali) June 4, 2021
The road to becoming the next commander in chief may be blurry for Cayetano as Pres. Rodrigo Duterte did not mention him as a possible successor.
Malacañang recently came out and said Duterte is fine with seeing five different politicians leading the country, namely his daughter Davao City Mayor Sara Duterte, Manila Mayor Isko Moreno, former senator Bongbong Marcos, Sen. Manny Pacquiao, and long-time aide Sen. Bong Go.
Cayetano's name wasn't included in the list.
"Noong kinausap ko siya d'yan, wala pa siyang desisyon. Mayroon lang siya talagang mga options na sinabi," Palace spokesman Harry Roque said recently in a briefing.
The career politician has been plagued with various controversies, most notably his management of the 30th Southeast Asian Games (SEA Games).
The public somehow knows that Cayetano doesn't stand a chance in becoming president.
Cayetano says he is running for president and wants to be part of a team that will create a five-year plan for the Philippines. This guy must be insane. Can't he see that his word no longer carries weight? He has no more clout, no power and worse, no honor and integrity. Pity…

— Mac Zamora (@MackinleyZamora) June 4, 2021
He ran for the vice presidency in 2016 but didn't come close to winning so it is utterly useless to gun for the top position, said netizens.
When will Cayetano get it?

He didnt win as VP, he wasn't successful as a Speaker, HE WILL NEVER BE PRESIDENT!

Your whole stint under the Duterte admin puro pagsisinungaling lang ginawa mo!!! Just be a private citizen/congressman & worry about your new hair plugs if u will 😡

— MrsHan (@MoxieLi) June 4, 2021
Kawawang nilalang. From being a vice-presidential candidate, to DFA Sec, to Speaker, to a has-been in just a couple of years. Tsk tsk. Kung mamalasin ka nga naman. Todo na sipsip wala parin napala.

— Noodle_Warrior (@wander_noodles) June 4, 2021
The hottest tandem in the presidential race: Alan Peter Cayetano for President and the Cauldron as his Vice President.
"No one can beat us" the Cauldron said. "Even though I like to be beaten" Cayetano added. "With a whip. A leather whip". pic.twitter.com/SGwvTgQvk9

— Duterte Watchdog aka Pretty in Pink presents 😏 (@DuterteWatchdog) June 4, 2021
Alan KALDERO Cayetano says he is considering running for president
He's considered
Imee SANDOK Marcos for his VP
Para daw terno !

— Caloy (@reyes_caloy) June 4, 2021
Cayetano is a man who flip-flops on many issues which is why people may think twice before voting for him.
Gusto lang kumita ng campaigm funds ni cayetano. Peto may tataya bang tycoon at ibang bilyonaryong negosyante? Sa tingin ko ay wala.

— Apple Fruit (@franco_mikhail) June 4, 2021