An argument escalated between Senate President Vicente Sotto III and Senator Cynthia Villar after the latter accused the former of giving "special attention" to those who are physically present during the sessions.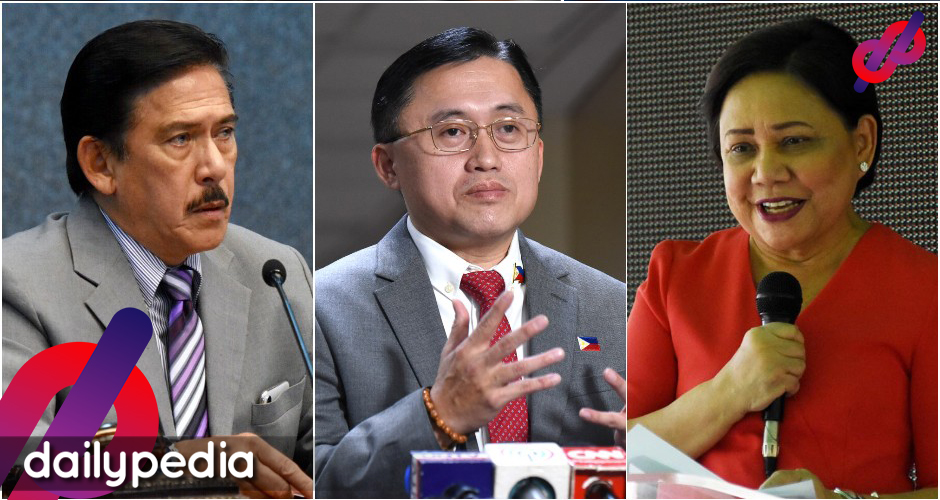 Villar first asked if Senator Bong Go's vote was recorded when Congress refused to ratify the bicameral conference committee report on the proposal regarding the modernization of the Bureau of Fire Protection. Sotto answered no and stated that it's because Go was not physically present and did not respond via Zoom during the roll call and when the voting was ongoing.
Villar then defended Go, saying that Go had a weak internet connection. Sotto answered that it's not an excuse because if it is, Villar had to be physically present for her vote to be counted.
"I don't think we should put it that way because if you are going to put it that way, you'll have to be here present physically so that your vote will be counted."
Frustrated, Villar clarified that she and other senators are unable to go to the Senate as they are senior citizens and the national government had a guideline that those aged 65 and above are prohibited from leaving their homes.
"Mr. Senate President, I'm not talking [about] Mr. Go now. I'm just [pertaining to] that [statement] you always say that 'You should be here.' How can we be there? We're seniors; we're not allowed to get out of our home."
She then accused Sotto of being unfair to those who are attending the sessions online.
"That's my question because you always say that you're not always here as if you give special attention to those who [are] there. But remember, we're seniors."
The two then started talking at the same time with Sotto answering back that he was just answering a question about Go's vote adding that the latter was not even a senior citizen in the first place.
"I was not pertaining to the seniors! As a matter of fact, Senator Bong Go is not a senior! Oh? So he should be here!"
Raising his voice, the Senate President clarified that he's not alluding to the seniors who are at home.
"I take exception to what you're saying! Akala mo pinariringgan ko kayo. Hindi kayo pinariringgan! You don't have to be here if you don't want to. You are seniors! I was pertaining to Senator Bong Go and the vote."
Sotto immediately suspended the session after the argument.
However, after almost an hour, the two senators were able to calm down and clarify their points with each other. The session was resumed.
A smiling Villar spoke up and apologized to Sotto for getting into an argument with him.
"Mr. Senate President, yeah, I'm sorry ha? 'Wag ka magalit. Sorry, sorry."
Sotto laughed and also apologized to Villar and the other senators for having to witness such a tussle.
"It's alright. I also would like to beg the indulgence of our colleagues, including Senator Villar, if I had to raise my voice a little because I wanted to be understood, what I was explaining," he said.
Some netizens were amused by the exchange between the two senators, not because they've quickly made up but due to the fact that both are "people's enemies" but are fighting against each other.
How refreshing to see when people's enemies fight among themselves https://t.co/p8J2NovLLg

— Tonyo Cruz (@tonyocruz) June 3, 2021
Someone called out Bong Go for always following his "boss" pertaining to President Rodrigo Duterte.
Go was Duterte's former executive assistant and personal aide since he was still the mayor of Davao City. When elected as president, Duterte made Go the Special Assistant to the President.
Go then decided to run for a Senatorial seat during the 2018 elections and won with roughly 21 million votes.
Someone also accused Go of using his internet connection as an excuse when he's really taking care of a sinful elder.
"Walang net" na pala ang bagong tawag sa "Nag aalaga ako ng matandang manyak, drug lord at mamamatay tao na may sayad ang ulo kaya absent ako." https://t.co/lvuajaPeiC

— Rommel Lopez #DefendPressFreedom (@RommelFLopez) June 4, 2021
On the other hand, a netizen questioned Go's internet connection, asking why he doesn't have a better internet connection considering his position in the Philippine government.
How can a sitting senator not have a good—or even better—internet connection?😳🙄 A 7-minute glitch?😂😜 https://t.co/xCBHP98G6f

— Frase Jonco (@FraseJonco) June 4, 2021
Another implied that the argument was such a waste of time.
don't know what irks me more… yung nagsayang sila ng oras dahil may di nakaintindi o yung "those who goes there" https://t.co/QTrb1mf527

— Corinne #MagparehistroKa (@oyinny) June 3, 2021
"Nag-away yung dalawang bobo at [corrupt]," a Twitter user wrote.
Nagaway ung dalawang bobo at korap https://t.co/KAsvqAGaos

— capri sun (@Bukkake2Go) June 3, 2021
Others described the Senate with words such as "joke" and "circus."
the senate is a fucking joke https://t.co/6Ja1GLoPfo

— ᜃᜒ | sulong wag patinag! (@veilorr) June 3, 2021
"You elect clowns, expect circus!" https://t.co/iQcm0mjSux

— j (@jfhingco) June 4, 2021
Another called out Villar and said that her sentiments are "out of place."
Wala sa lugar ang mga hanash mo mhie @Cynthia_Villar 😭😭 https://t.co/3Uyz0TmOIF

— ✨ (@kaker_s) June 4, 2021
Her previous argument with Senator Nancy Binay was also mentioned by a Twitter user.
tanga nito ni Cynthia??? Last time nag uusap sila ni Nancy about Seniors going out sa resto na bakit daw hindi pwede and now she's complaining about going out eh senior sya??? Sis, pick a struggle????? https://t.co/AZbnS6JEJM

— Pinguuuu? (@Pinguuuu___) June 3, 2021
Villar previously clashed with Binay regarding the proposal to lift the rule prohibiting senior citizens to leave their homes even if they've completed their COVID-19 vaccinations. The former argued that they should be allowed to go outside and go to restaurants but the latter disagreed.