MYMP guitarist Chin Alcantara has found himself in hot water after he refused to apologize for performing in blackface during an online music session on October 30.
As part of the Halloween tradition, the band members dressed up as their favorite musical artists. Alcantara decided he would honor Jimmy Hendrix and put on dark makeup.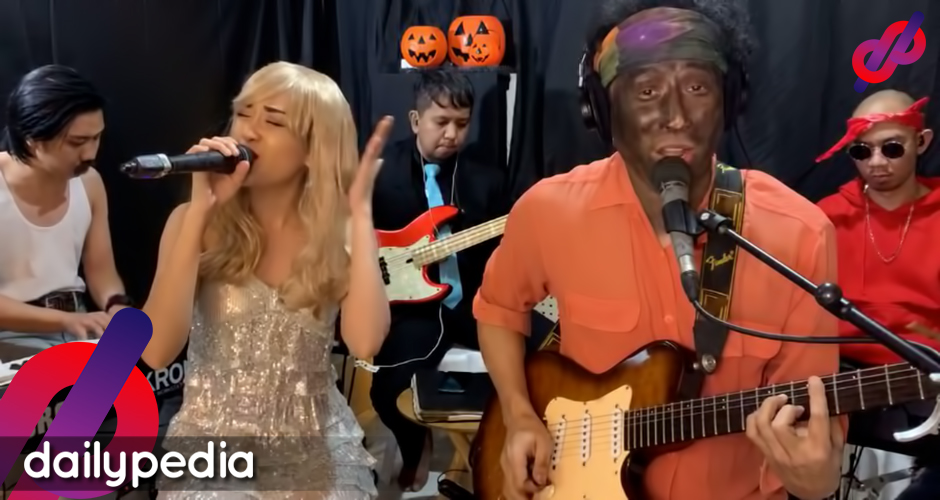 Blackface is when someone wears makeup to darken their skin so they'd look black. However, this has been considered racist. Back in the day, entertainers in the US would do blackface to enact negative black stereotypes.
Netizens advised Alcantara to learn more about race but he shut them down.
"Wag niyo pansining ang mga nagcocomment na 'educate yourselves,' 'Black Lives Matter.' Kalokohan ang 'Black Lives Matter.' All lives matter." Alcantara told viewers.
Black Lives Matter (BLM) is a movement that came about in the US after African American Trayvon Martin was mistakenly killed by a neighborhood watch captain in 2012. The movement resurged as another African American, George Floyd, was killed by police officers on May 25, 2020.
Alcantara, in a video posted on October 31, explained that he admires basketball legends Michael Jordan and Kobe Bryant. He added that BLM has become a political tool.
"So totoo may oppression (sic), may racism sa mga African-Americans, totoo. Pero ginawang propaganda ang Black Lives Matter. At bakit ba doon lang tayo maniniwala sa Black Lives Matter? Eto lang ang sasabihin ko: All lives matter. Not only blacks, not only whites, not only yellow, not only brown. All lives matter.
"In reality, walang maraming race. Isa lang ang race natin, ang human race" he said.
Netizens slammed him for appearing uneducated about race in general.
Chin Alcantara (MYMP): "Pag may nagsasabi ng Black Lives Matter, KALOKOHAN YON. Kasi all lives matter."

Chin, BLM is a movement advocating against incidents of police brutality and all racially motivated violence against black people. Are you Making Your Mama Proud? Maybe not. pic.twitter.com/5pgL7LLvQW

— ricci (@ricci_richy) October 31, 2020
Blackface while saying All Lives Matter. Tanginang doble-dobleng kabobohan MYMP dapat YMNP: your mama's not proud

— kae #CagayanNeedsHelp (@ifyouseekkae) October 30, 2020
There is stupidity.

Then there is MYMP.

— Gabe Mercado (@gabemercado) October 31, 2020
Well, MYMP.. that was reaaallly dumb.

— KC Montero (@KCMontero) October 30, 2020
Let me compose myself, because I am angry. @MYMP_OFFICIAL, the fact that you did not prevent your bandmate from saying this shit means you're complicit in this. All lives will only matter if the oppressed are lifted from their oppression, and black people are oppressed. BOGO MO https://t.co/HrL1Hw1Jec

— Chai Fonacier (@rabidcatbanshee) October 30, 2020
MYMP really said wag pansinin yung nagsasabing educate yourself about doing a black face, propaganda lack yung black lives matter and all lives matter dapat. Advice: if may magsabing educate yourself, just shut up and educate yourself.

— Jai Cabajar (@jaicabajar) October 30, 2020
Probably Juris Fernandez right now over MYMP issue: pic.twitter.com/z8OW3dLnAF

— Alestaire 🏳️‍🌈 (@alestairelek) October 30, 2020
#mymp is the consequece of having an inadequate educational system that produces uncritical, unthinking, insensitive and very stupid Filipinos

— Bart Guingona (@guingonabart) October 31, 2020
Alcantara is a known Duterte supporter who wrote a lengthy Facebook post on how ABS-CBN is planning on assassinating the president.
He said the plan was uncovered by the intelligence communities of PNP, AFP, NBI, and ISAFP.
"The plot is funded by prominent families who own networks, media outlets, utility companies, and politicians who are drug lord protectors. Millions of pesos are being offered to high ranking military and police officials for them to withdraw support for the President."
He also said that the rallies held at the ABS-CBN compound was a move in line with ousting Duterte.
"The officials declined the offer and chose to expose the plot. The timeline was:
1) Daily "gatherings" at the abs-cbn compounds in disguise of showing support for its franchise renewal.
2) Daily publicity of abs-cbn's artist and management appealing to masses for support
3) Daily social media propagandas to encourage revolt against the government with the hashtag #oustduterte.  This was timed to culminate in the senate hearing of abs-cbn franchise."
But NCRPO Chief Debold Sinas denied any threats in line with the celebration of the 34th EDSA People Power Revolt.
The guitarist alleged that a Senate hearing conducted by Sen. Grace Poe was to make people have a negative view of the government.
Aside from his EDSA theory, Chin also alleged that the Senate hearing called for and conducted by the Committee of Sen. Grace Poe is just a ploy to sway people's emotions against the government.
"This was the reason why Senator Poe, together with other anti-Duterte senators, hurriedly scheduled the hearing in February 24 to be followed by the edsa revolution anniversary, the next day. Senator Poe and his (sic) co-conspirators expected that public support would have turned in their favor and people would been swayed to stage another "edsa peaceful revolution"  They also expected that the "gathering" would swell and would eventually lead to bigger destabilization of the government.  This was Plan A."
Since Plan A did not happen, then Plan B is to be executed, which is to have Duterte assassinated, said Alcantara.
"Calls for civil disobedience from all ABS-CBN and pirate broadcast networks would have been launched until Duterte steps down. Now that Plan A has failed miserably, the perpetrators have one last option."
"Plan B:  ASSASSINATE PRESIDENT DUTERTE. This is the only way these OLIGARCHS can continue controlling the masses and keep their hold of major utilities, companies and illegal businesses….Protect our President in order to protect our country's TRUE FREEDOM!  Freedom from the oligarchs."
He was against ABS-CBN's shutdown, but he is "for the rule of law."
"I have many friends who are working for abs-cbn and I symphatize (sic) and share your sentiments. I don't want you to lose your means of living and I am against the shutdown of your company. But I am FOR THE RULE OF LAW.
"We have a choice: BE PART OF THE SOLUTION or BE PART OF THE PROBLEM. We can never progress as a nation if we hand this country back to the people who led us to this situation."