The National Disaster Risk Reduction and Management Council (NDRRMC) confirmed on Tuesday that deaths caused by Typhoon Ulysses are now at 73.
24 are injured and 19 are still missing in Region II, II, CALABARZON, Bicol Region, and the Cordillera Administrative Region.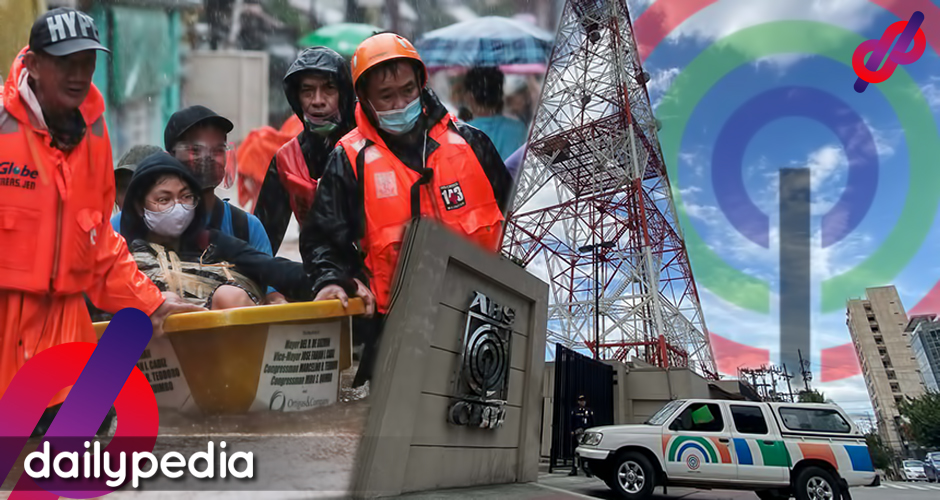 Ulysses has also affected 3,052,049 people or 727,738 families in Regions I, II, III, CALABARZON, MIMAROPA, V, NCR and CAR.
The agriculture sector has incurred P2.7 billion in damages and damage to infrastructure is around P5.2 billion, while 39,808 houses have been damaged.
The affected families were compensated a total of P46.9 million worth of assistance, the NDRRMC said. It has recommended that President Rodrido Duterte place Luzon under a state of calamity.
The number of casualties could have been lesser to what it is on record had ABS-CBN not been shutdown, said netizens.
When calamities are coming and going, it is vital to disseminate information to the public, which is something ABS-CBN is the best at doing.
Prior to the shutdown, ABS-CBN had at least three relay stations in the entire Cagayan Valley, including the ones in Isabela, Aparri, and Tuguegarao in Cagayan. But these no longer serve the public since ABS-CBN's Regional Network Group's was shutdown in August.
The Cagayan Valley, which is one of the worst typhoon hit areas, also relied heavily on ABS-CBN News for updates.
Concerned netizens have voiced out against the 70 congressmen who voted to deny ABS-CBN's bid for a franchise renewal last July, and attribute the lack of information dissemination to them.
Reporter MJ Felipe pointed out how important ABS-CBN RNG would be to the typhoon victims and hopes that the lawmakers are feeling the guilt of their decision.
Ngayon nakikita ang HALAGA ng ABS-CBN Regional Network Group. Importante ang papel nila sa buhay ng ating mga kababayan. If members of Congress can read this, it's not too late. Maraming pagsubok na darating sa ating bansa kaya ibalik na ang ABS-CBN to serve the Filipino people!

— MJ Felipe (@mjfelipe) November 13, 2020
People didn't have to go online for updates because ABS-CBN News was on free TV, but things have changed thanks to the shutdown.
Salamat ABS-CBN News! Sa mga di nakakaalam, sobrang challenging mag-live na DNG lang ang gamit. Unille ENG vans, Kailangan ng malakas na signal para makapag-feed at makapag-live! Limited lang din ang galawan kapag DNG. Kaya saludo ako sa buong ABS-CBN News! https://t.co/i9mX9zf4iL

— Karlo (@karlmabs) November 12, 2020
ABS-CBN doesn't even look like it has no franchise the way it has been providing special coverage of the typhoons.
Walang franchise yan? pic.twitter.com/r93IJRcq5p

— James Banaag (@dearscarjames) November 12, 2020
ABS-CBN reporters are just everywhere, regardless of the situation.
Salamat sa patuloy na serbisyo sa ating mga kababayan, may franchise man o wala. Mabuhay lahat ng mga media personnel, kahit saang network man kayo! ❤️ https://t.co/AFSiHLJhV6

— Annizah Camid (@annizahcamid) November 13, 2020
One netizen says that anyone who supports ABS-CBN's shutdown is a contributor to the lack of information dissemination.
Now we see and feel the importance of those regional network groups of that network na sinasabi ng mga DDS na "mabubuhay tayo na wala ang ABS-CBN. Move on."

If isa ka sa mga ganito ang pag-iisip, may ambag ka sa pinsalang nangyayari ngayon.#CagayanNeedsHelp

— Miss France Sajorda (@PrincessFrance) November 13, 2020
Information is crucial at this trying time and other networks cannot match ABS-CBN is reporting news. Instead of giving updates, other networks are airing cartoons and other entertainment programs which doesn't really help.
– Our source said that it could have been better if the regional TV was tapped to alarm the residents.

Only ABS-CBN Cagayan Valley is the regional TV operational before. It was shutdown earlier this year. #CagayanNeedsHelp

— Assortedge (@assortedge) November 13, 2020
Ibalik niyo ang ABS-CBN mga hayop.

— Vance (@vance_larena) November 14, 2020
The only person to blame for all of this is Pres. Rodrigo Duterte.
https://twitter.com/TheRainBro/status/1327308489224380416?s=20