Vice President Leni Robredo on Wednesday received an apology from Chief Presidential Legal Counsel Salvador Panelo after he accused her of boarding a Philippine Air Force C-130 plane to Catanduanes.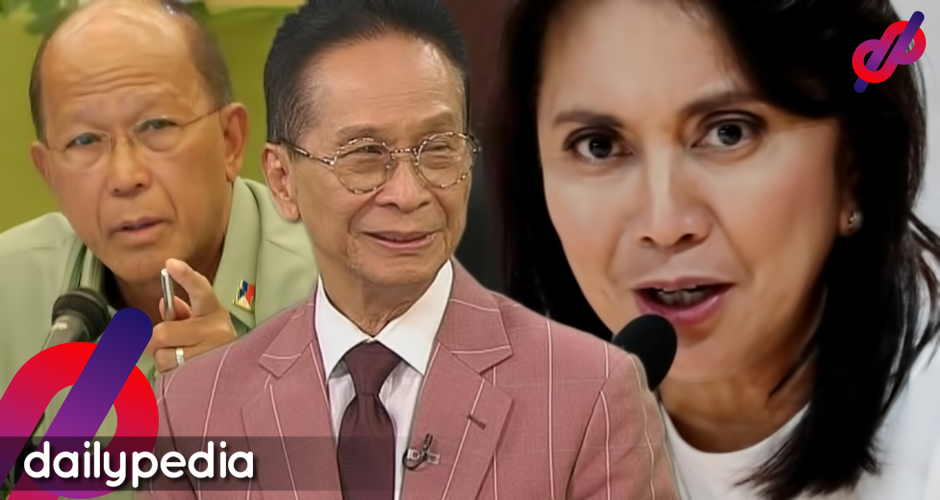 According to Panelo, he shot Robredo a text message asap when he learned that his information was "not totally correct."
He verified the information from Defense Secretary Delfin Lorenzana and learned that Robredo did not hitch a ride.
Instead, her donated goods were transported by a military aircraft to the Bicol region.
Lorenzana apologized to Panelo because "he was fed the wrong information."
"Noong nalaman ko na hindi siya sumakay sa eroplano ay karaka-raka humingi tayo ng paumanhin na mali pala," he said during his Counterpoint program.
"I personally texted VP Leni ng aking personal apology pero pinadalhan ko siya na log report na ginamit 'yung chopper para doon sa kanyang relief goods. Hindi ko sinasabing mali," he added.
Robredo's spokesman, Barry Gutierrez, denied Panelo's initial allegations about her taking the said aircraft to the Bicol region.
Panelo recently claimed Robredo took a C-130 aircraft to Catanduanes for typhoon relief efforts, and that he got the information from Lorenzana. Panelo also said that Robredo made it look like she brought relief goods to the area.
But he denies ever being a fake news peddler, but admits to being wrong to put out information which "I would not even say false, (but) not totally correct."
"Wala nga daw na si VP Leni ay sumakay sa eroplano pero 'yung relief goods niya ay isinakay sa isang chopper, helicopter. Isinabay sa relief goods na dadalhin sa Catanduanes. 'Yun ang istorya. Kaya sabi ni Sec Lorenzana, 'apologies. Mali ang info ko,'" he said.
Meanwhile, Lorenzana also issued his own apology to Robredo.
"I requested the Philippine Air Force to confirm through their flight manifest and they reported that there was no instance that Vice President Robredo boarded any military aircraft in going to Catanduanes," Lorenzana said.
The AFP also said that there is nothing wrong with Robredo using a government plane.
"There's no issue on that as far as the AFP is concerned," said AFP spokesperson Maj. Gen. Edgard Arevalo.
"What's needed is just proper coordination or information ahead of time," he added.
On Wednesday, Malacañang made it clear that Robredo is Pres. Rodrigo Duterte's new target after she appeared more of a leader than he was during relief efforts in typhoon-hit areas.
Duterte recently referred to Robredo as a "dishonest" individual after she allegedly claimed he was nowhere to be found during Typhoon Ulysses' visit.
Robredo never said anything about the president being absent, but this did not stop Presidential Spokesperson Harry Roque from bringing up her "postings."
"He must have his reasons but I, myself, I do know that the President also noted the fact that in many of her postings, the Vice President made it appear that she was the one who called out the marines to give necessary aid to the victims of the Cagayan floodings," Roque told CNN Philippines.
"But actually, the chain of command is the President [is] on top of the armed forces and taking orders from him and no one else. That's the context of what the President must have said. And it was not just one post that the Vice President was making it appear that she was in charge," he added.
Roque was "not sure" if Robredo did in fact bring up Duterte's absence following the dominance of #NasaanAngPangulo on Twitter, but said that the president has his "basis" for attacking Robredo.
Robredo on Twitter gave continuous updates on her office's efforts in providing assistance to typhoon victims.
To Roque, this was her way of playing down Duterte's own efforts in helping.
"Now is not the time for politics and I think the records will bear me out that every opportunity, the Vice President welcomes [the] opportunity to take a snide at the President. At a time of pandemic and even at a time of typhoon," Roque said.
"And of course, her Twitter posts making it appear that she was the one calling the shots at the time of the typhoon was completely out of order…. And the President said, under the Constitutional scheme, the Vice President is a spare tire and when Ulysses struck, he (Duterte) was in charge," he added.