Nikko Jarod Subida, a photographer from Mandaluyong City, said Facebook declared him dead for about an hour before he recovered his account.
In an interview with Dailypedia, Nikko said he logged on to his account but was surprised to see another user's posts on his timeline about him being deceased.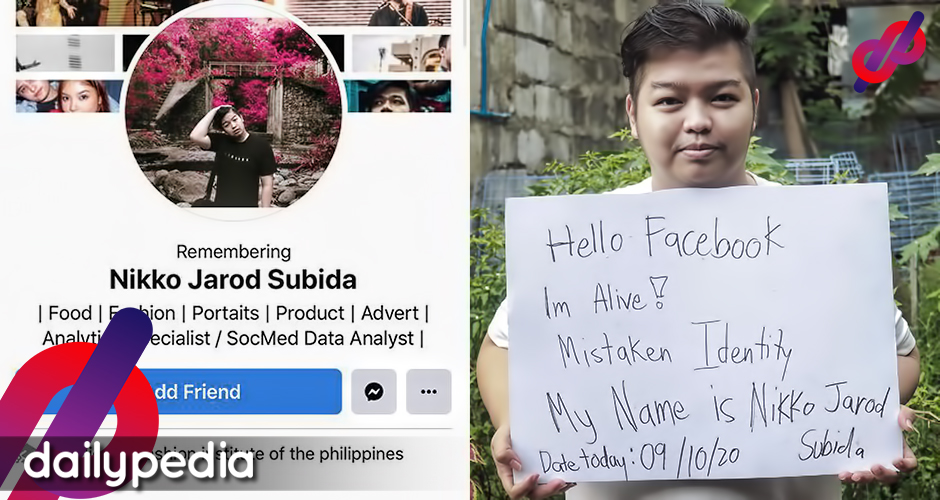 "Yung nag post ng parang memorial something is na hack by an Indian hacker then after sharing some post nagdecide ako burahin yung mismong pinost sa timeline ko about memorial," he said.
He deleted the posts but Facebook automatically logged him out after 8 minutes.
"…right after ko i delete biglang nag disconnect ako sa facebook then nag appear yung notice na nakalagay yung 'special memorialisation' then nag try ako mag log in pero di nakapasok."
His mother, Myra, was notified by Facebook that Nikko chose her as his 'legacy contact' for when he dies. She was then given choices on what to do since her son's account has recently been 'memorialized.'
Nikko's account momentarily had the word 'remembering' placed below his profile picture, indicating that he had just passed away.
He was then advised to go to the Help Center, and so he did. He had to prove that he was still alive by sending Facebook 3 photos of himself.
"Nag send ako ng evidence na buhay pa ako, 3 photos… 1 with the placard , 1 holding my id and 1 id photo (passport)." he said.
Facebook then apologized to Nikko for making a mistake.
"…mga 25-30 minutes din ako nag antay after nagsend sa email ko na nagkamali si Facebook sa pag note sa account ko na patay na nga. then na open ko na siya. yung nag post sa timeline ko nadelete ko na rin lahat," he added.