Health Secretary Francisco Duque III said that COVID-19 might actually be a "blessing in disguise" since it put emphasis on the importance of introducing health reforms.
"This can also be some kind of a blessing in disguise, serendipitous. Kasi parang na-accelerate iyong universal healthcare because of COVID-19. It is a catalyst," Duque said during a webinar hosted by the University of the Philippines.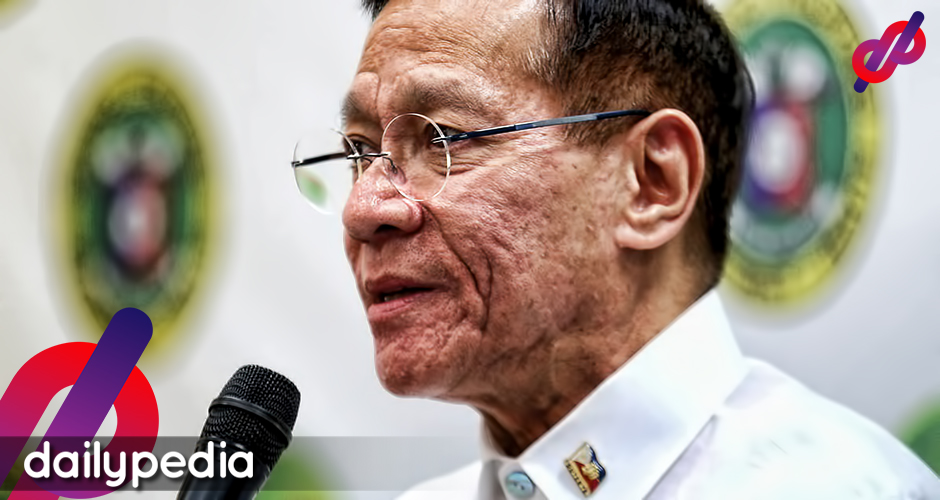 "Although COVID-19 has exposed the fissures or the cracks, weakness of our health system, it has brought to (the) fore the areas, provisions of UHC that need to be accelerated in terms of their implementation.
"Let us broaden the context by which we are responding to the pandemic. And that context is universal healthcare," he added.
Not a lot of people agree with Duque on this one.
In case you are not aware, thousands have lost their lives and millions have lost their jobs.

This is NOT and NEVER will be a "blessing in disguise." https://t.co/L4qbKTwuB2

— 范鴻志 RICHARD JUAN 홍지 (@richardjuan) August 21, 2020
How dare you call this crisis a 'blessing in disguise' when in fact, killed thousands of lives and left millions of filipinos jobless?! This pandemic has never been & will never be a blessing to anyone.

But your resignation can be considered a blessing just so you know. RESIGN. https://t.co/dbNTnC0w5u

— Kerwin King (@imkerwinking) August 21, 2020
It shouldn't take a pandemic for universal healthcare to be in place.

I would think the HEALTH SECRETARY of all people should know??? https://t.co/DpZPJf9iGm

— Barnaby Lo (@barnabychuck) August 21, 2020
Thousands of deaths? A blessing in disguise? https://t.co/w2AEJpz3i7 pic.twitter.com/PUo77rUVsr

— Tito (@maroontito) August 21, 2020
What the fuck???

Blessing pala tangina mo sana ma-COVID ka hayop https://t.co/ldfcxu9Azt

— Justin Dizon ⚡️ (@jjcdizon) August 21, 2020
millions of people have been affected by the disease, thousands of people already died && many are struggling just to survive & you're here saying that this shit is some kind of blessing in disguise??? seryoso ka ba??? https://t.co/h0rTKcpXys

— cassianna agatha (@nuttellaaaaaaa) August 21, 2020
the fuck??? the fact that it took a pandemic for yall to recognize the importance of universal health care doesnt sir right with me https://t.co/74lLA4AD3Y

— ً (@_allendc) August 21, 2020
Just when you think they can't go any lower, they prove you wrong 😢✊ https://t.co/OAfrRDmPS7

— $4 or 200php GAw on 📌 (@Bal_Gives) August 21, 2020
ha? people are dying, hungry and jobless and u have the d audacity to call this health crisis a blessing in disguise???????????????????? https://t.co/BfJ0ySwEd7

— alexandra (@alexacncpcn) August 21, 2020
https://twitter.com/deniserfrmn/status/1296704069487063040?s=20
ANONG BLESSING IN DISGUISE??? bitch are u blind https://t.co/aIKTjbtVi4

— erl (@erleemwhat) August 21, 2020
sir with all due respect, fuck you. https://t.co/bWGyyInN8S

— jeri (@jerbeaaars) August 21, 2020
https://twitter.com/aliyahflores04/status/1296766064634683392?s=20
The UHC law is aiming to provide all Filipinos access to affordable but quality health services. It also wants to have more patients in primary care instead of hospitals, steering away from "American style" wherein people look for treatment from more renowned hospitals.
The DOH says that skipping lower-level healthcare facilities will only cost more. The UHC system will make it possible for every Filipino to have a health worker whom they can contact whenever needed.
Duque also said that health workers and local governments have been ordered to do "active case finding" by monitoring the health conditions and compliance to minimum health standards of people in local communities.
The government has already set up a One Hospital Command Center to lessen the workload for hospitals and to provide health facility referrals for COVID-19 patients in Metro Manila. It also handles medical transport and patient pick-up arrangements.