Health Secretary Francisco Duque III urged health workers to be 'selfless' and apply to work in hospitals to combat the pandemic.
"Siguro (maybe), let's be selfless … It is not going to be easy anytime soon. It is going to be more difficult, but we just have to live with it. But of course, the sense of nation must be an overarching consideration in the hearts of every healthcare worker," Duque said in a Friday webinar.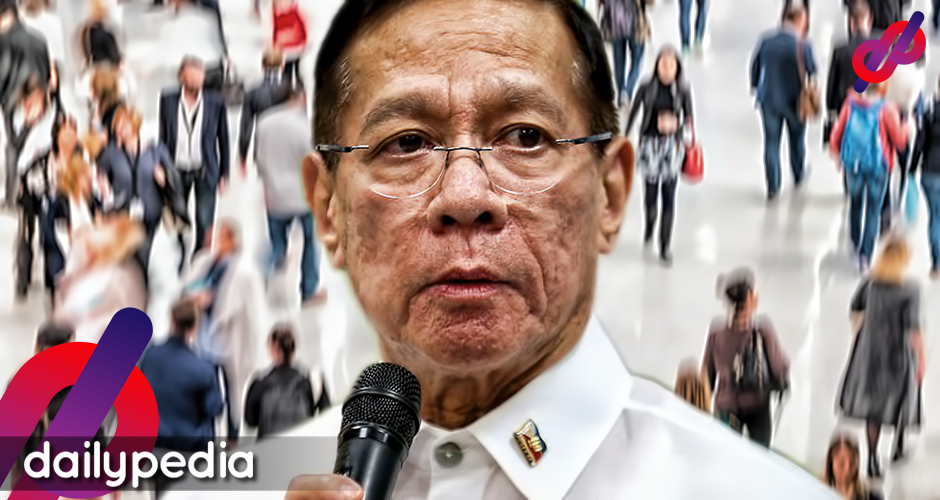 "Ako po ay nananawagan. I appeal to the sense of nationalism and patriotism of every healthcare worker, nasa giyera po tayo, magkaisa po tayo, magtulungan po tayo," he added.
He pointed out that most overseas medical professionals who just arrived in the country have no interest in applying for the Department of Health's emergency hiring program.
"So far, only 25 have signed up for the program, not even close to the target of a thousand medical workers. 'Yung iba ay ayaw," Duque said.
Duque can only hope that health workers would reconsider their decision.
"Baguhin po natin ang ating pagiisip sa gitna po ng pandemyang ito," he said.
The government is now allowing those who've secured employment documents on or before March 8 to work abroad as part of its plan on easing the overseas deployment ban on medical workers.
Unfortunately for Duque, his nationalism remark wasn't authentic enough for the public, and it somehow made them more frustrated with him.
Exactly my thoughts. Have Duque resign first and maybe then we'll see better cooperation from health workers. 🤭 https://t.co/8KW48IeSAh

— Quarmat Obrique (@iamsirQ) August 23, 2020
Pwede bang i-hinto na yang nationalism eme ni Duque. Kasi sa totoo lang, kung hindi niyo naman binibigyan ng proper compensation at assistance yung mga health workers ineexpect niyo bang magsstay yan dito?

May karapatan din silang mabuhay, wag kayong selfish.

— Aly Dizon. (@iGOTenchanted) August 22, 2020
our health workers now know they're being sacrificed in the altar of gov't. ineptitude and inaction. Fuck your twisted sense of nationalism. FVCK YOU DUQUE! https://t.co/P5wwVJ9nvK

— HUELGA HUFFLEPUFF (@jaynormousse) August 22, 2020
Duque, if you have sense of nationalism, just resign. That way you are giving health workers and us ordinary citizens hope.

— Theighze DeVera (@theighze0219) August 22, 2020
Even the top professional recruiters will fail in attracting health care workers if you have a poker face Duque and a smirk face Villar looking down on the at-risk health frontliners.

— Ro Agnew (@AgnewRo) August 22, 2020
mga KAMOTE pala kau eh, bigyan nyo ba naman ng 65 PESOS na HAZARD PAY per DAY sa panahon ng PANDEMIC ang mga health workers, sino naman ang gugustuhing magtrabaho dito, ung mga HOSPITAL at DOH officials lng kumikita dahil sa CCP VIRUS na ito, lalo na iyang si DUQUE.. SOBRA NA..

— Domingo San Agustin (@DomingoSanAgus8) August 21, 2020
Duque has no moral ascendancy to tell health care workers to be patriotic and selfless. Duque must in fact resign immediately amid all the corruption in Philhealth and his mismanagement of DOH.

— makaww72 (@makaww72) August 21, 2020
be selfless Duque. resign para magkaroon ng motivation ang mga health workers.

— Noel Corpuz (@nhongshim) August 21, 2020
Health workers, primarily nurses, do not make much by working in the Philippines. Those who work in private hospitals barely make ₱12,000 month, and the entry-level is usually below five digits.
This is without a doubt the main reason why they work abroad, because at least in other countries they are compensated well, and the occupation is actually valued.
The issue of hazard pay has also come up recently.
Maria Theresa Cruz, a Cainta public hospital nurse who died of COVID-19 last July, went viral after it was revealed that her hazard pay was only ₱64 a day.
Her daughter Joie expected to receive ₱30,000 from the hazard pay but only ended up with ₱7,000.
"My mom was eager to receive her hazard pay because she said she was going to use it for Maxene's Groiler Home Learning Materials. She and her co-workers were expecting about PHP 30,000+ for their COVID hazard pay, based on the DOH announcement of PHP 500 per day for frontliners," Joie said in her Facebook post.
"My mom died before she even got her hazard pay. Yesterday, I went to her workplace to process some of her docs and to claim her benefits. I was told that her COVID hazard pay is already available. Instead of the expected PHP 30,000+, what I received was PHP 7,000+," she noted.
Joie said that this was more about the government not fulfilling their promises than a financial issue.
"This issue is not about monetary value. This issue is about how some government agencies lie and how we take for granted and exploit our frontliners in the face of this pandemic," she said.
"This issue is about how my mom was treated way, way below than what she deserves in a local public hospital where she worked in for more than 10 years – the first 4 years of those were without any salary," the younger Cruz added.
The Alliance of Health Workers (AHW) previously said that the hazard pay for health workers is just unfair and full of deception.