The DOH (Department of Health) is still looking for volunteer health workers willing to work at three hospitals that will only cater to COVID-19 patients, which are the Lung Center, Philippine General Hospital, and the Dr. Jose N. Rodriguez Memorial Hospital.
There are not a lot of things that the health workers are going to get from this, since their free food and accommodation will only last them a month.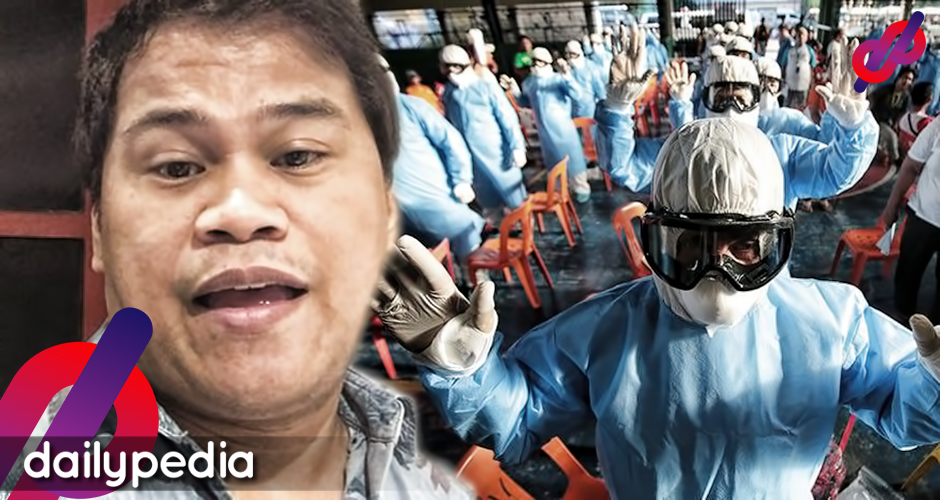 But the biggest problem here is that these health workers will obviously be risking their lives every single time they are working, but are only going to get paid ₱500 a day, which is the minimum wage in Metro Manila.
The DOH added that ₱100,000 will be given to both public and private health workers that contract "severe COVID-19 infection", and ₱1,000,000 to those who die by the virus.
Countless people have expressed that the agency is just exploiting the health workers at this point. Comedian Ogie Diaz also disagrees with the daily wage.
He went on Facebook and said that that the daily wage should be raised to ₱1,000. He doesn't understand why the government would be thrifty in a time like this.
He then criticized the government for allotting funds to sectors that don't really need it right now.
He also wants the so-called life insurance to increase from a million to 5 million, and those who are infected should at least get ₱300,000.
Hello! Buwis buhay for P500 a day? Kung ako ang gobyerno, P1,000 a day dapat. Bakit kayo magtitipid para sa kaligtasan…

Posted by Ogie Diaz on Friday, March 27, 2020
Netizens agreed with him.
"Ang tanga naman ng nakisip nyan na 500/day at ang mga nag sang ayon nito eh mas malaking katangahan! 👺👹 May kakagat kaya diyan sa panawagan na yan eh mga doctors and nurses ang kausap hindi naman mga bobo mga yun!🤡"
"Yung mga pang ayuda nila, malaki ang nababawas gawa ng percent nila, Mama O. Kaya deep inside, tuwang tuwa yang mga yan gawa ng kikita na naman sila oras na mailabas na ang bilyon bilyon na budget para sa COVID-19 ng DOH."
"Sec. Duque and Spokesperson Vergiere, Ako na po magbayad sa Arawan nyong Dalawa. Kayo mag Duty don!!!"
"500/day lang din daw naman ang boto ng bilin nila. yun nga 500/term.san pag tapos nito marami na magising at ma mulat sa tama."
"Kapag ganyan sa price mo ma go nako para kapag na tegi ako my maiiwan na sa knila"
Dr. GK Galvez Tan, a radiologist, also slammed the DOH for the daily wages for health workers. He went on Facebook and said, "It's not about the money. Not quite. As some colleagues have said, most doctors would have done the job for free."
Tan hinted at some kind of corruption within the agency given that everybody knows that the daily ₱500 can easily be increased.
"It's not entirely about how much the DOH is giving. It's about how much they may be holding back."
Tan questions how the budget is being distributed and whether the agency is doing the right thing.
"Is it going toward better infrastructure, more testing labs, more field hospitals, more community quarantine centers, better transport networks for frontliners and patients? Are the savings going toward a massive push toward realigning industries to produce Personal Protective Equipment (PPE) so hospitals don't have to rely on volunteers and donations?
"Is the money going to pay to expand charity services for patients with non-COVID related conditions whose treatments will have been displaced or delayed? Are they going to use the funds to strengthen communities by conducting risk assessments, training community health workers, and tapping local resources?" he added.
Tan graduated from the University of the Philippines College of Medicine, and is currently working as a CT scan and MRI specialist at Cardinal Santos Medical Center and the University of the East Ramon Magsaysay Memorial Medical Center.
In the event that health workers are expected to die fighting the coronavirus while getting virtually nothing, they should at least do it "knowing that their nation was behind them, fighting for them on every front, at every level."
The government should also at least show that they care for the health workers of the country.
"Let them know that this pittance is all that is left in the open hand of a nation that has exhausted everything else,"
He thinks its a disgrace that health workers will lose their lives fighting the virus while those in the government are just making their pockets fatter.
"Because there is no greater indignity than the lives of our brothers and sisters, mentors and students, parents and children, being sold cheaply while our leaders held their hands, stuffed with bills, behind their backs. We deserve to know."
Tan is the son of former Health Secretary (under the Fidel V. Ramos administration) Dr. Jaime Galvez Tan.
"He has already a good number of his doctor-mentors and professors, colleagues, peers, and friends in the medical profession dying and currently struggling with COVID-19 infection."
"I fully support the manifesto of my son GK and I share his sentiments!" Dr. Jaime told ANCX.
But in a press briefing, Health Undersecretary Rosario Vergeire apologized saying that the DOH is asking for forgiveness for the daily wage that the health workers will be receiving.
"Humihingi rin po kami ng tawad kung ang impresyon na naibigay ng PHP 500 daily allowance ay ganito lamang ang halaga na binibigay natin sa ating healthcare workers. Hindi po ito mas lalayo pa sa katotohanan."
Right now the budget is being distributed towards PPEs, but as soon as everything is set, more money will then be allotted to health workers.