This was the last time Ricky Gervais was hosting the Golden Globes
Tom Hanks had the best reaction of the night
Ricky Gervais promised that it would be the last time he would be hosting the Golden Globes. The comedian dished it out to everyone and no one was safe.
His opening monologue surprised everyone. Gervais went on to make jokes about topics that most would consider sensitive.
Gervais started off by saying he never really cared about hosting the Golden Globes, even though he had done it for the fifth time already.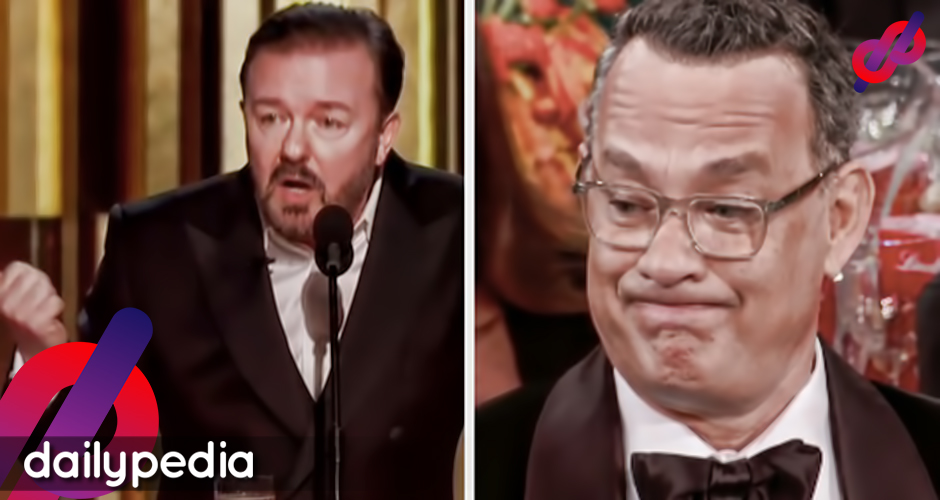 "This is the last time I'm hosting these awards, so I don't care anymore. I'm joking, I never did."
Kevin Hart was banned by the Oscars for tweets he posted way back. Gervais then took a shot at the Hollywood Foreign Press.
"Lucky for me, the Hollywood Foreign Press can barely speak English."
Gervais then took a shot at what is usually happening with movies, and it's that most of them are getting unnecessary sequels.
"Let's have a laugh at your expense, shall we? Remember, they're just jokes. We're all gonna die soon and there's no sequel."
The comedian acknowledged that most celebrities took a limo to the event, but joked that he took a regular car there but the license plate was "made by Felicity Huffman," referring to the time the actress served 14 days in prison for trying to pay off the proctor to correct her daughters wrong answers in her SAT exam.
https://www.instagram.com/p/B6_010bn74a/?utm_source=ig_web_copy_link
Jokes on looks are very common and Joe Pesci was at the end of one. Pesci's height has always been joked about, with the actor standing at only 5 foot 2.
"Baby yoda, ow, that's Joe Pesci, sorry."
Gervais also joked about how big TV companies are afraid of Ronan Farrow, a journalist who helped uncover sexual allegations against Harvey Weinstein.
"They're all terrified of Ronan Farrow."
Gervais also dissed the Golden Globes itself, saying that the show is useless and too long. He also said that people don't go to cinemas anymore because of Netflix.
"You could binge-watch the entire first season of Afterlife instead of this show."
Martin Scorsese previously dissed Marvel movies saying that they weren't 'real cinema' and said that they remind him of 'theme parks'. Gervais then took a shot at Scorsese's stature.
"He's not big enough to go on the rides."
Leonardo DiCaprio is known to date younger women, and Gervais took a shot.
"By the end [of the premiere], his date was too old for him."
Cats was one of the worst films produced in the year 2019, and unfortunately for James Corden, he starred in it.
"The world got to see James Corden as a fat pussy."
But the joke that really made headlines was the one aimed at Tim Cook and Apple.
"Apple roared into the TV game with 'The Morning Show," said Gervais as the crowd applauded.
Tim Cook knew he was about to get it based on his facial expression.
Gervais then continued and said, "A superb drama about the importance of dignity and doing the right thing made by a company that runs sweatshops in China. So you say you're 'woke', but the companies you work for, Apple, Amazon, Disney … If ISIS had a streaming service you would be calling your agents.
"You're in no position to lecture the public about anything. You know nothing about the real world. Most of you spent less time in school than Greta Thunberg. So if you win, come up accept your little award, thank your agent, and your god and f*** off."
The camera panned to Tom Hanks and he had the best reaction.
Joaquin Phoenix won the Best Actor Award, to no one's surprise, as Joker is considered one of the best films last year.
Brad Pitt also won an award for best supporting role.
1917 won the best motion picture, edging out the Joker which was quite surprising.