Alvin Nicolas, a Grab driver was repeatedly slapped and insulted by one of his passengers
According to Nicolas, he did not take the EDSA route and everything went bad.
Netizen Rebie G. Lagutin went on Facebook and posted videos of his friend Alvin Nicolas, a Grab driver getting slapped and insulted by one of his passengers.
The video shows Nicolas, who is seated in his car, getting insulted by a middle-aged woman while being repeatedly slapped on his arm.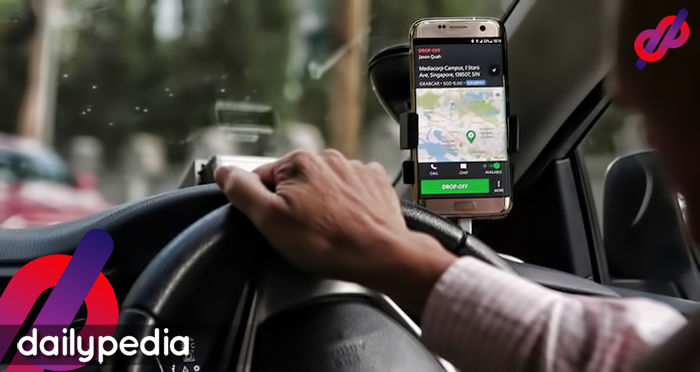 The woman appeared very angry while Nicolas kept calm. The woman then took photos of Nicolas' car plate number and proceeded to catch another ride.
Dailypedia was able to get answers from the driver himself.
Nicolas said that he has two kids and a wife. Being a Grab driver is the only income that his family can rely on, making an average of Php 15,000 a month.
"Eto lng po kinabubuhay namin," said the Grab driver.
Nicolas picked up two passengers from Shaw Boulevard, one sat at the back and another sat beside him. The passengers told him that the destination would be Rockwell.
The passenger that was seated in the back wanted Nicolas to pass through EDSA and so he obliged, but eventually switched lanes because EDSA was experiencing heavy traffic.
Nicolas as a driver, decided that it would be best to take a different route and just take the JP Rizal route, because traffic there was better and it was closer to Rockwell.
As he made his way through JP Rizal, the middle-aged passenger at the back started getting aggressive and hitting him.
Nicolas realized that the situation was not getting any better so he pulled up at a gas station. Nicolas asked both passengers to leave his car and so they did, but the woman wouldn't stop assaulting him.
"Nung nasa j.p rizal na kmi nagwala na cya at pinaghahampas na niya ko kaya napilitan ako mg pull over sa gas station.. at bumaba ng sasakyan para lumayo skanya gawa mg agresibo cya masyado."
He even got out of his car for a short amount of time to get away from the aggressive passenger. The woman was angry because Nicolas did not take the route that she wanted.
"Dahil lang po yan sa hindi nasunod yung gusto niya daan. Yun lng oo kinagalit niya eh yung hindi po namin pag daan ng edsa."
The woman reported Nicolas to Grab and to the Barangay.
On August 3, Grab suspended Nicolas because the woman said she would be filing charges of cyberbullying against him.
"Sinuspinde napo ako ni grab.. preventive suspended daw dahil nagsama na ng kaso yung babae pasahero ko. Nagsampa, cyber bullying po."
The woman also wants Nicolas to upload an apology video.
"Ang gusto daw po ng babae eh mag gawa ako ng video public appology daw po.. pero tinanong ko c grab kung gagawin ko ba video may ageement naba sila ng babae na un na di na siya magsasampa ng kaso.. sagot ni grab wala pa daw sa ngayon. Yun po ang sabi nila nilalakad nadaw po nung babae yung kaso.. pero sa ngayon wala pa po legal na naisampa yung babae.."
If further legal actions proceed, then Grab would permanently ban Nicolas from the company.
"Nabaliktad nadaw po ang kaso ngayon.. at pag legal napo naisampa yung kaso eh tuluyan na daw po nila ako ibaban at dina makakapagmaneho kay grab."
He mentioned that he was scared when he heard this.
"Natatakot para sa pamilya ko kasi wala nanaman kasiguraduhan kung pano kami kukuha ng pang tustos sa araw araw namin.
"Nag gagatas pa bunso ko at yung panganay ko nag aaral na.. isa pa last week kakalabas lang ng hospital ng anak kong bunso na dengue cya.. pinangutang ko lang pinambayad ko sa hospital mailabas lang cya. Pang 4 days ko pa nga lang bumibiyahe simula ng nailabas sa hospital anak ko tapos ganyan pa ngyare," he added.
On August 5, the woman said that she doesn't want the apology video anymore and will proceed to file charges. Grab told Nicolas to file libel or public scandal charges against her, too. Nicolas' suspension has been lifted.
"Bale wala po talaga ko idea kung papasok pa po cya sa physical injury kasi nga po wala ako mediko legal.Kasi nga wala nmn ako balak magsampa ng kaso nung una palang kaso nagsampa siya ng kaso eh magsasampa nlng din ako yun nlng din ang nakikita option ni grab. Baka pede din cya libel o public scandal.
"On August 6, the woman said that Nicolas should just make the apology video and that they would settle everything in a barangay. The date of the meeting will be given by the woman.
"Kasi nag bago nnmn daw isip nung babae gusto na daw niya ulit yung video at mag sorry nlng daw skanya.. at mag seset cya ng date para magkita kami sa barrangay hall ulit para gumawa ulit ng panibago kasunduan."