Brooke Houts usually uses her dog to get views
She accidentally uploaded a video of her hurting her dog
Loses thousands of subscribers
Twenty-year-old YouTuber Brooke Houts, who is from LA, accidentally uploaded a video of herself abusing her dog. The original title of the video was "plastic wrap prank on my Doberman."
Houts is known to include her Doberman named Sphynx in her videos to garner more views.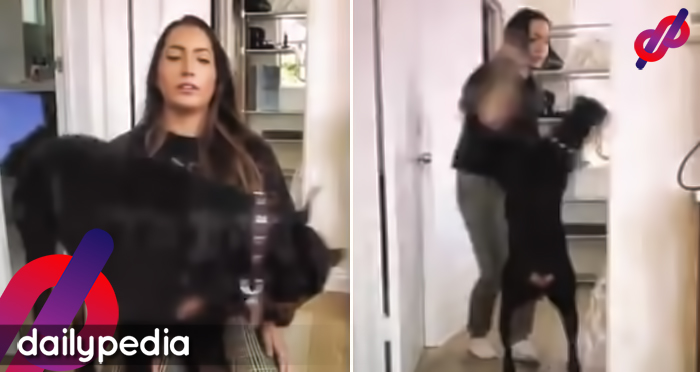 In the video, Houts is seen screaming and hitting her dog's face. She also grabbed Sphynx by the fur and forced him down to the floor, then proceeded to spit on him.
Knowing that she made a mistake, she immediately deleted the video and put up a new one that was carefully edited.
The original video has been downvoted nearly 30,000 times and people have not forgotten about it.
Her subscribers went from 340,000 to 330,000.
Houts then released a statement on Twitter and apologized, but denied ever spitting on her dog.
She said that the way she treats her dog in her previous videos is really the way she is.
"The bubbly, happy-go-lucky Brooke that you often see in my videos is typically an accurate representation of me, but it's obvious that I'm playing up my mood in this video when I'm clearly actually frustrated."
She admitted that she didn't have to hurt her dog like that, but as an owner, she had to discipline him.
"When my 75 lb. Doberman is jumping up in my face with his mouth open, I do, as a dog parent, have to show him that this behavior is unacceptable. But I want to make it known, REGARDLESS of what my dog does, I should not have acted that way towards him."
Houts also said that her dog did not feel any pain during the process, because if he did, then he would have acted different. Moreover, she mentions that they are about to get a dog trainer, and said that anyone who knows her knows that she has "immense love for animals."
The Los Angeles Police Department's Animal Cruelty has already been involved in the situation.
"LAPD is aware of this incident. Animal Cruelty is looking into this, and there is an open investigation."
In Los Angeles, a misdemeanor charge of animal cruelty is punishable by no more than one year in County jail and/or a fine of no more than $1,000 but a felony charge of animal cruelty is punishable by between 16 months and three years in California state prison and/or a fine of no more than $20,000.
#brookehouts is a monster. Someone needs to rescue that poor dog.

— Commish (@Commish88) August 9, 2019
What you did is not training or an attempt at training. It is abuse. No trainer would have told you to do anything you did. All you can do to redeem yourself and fix this is get the dog a humane home and get yourself into therapy. I offer to take the dog. @yashar

— Whitney Cummings (@WhitneyCummings) August 9, 2019
You hit & spit on your dog you dumb bitch. @brookehouts pic.twitter.com/bZm71pM9GX

— Nick Snider (@itsNICKSNIDER) August 9, 2019
you don't have to lie about spitting on your dog sis, we saw the footage, be an adult and fess up to it, other wise you're making your self look like a liar, and a liar and animal abuser is not a good look on you pic.twitter.com/Rs4bscnqKJ

— Liv | #loveforjess (@knj_hearts) August 9, 2019
Girl you FUNNY that you think we'd feel sorry for your sorry ass😂 I feel sorry for the poor dog,animals are just like humans, they don't hit us tho. I'm thinking tho some people need to hold you down and hit you, scream "stop" then spit on you. Would you like that? @brookehouts pic.twitter.com/gtAJmFTPTU

— 𝓔𝓶𝓶𝓪 (@emmalxuisee) August 9, 2019
https://twitter.com/5hahem/status/1159152486575296512?s=21&fbclid=IwAR0RTGui0s8cpdqyjaaw-a3uEUQASsWdqb_UQqxlfpPAjI5HK7HHgxfbCqw