Joy Anne Montilla has been a bus conductor and cleaner for three years
She collects the 25-centavo coins she finds when cleaning
Uses them to buy a meal
Joy Anne Montilla went viral when a photo of her surfaced holding a plastic bag full of 25-centavo coins which she used to buy a meal at McDonalds worth 125 pesos.
Justine Soriano is a McDonalds crew member at SM San Pablo who noticed Montilla lining up to order while carrying a plastic bag full of coins. He then approached her.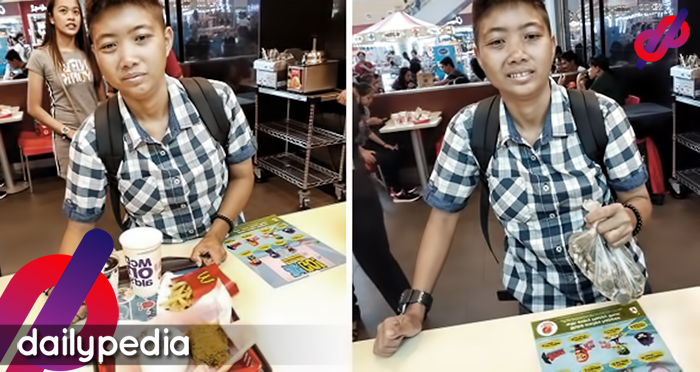 "Napansin ko may dala dala syang isang bag ng plastik kaya kinuha ko na agad order nya tapos sabi nya saken kung pwede daw ba nyang ibayad ang dala nyang mga 25 centavos. Hanggang sa makarating sya sa counter at binilang na namin lahat ng dala nya."
The crew told Montilla that she can eat her meal while they count how much she really brought, but she refused and waited until they were done counting. When she received her meal, it was clear that she was really happy. Montilla enjoyed a Chicken Mcdo, regular coke, fries, and a sundae.
"Habang binibilang namin ang pera sinasabihan na sya namin na umupo muna at kumain habang binibilang namin kaso ayaw nya. Nung natanggap nya na yung pagkain nya hindi mababayaran ang ngiti sa kanyang mga mata."
During the counting, Montilla revealed that she got the coins from cleaning a bus regularly. Having worked as a barker for three years, she was hired by Dela Rosa Bus Station to work as a conductor for Alabang South Station. She cleans up the bus at the end of the day and while she does, she usually finds 25 cent coins and collects them.
One day, she realized she had collected 125 pesos in a span of 6 months. She decided that she would spend it on a McDonald's meal since her idol, AlDub, does advertisements for the company.
Dailypedia was able to contact Soriano for more information.
Soriano himself was not born with a silver spoon. He knows what it is like to struggle just to make it through the day, and that is why he shared the story on Facebook.
Soriano also found out that Montilla's family is in Calamba so he plans on surprising them to eat at their branch one day.
Netizens reacted to the story:
"Kawawa naman sya halata sa mga mata nya ang pagod na nararamdaman nya hays auko nakakakita ng lesbian na ganyan kase naawa ako naiimagine ko kase nanay ko lesbian din sya kaya naawa ako pero i salute you ate at jan po sa branch ng mc do nakaka proud po kayo
"Friendly po yan si joy . .. Kapitbahay ko yan . 😊.. Mahilig din yan mag basketball..
"Be grateful kng anuman ung meron stin
"akakaproud ka po .. di tulad ng iba pag un sinukli nmin sa customer magtatanong pa sila kung anu yan . !! Sinasagot nlng po namin pera po .. tapos ayaw daw nila non kc di na tinatanggap ng ibang tindahan .. sobrang nakakainis lang di nila naiisip di mabubuo ung isandaan nila kung kulang ng isang 25cent !! 
"para naman mamulat yung mata nung mga bata jan na magbibigti na agad di lang mabili ng parents nila yung lubo na gusto nila."