Ashley Rivera attended the Metro Manila Pride and had a great time
Reveals she does not like the idea of gay marriage
Gets bashed by netizens
A good amount of celebrities attended the Metro Manila Pride, one of them was Ashley Rivera.
Rivera went on Instagram to share what she felt like during the parade. It looked like she had a great time, showing off like the divas there. Then she said something in her final post that had the community up in rage.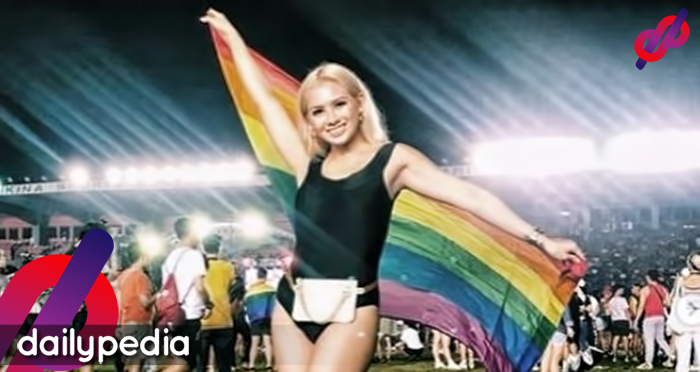 Rivera said that she must have been a sassy drag queen in her past life because of the way she positively connects with the LGBTQ+ community.
"Most of my friends are gay because I choose to be w/ people who are full of life, people that I effortlessly vibe with, people w/ the biggest hearts. I have my own beliefs & I don't necessarily agree w/ everything they fight for but I do respect them as long as they respect me too."
Netizens posted screenshots of the now deleted post on Twitter and highlighted the part when Rivera said she does not agree with everything that the community is fighting for.
The screenshot then showed an Instagram user replying to Rivera's post saying, "That's pretty shady. Tell me exactly what u do not agree with. Maybe I can be enlightened."
Rivera replied with, "I'm not being shady. I don't agree with same sex marriage but it doesn't mean I'm gonna hate on them all. That's all."
Netizens then reacted negatively.
so apparently for her pride, the fight for equal rights, and the lgbtqia+ community is a marketing platform? tangina CANCELLED

— Just Gelo (@justgeloisfine) July 4, 2019
https://twitter.com/EliAdecer/status/1146777512183136256?s=20
https://twitter.com/111_yep/status/1146672705585864704?s=20
Canceled si Ashley Rivera/Petra Mahalimuyak jusko. Hindi po accessories ang struggle ng LGBTQIA, and you can't adorn your personality with positive things you associate with gays and then deny their rights in the same breath

— Esteban Unibersidad (@malanDR69) July 4, 2019
https://twitter.com/impamsamoy/status/1146659588311146496?s=20
You can be a Christian & still respect the LGBT community. You don't have to agree with their views but disrespecting & judging them bc you see things differently is mean & disgusting. Y'all cant even realize a sin when you do one but claim you don't agree for "religious beliefs"

— Ashley Rivera (@asap__ash) July 1, 2019
I used to like Ashley Rivera a lot. But sorry girl, you're cancelledt. You went to the pride march for all the wrong reasons and I hope your "friends" realize that their causes are not entirely supported by you. Tsk tsk.

— MARKKE ◑ (@boompaulo) July 4, 2019
Ashley Rivera also doesn't support same-sex marriage.

If you don't think queer folks deserve all the rights that straight folks have, YOU ARE NOT WELCOME AT PRIDE. GANUN KA-SIMPLE. https://t.co/TFRbdR7Ork

— kate is 26? ew (@yourtitakate) July 4, 2019
Ashley Rivera/Petra Mahalimuyak, #Pride is not just about having a good time. It is a protest for equal rights, including our right to marry – which you are against of.

Learning to "embrace each other's differences" includes learning not to deny others their rights. https://t.co/9F8kKNIXRN pic.twitter.com/4LvJaTvZle

— Roentgen #VoterReg2019 (@ronaldgem) July 3, 2019
Travel blogger Angel Dei Peralta also criticized the celebrity saying that Rivera shouldn't label herself as an ally of the community if she doesn't that they deserve the same rights as her.
Please don't call yourself an ally or don't declare that you support and respect the LGBT community if you don't believe that they deserve the same rights that you're enjoying. https://t.co/OwfVjBq4fA

— Angel Dei (@_angeldei) July 4, 2019
https://twitter.com/rvcrz/status/1146650252541251584?s=21