Filipino pilot surprises his passenger-parents via an inflight announcement.
Bernardo's parents were teary-eyed over their son's sweet message.
Captain Genesis Bernardo salutes all parents who serve as inspiration to their kids.
An AirAsia pilot shared on facebook how he surprised his parents on his first flight with them as passengers en route to Taipei, showing his deep gratitude via an inflight passenger announcement.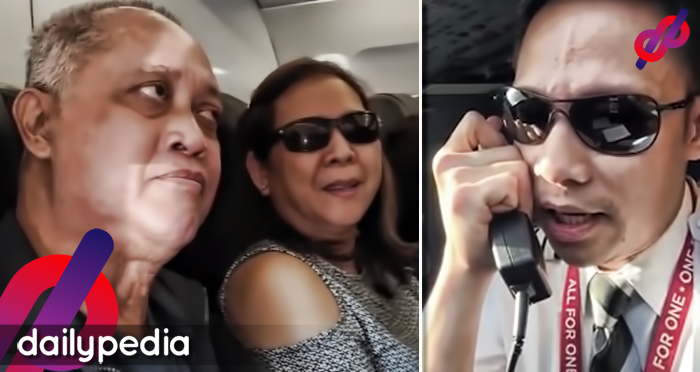 Airline announcement scripts can vary according to the time of day, the length of the flight, the aircraft type, the origin and destination and of course, the airline. Allstar, Captain Genesis Bernardo speaking before take-off did the usual spiel but also took his chance to welcome his parents Paul and Solly Bernardo.
"After so many years of flying in the airline, I have always dreamed of having you on board as my passengers. I would like to thank you for loving me unconditionally as your son, and for teaching me to do my best in everything that I do. I also thank you for inspiring me to never stop dreaming big and making me believe that everything is possible as long as you have faith. You are one of the biggest reasons why I am here commanding a flight and flying this airplane. It's truly an honor and my pleasure to have you on board. I am so proud of you for bringing me where I am right now, and I hope, I also make you proud."
Bernardo also took his time to thank other parents who served as inspiration to their kids and proceeded to empathize with the rest of the passengers who got inspired by their own parents to achieve their dreams like him.
His parents' reactions, were tearing-eyed as the pilot's message went on. The video was recorded Captain Bernardo's brother Joshua Bernardo who was celebrating his birthday at that time.
"The greatest fulfillment of a parent is when they see their child achieve success… and the happiest moment of a child is when he sees his parents being proud of his achievements," added Bernardo in his facebook post.
He also gave a shoutout to his AirAsia family for making the event special and possible.
Netizens were touched by the son's heartwarming act, sending countless "salutes" in the comments section and now reached over two thousand. The facebook video now having over a million views.