Ethel Booba reacts to the issue regarding the addition of the Korean language to the curriculum.
Netizens shared their own thoughts. 
Ethel Booba seems to be constantly updated about relevant issues when it comes to the country and is never shy to express her thoughts.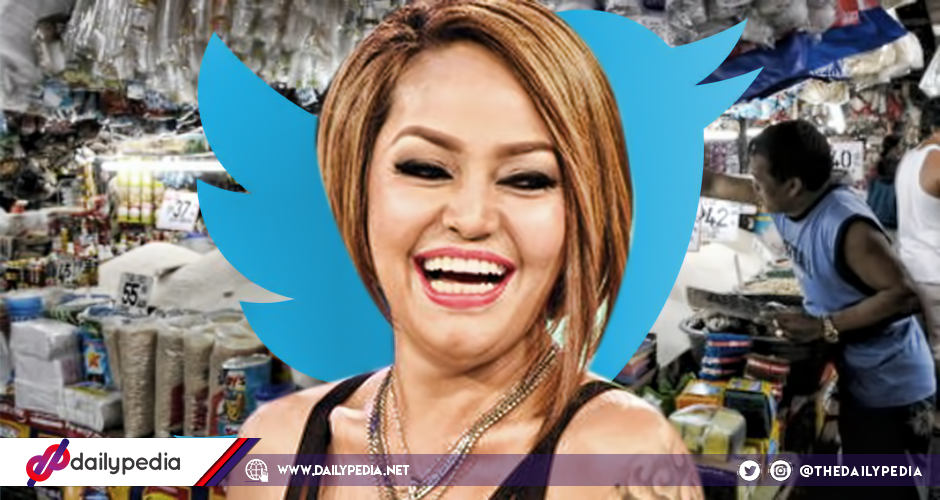 She recently tweeted about the controversy of the Korean language being taught in public schools and the Filipino Literature will no longer be a part of the core subjects in college.
With her humor, she explained a possible reason regarding the decision of the Commission of Higher Education.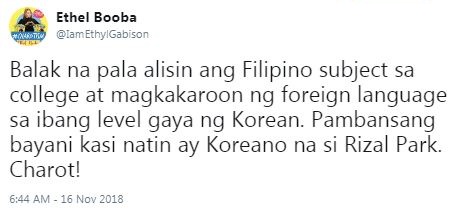 Balak na pala alisin ang Filipino subject sa college at magkakaroon ng foreign language sa ibang level gaya ng Korean. Pambansang bayani kasi natin ay Koreano na si Rizal Park. Charot!
Netizens reacted to her witty remark. Ramon MM questioned if the country has become a colony of Korea.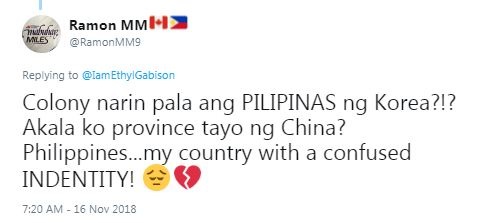 Colony na rin pala ang PILIPINAS ng Korea?!? Akala ko province tayo ng China? Philippines…my country with a confused INDENTITY! 😔💔
But another netizen replied that students in Thailand are also required to learn a foreign language but they never complained about it.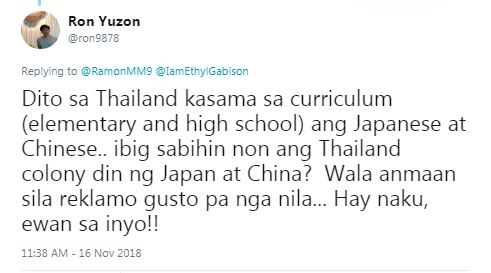 Dito sa Thailand kasama sa curriculum (elementary and high school) ang Japanese at Chinese.. ibig sabihin non ang Thailand colony din ng Japan at China? Wala anmaan sila reklamo gusto pa nga nila… Hay naku, ewan sa inyo!!
A Twitter user said that it's okay for her if people learn a foreign language, however, others are not even fluent in their own language. It would be fine to add other languages to the curriculum but also retain the Filipino subject.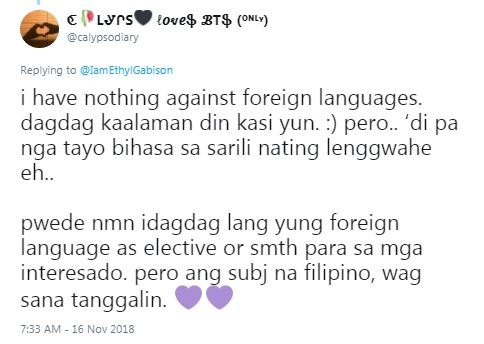 I have nothing against foreign languages. dagdag kaalaman din kasi yun. 🙂 pero.. 'di pa nga tayo bihasa sa sarili nating lenggwahe eh..

pwede nmn idagdag lang yung foreign language as elective or smth para sa mga interesado. pero ang subj na filipino, wag sana tanggalin. 💜💜
Another rode along with Ethel's joke, asking if Rizal Park is Sandara Park's sibling.
Magkapatid ba si Rizal Park at Sandara Park?

Si Rizal Park.. Lolo ni Sandara Park. Charot!